Trainer Jeremiah Englehart Sets Sights On Both Stakes Races At Monmouth Park This Weekend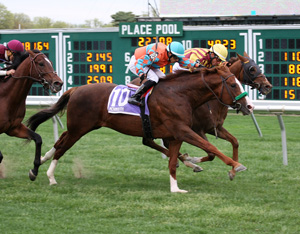 When trainer Jeremiah Englehart went through the checklist he references before shipping in a horse from either Belmont Park or Laurel Park, Monmouth Park met all of his criteria for this weekend – not once, but twice.
Because of that, Englehart will be represented in both the $75,000 Politely Stakes that tops Monmouth's 12-race card on Saturday as well as the $75,000 Get Serious Stakes that serves as the feature race on Sunday's program.
Mrs. Ramona G. is his entrant in the Politely Stakes, a 5½-furlong dash on the turf for fillies and mares three years old and up. Square Shooter will be Englehart's starter in the Get Serious Stakes, also at 5½ furlongs on the grass. Both horses are owned by former long-time Ocean Township resident Al Gold.
"For me, if I'm shipping in, you want to be sure you will be competitive and that you have a chance to win, of course," said Englehart. "It's also about timing, the distance, who else might be in the race and what your other options are. Both spots at Monmouth Park this weekend fit these horses."
Attracting trainers like Englehart, who is coming off a career year with personal bests in terms of victories (210) and earnings (just over $7 million) in 2018, is exactly what Monmouth Park was hoping to do with its enhanced purse structure and 64 stakes races worth $7.1 million during this meet.
Englehart, who began training on his own in 2003, did not start at horse at Monmouth Park last year. He has already started one this young meet.
"Monmouth is definitely one of the tracks I'm taking more of a look at now," he said. "It's a reasonable drive when it comes to shipping in. So Monmouth is a place I have to pay attention to with my shippers with the good stakes races they have this year."
Mrs. Ramona G., a 4-year-old daughter of Kantharos-Barbarella by Cutlass Fax, shows a 4-1-1 line with $198,195 in earnings from nine career starts. The Florida-bred is coming off a close-up fourth place finish in the License Fee Stakes over a yielding turf course at Belmont Park on April 28.
"I wasn't sure about running her back in three weeks. I usually like to give her a lot of time between races," Englehart said. "But I think this could be a good spot for her."
Square Shooter, who will be making his second start of the year, has four wins and two seconds from 12 career starts. The Kentucky-bred gelding made his 2019 debut with a late-running sixth-place finish on April 6 in the Grade 2 Shakertown Stakes at Keeneland, where he was beaten less than four lengths in that 5½-furlong grass race.
"I thought he actually ran a sneaky-good race in the Shakertown," said Englehart. "He got into some trouble at the sixteenth pole. But he has been doing pretty well. I think he will appreciate the distance and the course. I think he will run well in that spot."