Trainer Jane Cibelli Has High Hopes for Cool Hand Coop As 2-Year-Old Colt Readies For His Debut On Sunday At Monmouth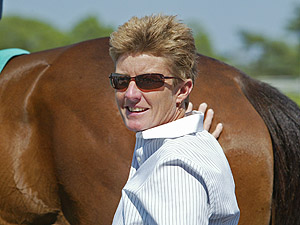 There are two things that can be counted on when trainer Jane Cibelli sends out a first-time 2-year-old, as she will in Sunday's seventh race at Monmouth Park with Cool Hand Coop. 
One is that the horse has given every indication that it's ready to run, that it's not being rushed. 
The other is that it likely won't win, which Cibelli is fine with because of her approach to young horses. 
"If you see me with a 2-year-old first time out and he wins, he's a really good horse," she said. "I don't ask them for their life first time out – or when they're very young." 
Cibelli, who won the Monmouth Park trainer's title in 2011 and 2012, has high hopes for Cool Hand Coop, a son of Northern Afleet-Unholy Night owned by R P S Racing Stable LLC. But she isn't sure if he will be the one to snap her 0-for-13 showing with first-time starters this year. 
"Probably one of the best trainers in North America, Roger Attfield, has the same stats as me with 2-year-olds," she said. "The thing with so-called 2-year-old trainers is that they ask them for their maximum first time out, and that's fine. That's what their business is and that's what their runners are. I get all of that. I just don't want to be that trainer. 
"If you look at my stats and you look at my horses that are 4, 5, 6 and 7 years old they're very good and the consistency is there. That's what I look for." 
Cool Hand Coop, though, may be the exception to Cibelli's stats. A $65,000 yearling purchase, the colt has worked bullets in four of his past six works, including his most recent one on July 8, when he was clocked in :36 breezing for three furlongs. That was the fastest of 28 at the distance that day. 
Cool Hand Coop's debut race will feature seven rivals, all first-time starters, going five furlongs in a Maiden Special Weight race that carries a purse of $36,000. 
"He has been working well in the morning," said Cibelli. "He has kind of surprised me because he doesn't look like a speedy type physically. But every time you work him you come away saying `okay, he looks like he can run a little bit.' 
"He's ready to race. Whether he is ready to win or not is another matter. Is he amped to the max, spitting nails? No, he's not. But he will get a good education. And if he wins it's because he's a good horse. He's talented. I have high hopes for him down the road and my thought is that he's more of a turf horse. But I think he's going to be a really good horse eventually."