Trainer Gregg Sacco Expecting Improvement From Both Of His Horses In Saturday's My Frenchman Stakes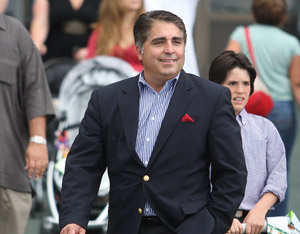 The reasons may differ, but trainer Gregg Sacco expects significant improvement from both of the horses he has entered in Saturday's My Frenchman Stakes at Monmouth Park. 
Candymankando is coming off a solid performance that was undermined when the 3-year-old gelding lugged in late. Like What I See flashed impressive early speed but stopped in his first career dirt try, "spinning his wheels," Sacco said. 
But for this race Sacco feels both should be major factors in the 5½-furlong grass stakes restricted to 3-year-olds that carries a purse of $60,000 and has drawn a field of nine – though he acknowledges that the George Weaver-trained Majestic Dunhill, coming off a victory at Monmouth on June 23 at 5½ furlongs on the turf, is the horse to beat. 
"Candymankando ran very well in his last race," said Sacco. "He got beat two lengths by the horse that is probably going to be the favorite in this race. For some reason he lugged in that race and was a little difficult to ride. 
"(Jockey) Angel Arroyo came back and talked to us about it and we made a bridle change on him and worked him since then and he worked straight. I don't think that race was his best effort but it was a good effort. I'm encouraged that he worked well the other day after we changed the bit on him. We're looking for an improved effort and hope he can make up those two lengths on Weaver's horse this time." 
A gelded son of Twirling Candy-Not Affiliated, Candymankando has never been worse than fourth in four career starts. Owned by JSL Stable, Candymankando made his turf debut in his last race as well. 
"His first race back this year he was a good third and he showed improvement from his second start as a 2-year-old, and then there was improvement from his third to his fourth start," said Sacco. "So there's still room for improvement with him. He's a young 3-year-old. Hopefully the equipment change will do the trick." 
With Like What I See, a Jersey-bred, Sacco hopes the surface change makes all the difference. 
After racing at Woodbine as a 2-year-old, winning a stakes sprint there, Like What I See was a private purchase by Andrew Kligman and Gary Tolchin who came into Sacco's care one race ago. 
That race was an eighth-place finish in Jersey-bred allowance at Monmouth Park on July 1 when the son of Bold Warrior-After The Applause simply stopped. It was also the gelding's first career dirt try. 
"He was good on the synthetic at Woodbine, but you could see he was spinning his wheels here on the dirt," Sacco said. "Even working him prior to that race you could see he was struggling on it. Hopefully the synthetic translates to turf for us. 
"He's a big, beautiful, young horse who was a stakes winner in Canada at 2, so we expect an improved effort. His first race for us was disappointing but we knew he was struggling with the surface. He has really trained well since then."