Trainer Glenn Thompson Mulling Saturday's Irish War Cry Handicap As A Possible Next Test For Shield Of Faith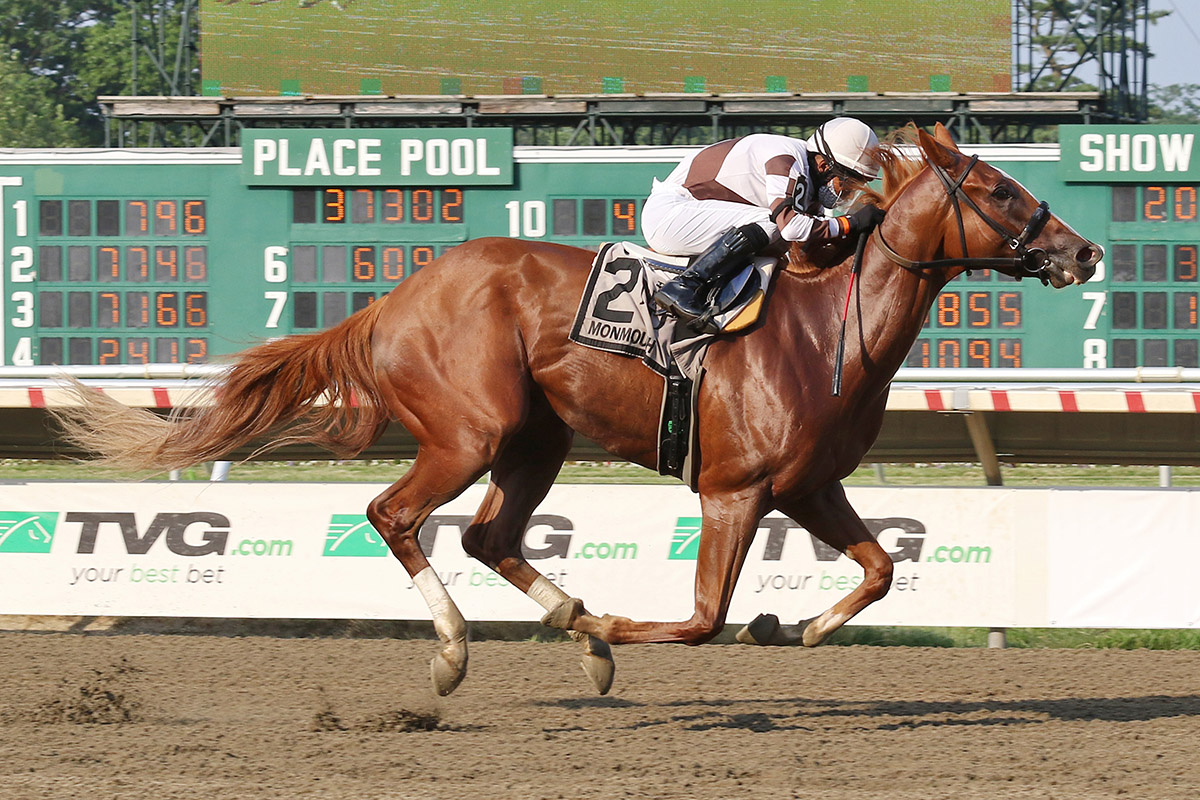 There's a part of Glenn Thompson that is telling him to take a slower, more conservative route with his promising 3-year-old Shield of Faith by sending him in a Jersey-bred allowance race on Sunday at Monmouth Park instead of Saturday's tougher Irish War Cry Handicap featuring a field of accomplished runners.
But there's also a sense of intrigue tugging at the veteran trainer. He wants to start to find out just how good Shield of Faith is.
"I'm kind of curious to see what kind of horse this is," Thompson said. "I'm happy to run him on Saturday in the stakes race. It's time to find out where we're at with him."
A gelded son of King Puma-Windy Acres by Mr. Nugget, Shield of Faith is a horse Thompson "picked out from the field to keep" after his father, legendary Monmouth Park trainer J. Willard Thompson, passed away in November of 2018.
"He's also one of the last ones my dad bred," Thompson said. "He's sentimental and special to us."
But Thompson knows he is in a business and his business now is getting a handle on Shield of Faith's ability and class level.
As a 2-year-old, Shield of Faith won by 8½ lengths in his second start against Maiden Special Weight Jersey-breds. Thompson then tried him at five furlongs on the grass in the Tyro, with Shield of Faith finishing third. He then stretched him out for the first time in the Sapling at a mile, with a fourth-place finish the result.
In his first race back at 3 following a 10-month layoff, Shield of Faith won by five lengths against state-bred allowance company.
"I'm hoping he is even better than that," said Thompson. "Coming back the way he did shows he is a good horse. He's not a good horse because of me. He's a good horse because he won despite me. It usually takes me two or three races to get a horse fit.
"Two Notch Road is the only other horse I can remember winning off a big layoff like that for me. So for him to overcome my slow training, that's a good sign."
If Shield of Faith goes in the Irish War Cry, scheduled for a mile on the grass and the feature on Saturday's 13-race card, he will be up against some formidable competition in the nine-horse field. Irish Strait is a graded stakes-place runner, Royal Urn comes off a victory in the John J. Reilly Handicap on July 5 and Golden Brown has won $500,500 in his career.
"It's not an easy Jersey-bred race by any means," said Thompson. "But I think he is a good horse and I think he will be able to handle these kinds of horses."
Stretching out Shield of Faith again and trying him on the grass for a second time don't concern Thompson.
"I think he wants to go longer. He's had plenty of time off and he's in good shape," he said. "And I think he likes the grass."
Thompson is particularly proud that Shield of Faith will not run on Lasix, since he has long advocated for tighter controls over the drug. He's not anti-Lasix, he says, just anti-Lasix abuse.