Trainer Glenn Thompson Has High Hopes For 2-Year-Old Shield Of Faith In Saturday's Tyro Stakes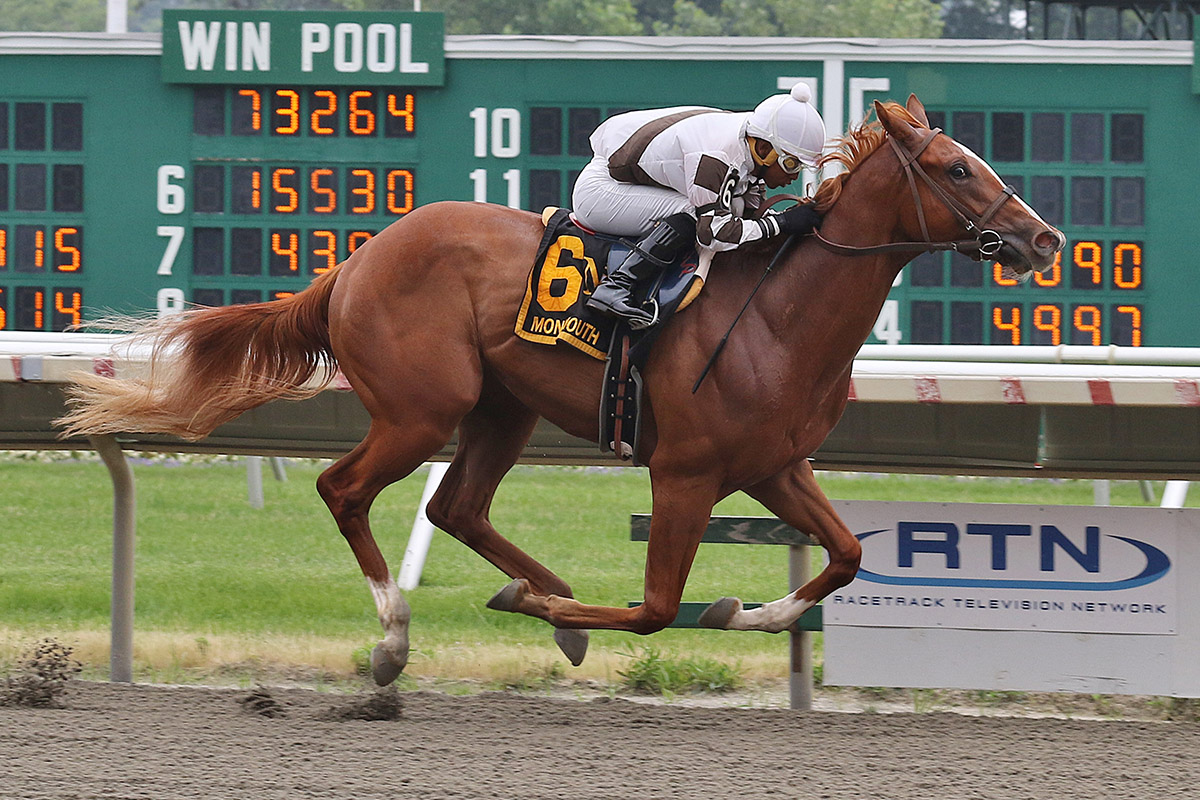 The last time trainer Glenn Thompson started a 2-year-old prior to doing so this summer at Monmouth Park was in 2014 with a horse named March Wind. The reason for the lull, he says, is largely because he prefers to take his time to allow horses to develop and mature.
But there are exceptions, and Shield of Faith is one of those.
A gelded son of King Puma-Windy Acres by Mr. Nugget, Shield of Faith will take a crack at stakes company in Saturday's $75,000 Tyro Stakes for 2-year-olds at five furlongs on the grass at Monmouth Park in the feature race on a 13-race card.
Despite the daunting challenge – he's a Jersey-bred going against open company, has never tried the turf and will face three horses trained by Wesley Ward, two of which last raced at Ascot – Thompson is convinced his horse fits.
"I feel good about him," Thompson said. "I expect him to run well. I really do. He's in against some nice horses but if I put a horse in, especially a 2-year-old, I expect him to run well.
"When Two Notch Road broke his maiden in the Continental Mile at Monmouth as a 2-year-old in 2009 he paid $216 to win. When you put a horse in you like and he's training well you've got just as good a shot as anyone else."
Two Notch Road is one of the reasons Thompson is comfortable starting Shield of Faith at 2 this year. Now age 12, Two Notch Road is still racing.
"Two Notch is a perfect example that there are exceptions," Thompson said. "It didn't hurt him to race at 2. He's still going at 12."
Shield of Faith, owned by Thompson and bred by his late father J. Willard Thompson, has had two impressive starts in his career. He was second, beaten a half-length by the Kelly Breen-trained Gin and Platonic, in an open Maiden Special Weight race on June 2, with the two dueling most of the way.
Shield of Faith then won by 8½ lengths in a Jersey-bred Maiden Special Weight race at Monmouth Park on July 5.
"I rarely do this with a 2-year-old," Thompson said. "But if a horse has the conformation and they're doing well I have no problem racing a 2-year-old. You just don't get many of those."
The biggest unknown with Shield of Faith is how he takes to the turf.
"It will be interesting to see if he likes the grass," said Thompson. "I watched his brother (Arnold Ziffle) run on the turf last year. He didn't run all that well but he seemed to handle the turf. I think this one will as well."
If Thompson is rooting a little more for this one to succeed it's because it's personal. His father, a four-time leading trainer at Monmouth Park who passed away last November, was one of the most respected figures in the track's backstretch history.
"It's kind of special having a horse my father bred," he said. "It means a lot to me and it means a lot that he's a nice horse."