Trainer Eddie Owens Sees Bright Future Following The Debuts Of A Pair of Promising Jersey-Bred 2-Year-Olds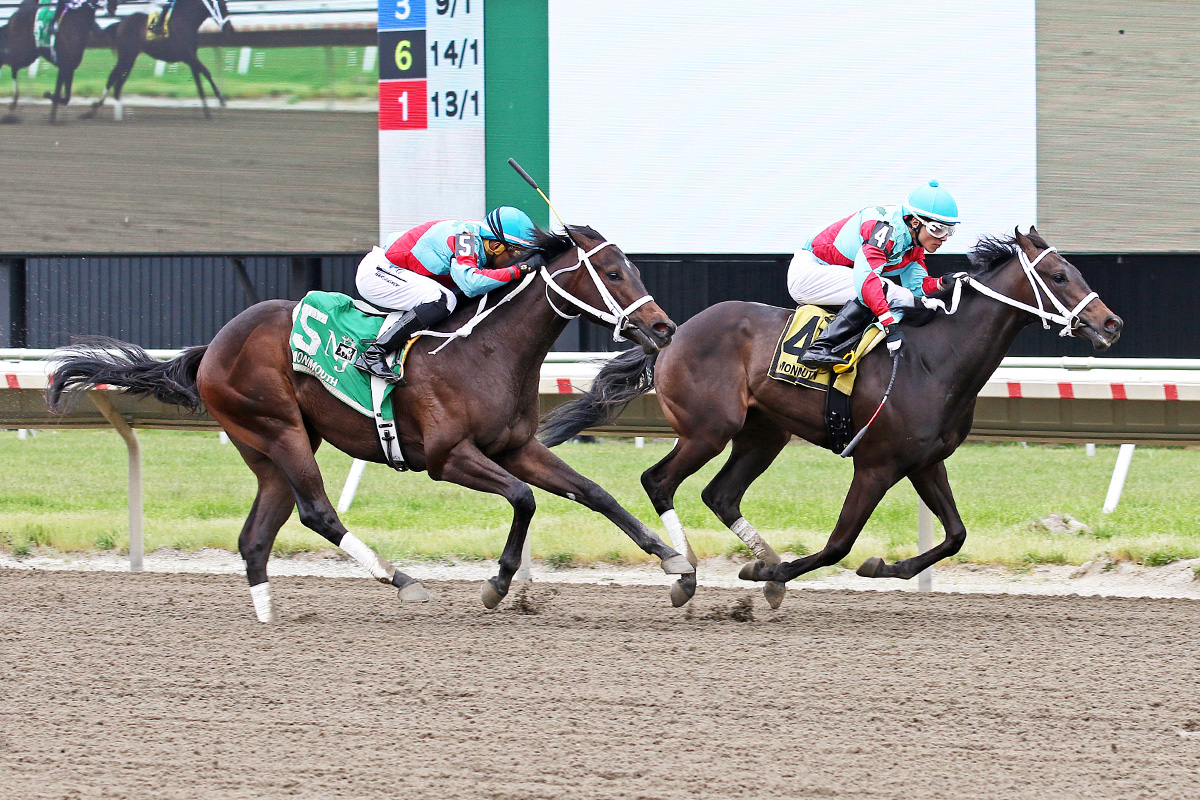 For trainer Eddie Owens, the start of the 2-year-old season at Monmouth Park has been like déjà vu.
A year after Jersey-bred Great Navigator dazzled in his debut against open company – and then was second in the Grade 3 Sanford Stakes at Saratoga in his second start, finishing ahead of 2-year-old champion Forte – Owens put a pair of promising Jersey-bred 2-year-olds on display last Saturday at Monmouth.
Ship to Shore, bet down to 11-10 for his debut, ran like a good thing, scoring a half-length victory in the open company Maiden Special Weight dash over late-running stablemate Don't Rock the Boat.
All three horses were bred and are owned by Middletown-based Holly Crest Farm. And all three are sons of the obscure sire Sea Wizard, who raced just twice in his career.
"They were both ready to go," said Owens, who took over the training for Holly Crest when Monmouth Park fixture John Mazza passed away in May of 2020. "I have never worried about running good Jersey-breds in open company. They don't know they're Jersey-breds. Talent is talent. If they have it then it doesn't matter where they are from."
Great Navigator, who has a 5-1-3-1 career line, has run into some tough luck this year, but Owens is convinced the colt will be a stakes winner "before the summer is out."
Ship to Shore, a gelded son of Sea Wizard-Upset City by City Zip, will likely follow the same path as Great Navigator by going next in the Sanford Stakes at the Spa on July 15, Owens said.
Don't Rock the Boat, gaining late on his workout partner in the 4½-furlong race, is a gelded son of Sea Wizard-Discreetly Rockin by Discreetly Mine. Owens said he will be wheeled back for the next available 2-year-old race at the Jersey Shore track in two weeks.
"When you have 2-year-olds that show you this kind of ability it's really fun," said the 63-year-old Owens, a graduate of nearby Long Branch High School.
The story behind Sea Wizard's effectiveness as a sire is a mystery to Owens. A Kentucky-bred son of Uncle Mo, Sea Wizard was second in his only start at 2 in a Maiden Special Weight race at Belmont in 2015 and then won his only start at 3 in a Maiden Special Weight race at Gulfstream before being retired due to injuries.
"I've never been around him," said Owens. "People who have been around him have told me he had a chance to be a very nice horse but he had physical problems. They tell me he was a very fast horse."
Though Ship to Shore looked to be getting tired late in his debut, Owens doesn't believe that was the case.
"(Jockey) Jorge Vargas said he was looking around and waiting for his buddy. They normally go in company in the morning and are used to being together," he said. "I am confident both of those horses will stretch out. Ship to Shore will get better as he goes longer and gets experience. Don't Rock the Boat is a big horse who looks like he wants more ground already."
Owens, who started on the backstretch 1976, worked for Richard Murphy, Walter Frey, Ben Perkins, Phil Serpe and Joe Orseno before joining Holly Crest and Mazza in 2019. He currently oversees 11 horses.
"I'm usually up before the alarm goes off at 3:30 a.m.," he said. "When you have 2-year-olds with this kind of ability it makes it easy to get up and go to work."