Trainer Doug Nunn Hoping 2-Year-Old Here Comes Billy Lives Up To Promse In Career Debut On Friday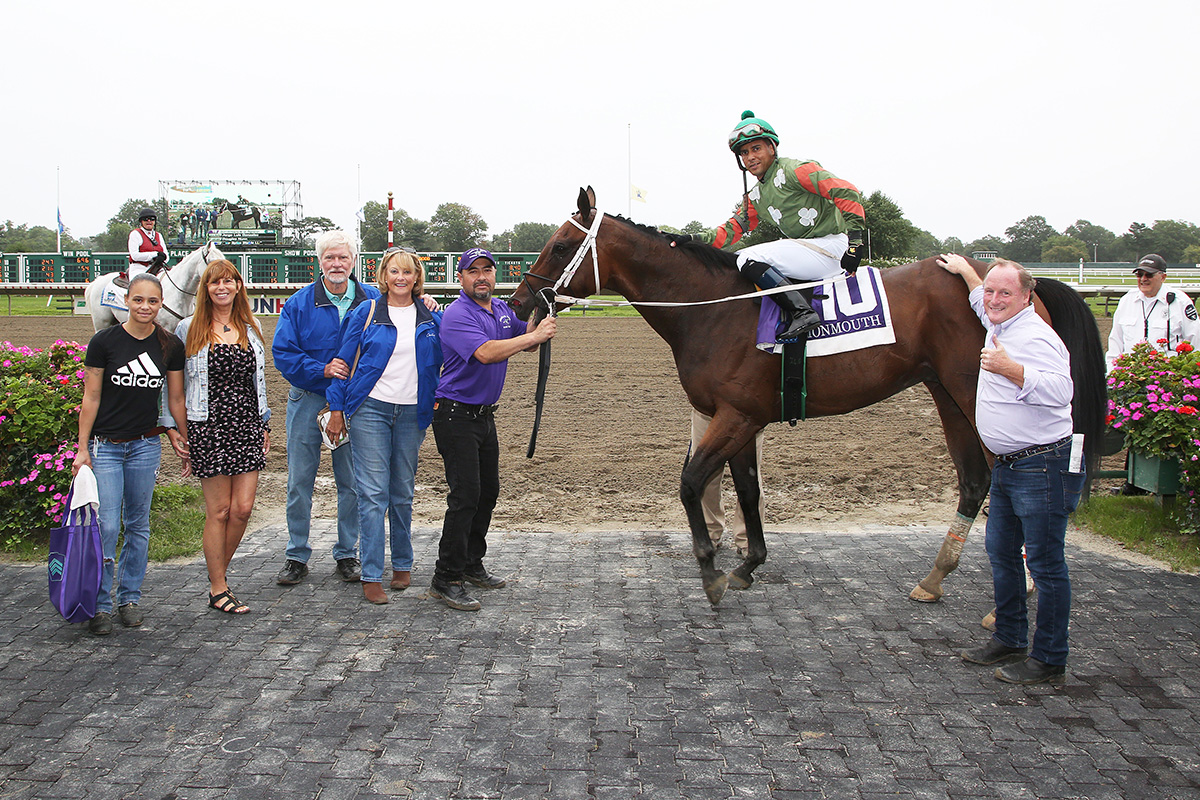 Trainer Doug Nunn has only had a 2-year-old named Here Comes Billy for two months now but what he has seen from the Jersey-bred has him eager for the colt's debut at Monmouth Park on Friday.
Here Comes Billy will go in a $71,875 Maiden Special Weight sprint restricted to state-breds on a nine-race Friday card that kicks off the final weekend of Monmouth's 55-day meet. The son of Flat Out-Poochy by Offlee Wild will face five others going 5½ furlongs.
"He hasn't had a lot of preparation for this but he is showing a lot of promise," said Nunn. "His works are legitimate. He does it pretty easily.
"I'd like more time to school him. I haven't had a lot of time to school him. But he is such a fast horse I don't think he is going to need schooling behind horses because he is pretty fast, as his works say."
Here Comes Billy shows just four published works heading into his debut, but one was a bullet (out of 78 horses) going four furlongs handily from the gate on Sept. 11.
Nunn also trained Here Comes Billy's mother, with Poochy winning eight races while earning $180,150, capping her career by setting the track record for five furlongs on the turf at the Meadowlands (:55.34) on Oct. 21, 2017 in her final start.
Here Comes Billy, a Bright View Farm homebred who was sent to Nunn from Aiken, S.C. two months ago, is Poochy's first foal.
"He's probably going to be a little better stretching out because he has some natural speed like his mother did," said Nunn. "This is good timing for him to get started because this race came back a week later than it was originally scheduled to go. So I was able to get another work in."
For the 52-year-old Nunn, a win by Here Comes Billy – one of only two 2-year-olds among his 32-horse stable at Monmouth Park – would be a nice late touch to a season that is shaping up as the best in a training career that began in 1992.
He has already set a personal best for earnings at $536,699 and his 15 wins (from 106 starters) has him well within reach of the career-best 17 races he won in 2017. This year, he will have the added benefit of going to Tampa Downs for the first time when the Monmouth Park meet ends.
"It will be a new experience," he said. "I want to keep this thing going a little bit through the winter. I'm thinking of sending 20 horses to Tampa. My good Jersey-breds I'll lay up because the money is too good at Monmouth Park to lose conditions in Florida.
"I'm trying this because I always feel like I have to start over every year (in the spring). I feel if I can keep things going through the winter it will give me a better start to the year next year. This is also the first year in 20 years I haven't broken any babies for Ocean View Stables, Russell Cash and Chuck Spina. It's another reason to try Florida for the first time. I don't have that to do."