Trainer Claudio Gonzalez Has Beaten The Odds To Have First TVG.Com Haskell Stakes Starter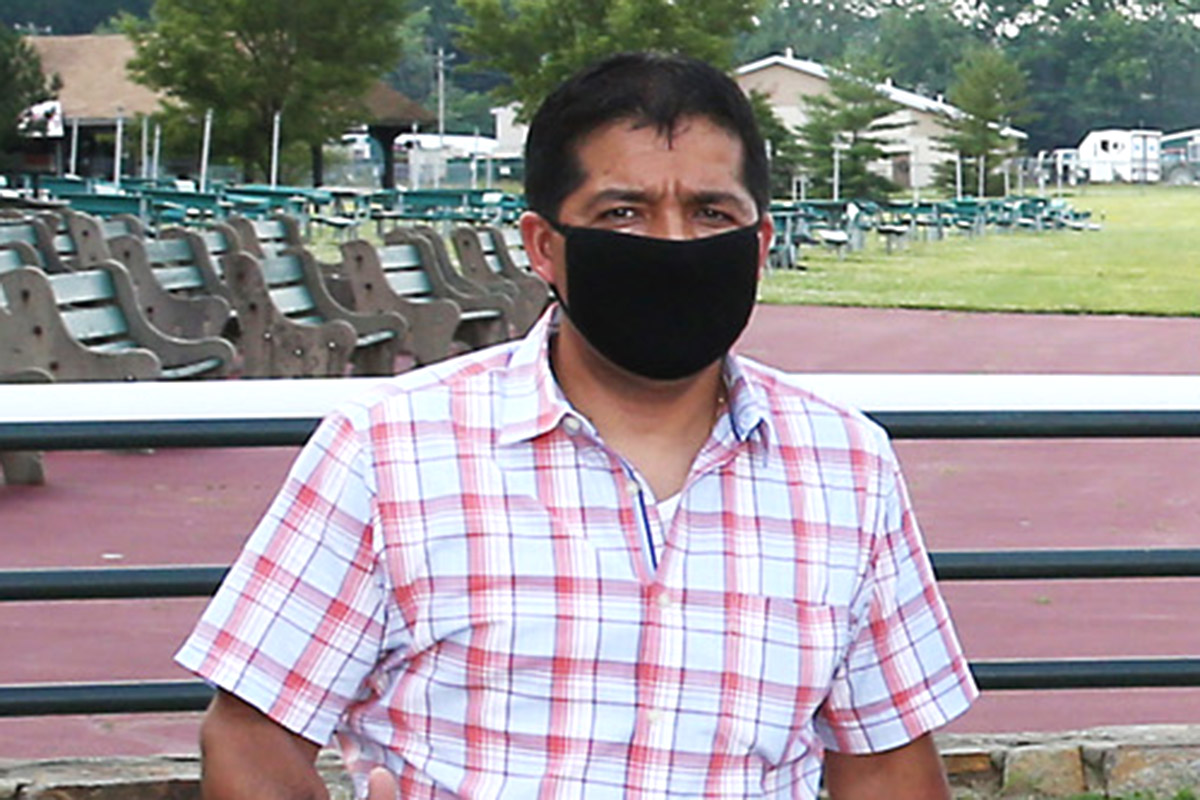 The first time Claudio Gonzalez showed up on the Monmouth Park backstretch, he was a recent Chilean immigrant and a teenager who barely spoke English and was in dire need of any job.
Now he'll roll through the stable gate with a horse he'll saddle on Saturday in the Grade 1, $1 million TVG.com Haskell Stakes, a race that offers the opportunity to qualify for spots in both the Kentucky Derby and Breeders' Cup Classic.
"This is a big race for me. It's my first Haskell," said Gonzalez, 45, who last year was honored as Maryland's leading trainer for the third straight year. "Everybody dreams of that, to run in the biggest races. As soon as I was starting to learn to be a trainer, that was my dream. It is for any trainer.
"But to have a horse in the Haskell, especially, is very important to me. I worked there on the backside for about 15 years and that is the most important race there. This will be my first time back at Monmouth in two years so it's going to be really exciting for me to come back and have my horse run in the biggest race."
Gonzalez, who started at the bottom in the barn of fellow Chilean Juan Serey in 1995 and had a short stint with Gary Contessa before joining the operation of Monmouth Park mainstay Ben Perkins, Jr., will send out Euro Stable's Lebda in the Haskell.
The two-time stakes winner in Maryland this year finished sixth last time out in the Grade 3 Ohio Derby.
"In his race in Ohio he went the first quarter in :22 and he got tired," said Gonzalez, who could have a banner day as he will also run Harper's First Ride in the Grade 3 Monmouth Cup at a mile and an eighth on the main track, one of five stakes races on the undercard. "But he came back good. He's been learning all the time and he keeps moving forward. The horse is doing great and has been training very well and that's why we decided to come to the Haskell. He's a classy horse."
Even if he doesn't visit the Monmouth Park winner's circle after either race Gonzalez is already a proven winner. He beat testicular cancer in 2008.
Through his surgery, treatment protocol and recovery, he was unable to work for six months. He was terrified he wouldn't be able to support his wife and family, but Perkins, his wife, Susan, and those who owned horses in the barn treated him just like family. Their compassion, emotional support and financial support were lifesavers.
"Benny told me right away that no matter what, they would take care of me," said Gonzalez, who is married with three children. "They said right away that they wanted to help me. They never said no. They always said yes, even before I had symptoms. They paid me every single week. There are not too many people who would do that for someone. All the time, they brought the check to me. They never missed even one week. Every week they brought a check to me.
"For all the rest of my life I have to say thank you to Benny and the owners who helped me. They are special.
"Every time I see Benny, his wife, and every one of the owners I go over and say thank you again. They are the nicest people and they are very good people."
Perkins, a multiple graded stakes trainer, told the Laurel Park press office at the time, "A lot of my owners are hands-on guys and they're around the barn. A lot of them are people that had been with us for a while. They knew what Claudio was putting into the operation and they were all willing to help out when he needed help. It was a full group thing.
"Everybody pitched in. The guys knew him and they knew the kind of person he was. He's a good family man. He's got a great wife and kids, and everybody was glad to help."
When Gonzalez recovered and went back to work for Perkins, he decided to try going out on his own with five horses he would take care of early in the mornings before and late in the evenings after his regular job. His second starter was a winner on Nov. 14, 2012 at Laurel, and he got his first his first stakes win in September of 2013 in Monmouth Park's Jersey Girl Handicap.
Now in his ninth year as a trainer, he heads into the Haskell with 793 career victories and almost $22 million in earnings through July 15.
"This is very exciting," said Gonzalez, whose sole graded stakes score came in the 2017 Frank DeFrancis Memorial Dash with former two-time New Jersey-bred champion Chublicious.
Adding to the incentive of the Haskell is the race's designation of "Win and You're In" reward for the $7 million Breeders' Cup Classic on Nov. 7. Because of the reshuffled and reconfigured Triple Crown this year, the Haskell Stakes for the first time will also offer Kentucky Derby qualifying points of 100-40-20-10 to the first four finishers.
"I know, I know. There is a lot at stake on Saturday," said Gonzalez, who will give regular rider Alex Cintron a leg up in the Haskell. "It would be very nice to qualify for those races and run in my first Kentucky Derby and maybe then in my first Breeders' Cup. But first we have to run in the Haskell. Then we'll see. It all depends on how he runs, and then (if he gets points) how he comes back from the race, how he trains going forward, and all that. Then we can decide what we can do. But, yes, it would be very nice to pick up 100 Derby points."
Lebda, who was purchased for $100,000 by Euro Stable's Valter Ramos and is one of seven horses he has with Gonzalez, is a longshot in the Haskell, having been installed at 20-1 on the morning line.
But don't count Gonzalez out. After all, the once-jobless immigrant teenager who showed up on the backside and the cancer survivor has already beaten the odds. Twice.