Trainer Clark Has High Hopes For Justaholic In Saturday's $100,000 Rainbow Heir Stakes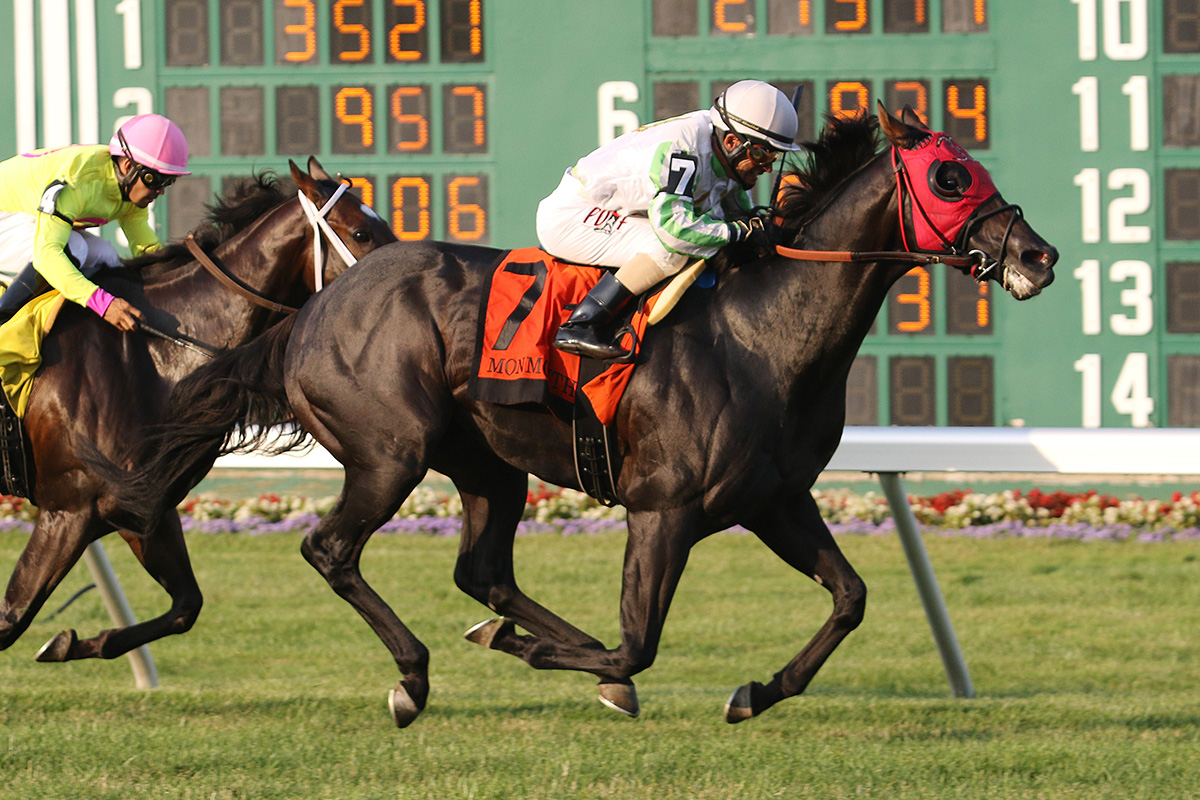 The first time trainer Tom Clark tried Justaholic on the turf on June 8 this year he did so, he said, because "I thought it would be better to get him a race than to keep training him and training him."
If all goes as he hopes in Saturday's $100,000 Rainbow Heir Stakes at Monmouth Park, Justaholic could continue to reward that casual decision in a big way.
"It was kind of an accident. We put him in a race at five furlongs on the grass to get a race in him and he just took to it," Clark said.
Justaholic followed that June 8 victory at Monmouth Park with a one-length score in the Wolf Hill Stakes at 5½ furlongs on the grass at Monmouth on July 20, then was second in the Da Hoss Stakes at Colonial, also at 5½ on the grass. It wasn't until a fifth-place finish in the Grade 3 Turf Monster at Parx over a yielding turf course on Sept. 2 that the 4-year-old colt's turf-sprinting form spree came to a halt.
"He just struggled in that race at Parx," said Clark. "It rained hard right before the race and he was struggling to keep up on that yielding turf, which is not like him.
"But he's doing really good again."
The Rainbow Heir Stakes is one four stakes races that will also serve as the closing events in this year's MATCH series on Monmouth Park's final Saturday program of the 2019 meet.
The 10-race card also features the $100,000 Mr. Prospector Stakes (the 3-year-old and up Sprint Dirt Division in the MATCH series); the $100,000 Regret Stakes the $100,000 (the Filly and Mare Sprint Dirt Division) and the $100,000 Violet Stakes (the Filly and Mare Long Turf Division).
Clark, who has four horses in his care, all stabled at Monmouth Park, is just happy to have a chance in a six-figure stakes race. The former assistant to Keith Nations picked out and bought Justaholic for $40,000 as a 2-year-old at the Ocala Breeders Sale in April of 2017 and has overseen the colt's development ever since, bringing Justaholic with him when he joined up with Nations.
"At the time I didn't have enough horses to continue on my own, so when I went to helping Keith I had Justaholic and a couple of other horses I brought with me," said Clark. "Then I kind of just go back going on my own again."
Clark, 59, has been training on and off since 1989.
"This is what I like at this point – four or five horses to train," he said. "Back in the day I used to have quite a few more."
Justaholic, a son of Justin Phillip-Luxaholic by Mucho Uno who is owned by Lucky Man Racing LLC, had a solid season as a 3-year-old on the dirt, showing a 2-1-1 line from five starts last year. The switch to the grass came in his first start this year. He won by 1½ lengths.
The Rainbow Heir is at 5½ furlongs on the grass and has attracted a full field of 12. Clark nonetheless remains confident in a horse he says is probably the best one he has ever trained. Justaholic is 2-for-2 sprinting on the turf at Monmouth.
"I looked at the race. I think he's the horse to beat," Clark said. "You never know. There are some good turf sprinters in the race. I lot of horses look pretty even but I like my horse."