The Critical Way Returns With Impressive 2 1/2-Length Victory In Sunday's $100,000 Get Serious Stakes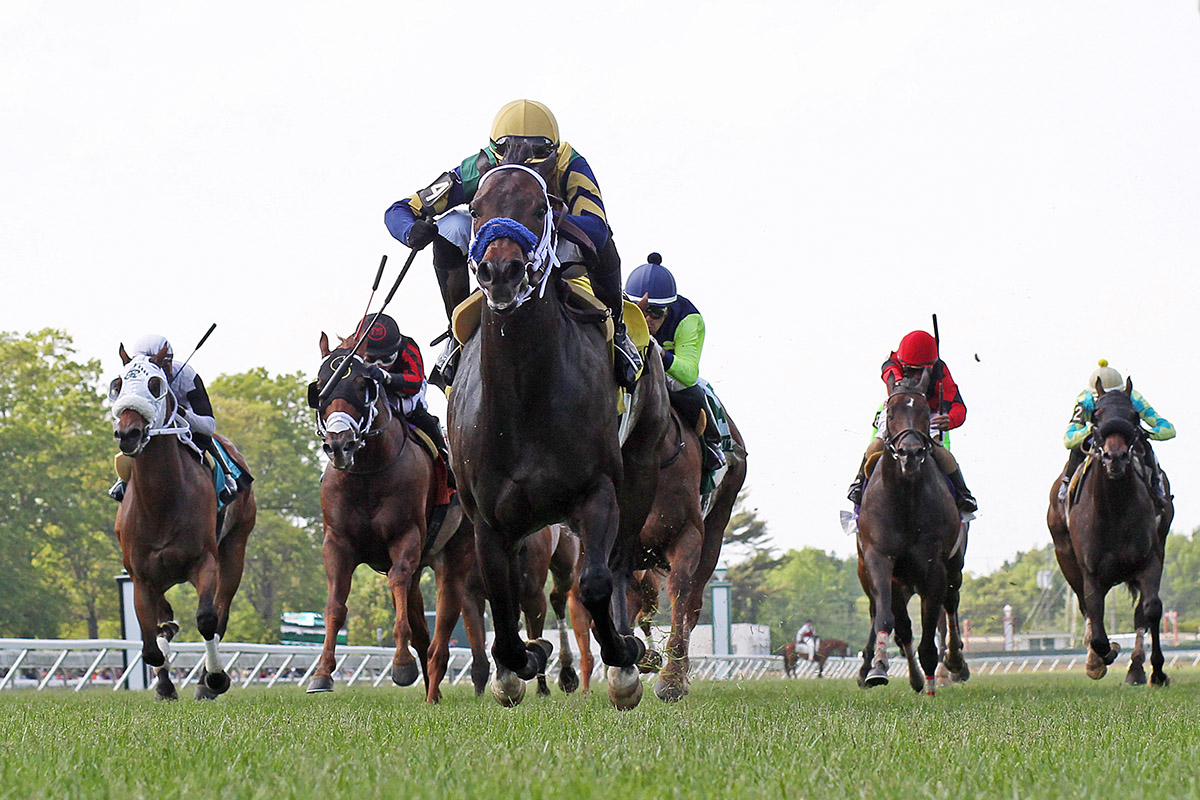 Sunday, May 22, 2022
At 8 years old, and coming off a nearly six-month layoff, The Critical way showed that, as trainer Jose Delgado said, "he's still got it."
Sent to front quickly by jockey Angel A. Hernandez, The Critical Way blazed fast early fractions and still had plenty in reserve to score an impressive 2 ½-length victory in Sunday's $100,000 Get Serious Stakes at Monmouth Park.
The winning time for the five furlongs over a turf course rated "good" was :55.52.
"I was a little worried going into the race, because when you come off a four- or five-month layoff you often see a horse getting tired late," said Delgado, who won three races on the nine-race card. "But five furlongs for him is like a workout in the mornings. The only difference is it's in the afternoon. We got him ready. We showed he can still do it.
"I wasn't worried about the (fast early) fractions because we discovered that he is better on the lead than coming off the pace and that's where he was today. I told Angel (Rodriguez) to send him because five furlongs is his game."
Sent off at 4-1 in the field of nine, The Critical Way ripped through an opening quarter in :21.08, making the opening half mile in :43.73. But there were no serious challengers late,
"He was coming off a long layoff but (Delgado) told me that he was ready," said Rodriguez, who notched his first stakes win at Monmouth Park in his first season of riding at the track. "He told me just go to the lead with him and let him do the rest, that he knows what to do. They were fast fractions but he did it easily and he was still strong in the stretch. He's just a fast horse."
The gelded son of Tizway won for the 10th time in 29 career starts, earning his eighth career victory on the grass.
He was pulled up in his last start on Dec. 1 at Tampa Downs.
"He got pulled up in his last start because the jockey (Samy Camacho) said he didn't feel right," said Delgado. "We had him checked out and nothing was wrong but we gave him 90 days off to let him get back to being himself and to get fresh. It worked very well because it showed today he still has it.
"You have to pick your spots with him because he is an 8-year-old. But the one thing about 8-year-olds is they know where the wire is."
The Critical Way returned $10.20 to win. High Limit Room rallied for second, a half-length better than Discreet Tune.
Gulfstream shipper Yes I Am, the 2-1 favorite in part because of a Grade 3 victory two races back, was last.