The Critical Way Blazes To Three-Length Turf Victory in :55.19 In Saturday's Five-Furlong Get Serious Stakes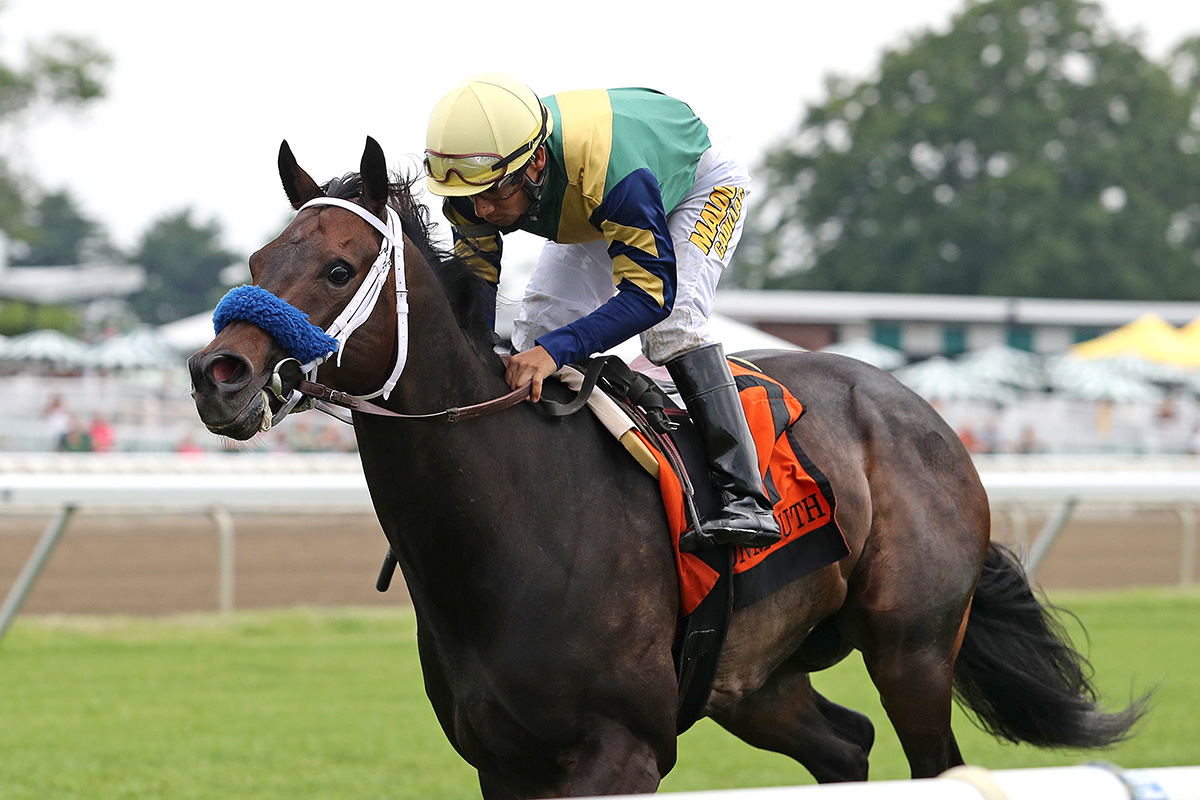 Trainer Jose Delgado was so impressed by what he saw from his speedy grass sprinter The Critical Way on Saturday at Monmouth Park that he immediately began plotting out a schedule that would get the 7-year-old gelding to the Breeders' Cup Turf Sprint on Nov. 6.
It wasn't just that The Critical Way won the $75,000 Get Serious Stakes with ease, pulling away for a three-length victory.
It was how he won the five-furlong grass feature.
Known for his blazing early speed, The Critical Way sat off the flanks of an even speedier French Reef, doing so through an opening quarter in a dazzling :20.11 and through a half in :43.34. Jockey Paco Lopez eased The Critical Way around French Reef entering the final turn and the son of Tizway took off, showing a finishing kick that can sometimes elude him when he is on the front end.
Final time for the five furlongs on a turf grass that was listed as "firm" was :55.19.
"We always think of this horse as being in front right out of the gate because he has a lot of speed," said Delgado, who tops the Monmouth Park trainer standings with 11 wins. "But Paco Lopez told me he was very comfortable coming off the pace. That's a new dimension for him. We always think he's one way and it's go, go, go. Now we've seen he can sit behind the speed and make one move and he can win that way. I like that.
"We saw he can sit comfortably. That gives us a lot of options. He is very consistent. He gives you everything he has. We'll look at some serious things for him now. Maybe we'll try something in Saratoga, then one or two races at Parx and then if everything goes right we will try to take him to the Breeders' Cup. That's the plan. That's the hope."
Lopez said The Critical Way "didn't break like he usually does."
"Usually he is right out of the gate and on the lead," said Lopez. "I think he got scared a little bit and jumped behind (French Reef). I know that horse from seeing him in Florida. That's a very fast horse. So I was behind that one but he was very comfortable, which surprised me because it is something new for him.
"I came in thinking I would make the lead but I had to go to Plan B. But the horse made it easy for me with how comfortable he was. He was close. It's not like he was far back. So when I did ask him he just took off."
After being caught at the wire in his last start in the Turf Sprint Stakes at Pimlico on the Preakness Stakes card, The Critical Way notched his fourth stakes victory and eighth win overall in 25 career starts for Monster Racing Stables. He paid $3.80 to win.
French Reef held second, 1¼ lengths ahead of Francatelli.