Terry's Charm Cruises To Victory In Monday's Featured Allowance To Give Jockey Jose Ferrer Four Winners On The Card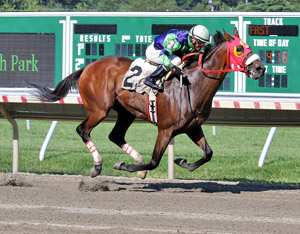 Jockey Jose Ferrer put on exclamation point on what will soon be his first Monmouth Park riding title, guiding heavily-favored Terry's Charm to an easy 5½-length victory in Monday's $40,000 featured allowance optional claimer – one of four winners on the card for the 54-year-old journeyman. 
Ferrer, who began riding at Monmouth Park in 1982, has an insurmountable lead in the jockey standings with two live racing days remaining on Saturday and Sunday, Sept. 8 and 9. 
Ferrer has ridden 90 winners through the first 50 days of the meet, 22 more than runner-up Paco Lopez. 
"I wish they would extend this meet another couple of months the way it has gone for me," said Ferrer. "I can sleep at night knowing the title is going to be mine, especially coming back from the injury the way I did and getting a second chance to keep riding. My goal was to come back and win the riding title here, so it feels great knowing it's almost official. It's awesome." 
Ferrer was involved in a chain reaction spill at Delaware Park on Sept. 14, 2017, suffering several broken vertebrae, multiple cracked ribs and a collapsed lung – injuries that threatened his riding career. Doctors told Ferrer it would take six months to recover, but he was back riding Dec. 1. 
"It just means so much more because of that and coming back the way I have," he said. 
Terry's Charm was never seriously threatened in winning for the third time in seven starts this year, covering the mile and a sixteenth in 1:43.53. The 5-year-old gelding paid 3.60 to win, with stable mate Indian Guide getting second. It was another 2¾ lengths back in third to Stronger. 
"He was much the best," Ferrer said of Terry's Charm. "I got him to the lead, nobody chased him and after that it was game over." 
The top two finishers are trained by Jorge Navarro, who has a stranglehold on his record sixth straight Monmouth Park training title. Navarro has saddled a record 81 winners at the meeting, easily outdistancing runner-up Jason Servis, who has 35 wins.