Synchrony Looking To Add To Stellar Turf Record In Saturday's Grade 2 Monmouth Stakes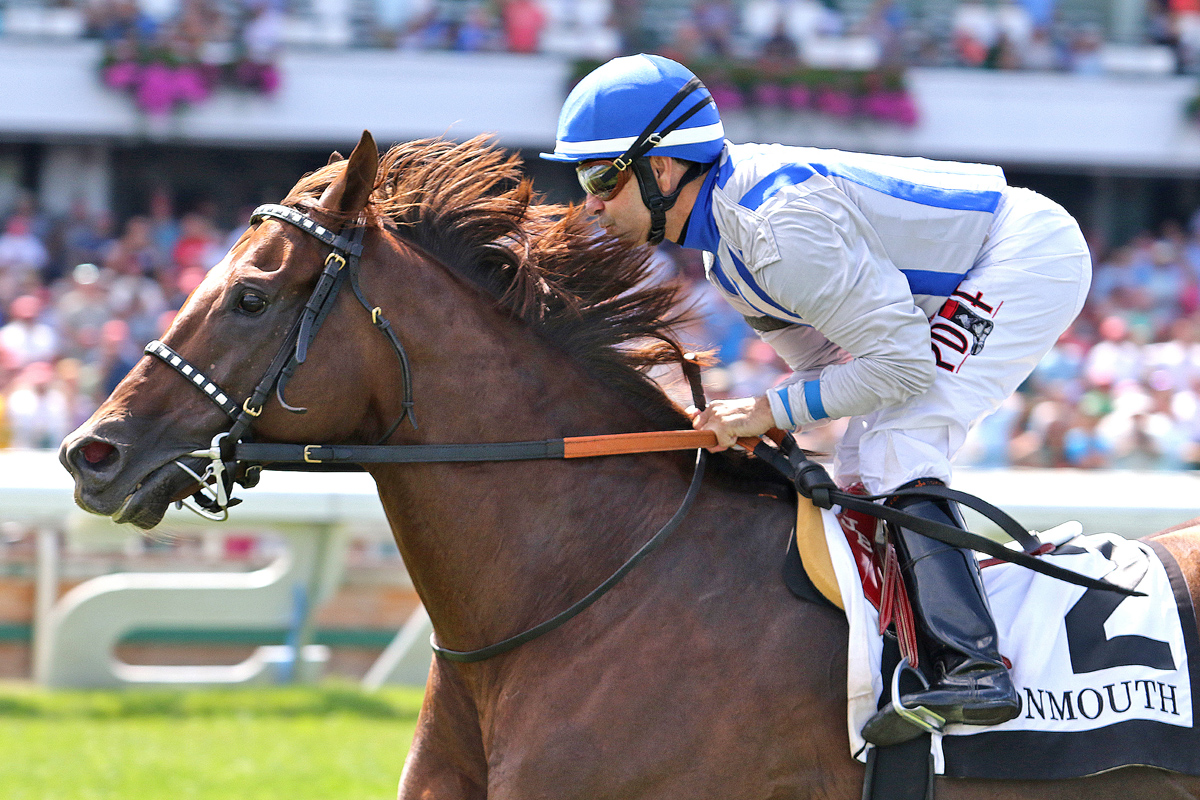 Trainer Michael Stidham has no qualms about shipping Synchrony wherever there's a graded turf stakes race that fits the horse's schedule, which explains why six of his past eight starts have been at different racetracks and on both coasts.
But there is no place the ultra-consistent 6-year-old enjoys more than Monmouth Park's turf course.
"He loves Monmouth Park," said Stidham. "You just have to look at his record there to see that."
Synchrony will look to add to his stellar Monmouth Park record – and impressive career – in Saturday's Grade 2 Monmouth Stakes, which tops a 13-race card that features four stakes races overall.
The Monmouth Stakes, at a mile and an eighth on the grass, drew a quality field of eight, with Stidham acknowledging that his star turf runner will have to be at his best to win.
"It's not an easy race by any means," said Stidham. "But it's a Grade 2 race. It's not supposed to be easy."
Synchrony has handled most tests thrown his way, with a 6-2-4 line from 14 lifetime grass starts. The son of Tapit-Brownie Points by Forest Wildcat has banked $773,052 for his career.
A small chunk of that has come at Monmouth Park, where Synchrony won the Grade 3 Oceanport Stakes and the Grade 3 Red Bank Stakes last summer. In his only other Monmouth appearance in 2017 he was second in the Grade 3 Red Bank.
"He's a real honest horse," said Stidham. "When you see him in the paddock you can see what a big, tough, strong horse he is. He just goes out and tries hard when the conditions are right."
That's the one catch with Synchrony: he needs a firm grass course.
That was not the case in his last start on the Kentucky Derby undercard on May 4 when Synchrony finished seventh in the Grade 1 Turf Classic over a course listed as "good."
"The same thing happened the year before in the Turf Classic," said Stidham. "It rained before the race and the turf was a little on the softer side and he never runs his best race on that type of course. When it's a firm course you can always count on him giving his best."
Synchrony, owned by Pin Oak Stable, will have to be on top of his game against the field assembled for the Monmouth Stakes, which carries a $200,000 purse.
Chad Brown has entered Almanaar and Projected, Bill Mott will be represented by Monarchs Glen and Mike Maker is shipping in Markitoff for his Monmouth Park debut.
"Obviously, any time Chad Brown is in a grass race he's the one to beat," said Stidham. "Bill Mott has one for Juddmonte Farms and they're always tough. And the horse that could be dangerous on the lead is Mike Maker's horse.
"But Synchrony is training great. We have him at Fair Hill (Md.) and he's had a work since the Churchill race and he's doing really well. If the weather holds out and the turf stays firm I expect him to gives his best effort, especially at Monmouth Park."