Stidham Looking For Big Effort From 2019 Sorority Winner Micheline In Sunday's Grade 3 Eatontown Stakes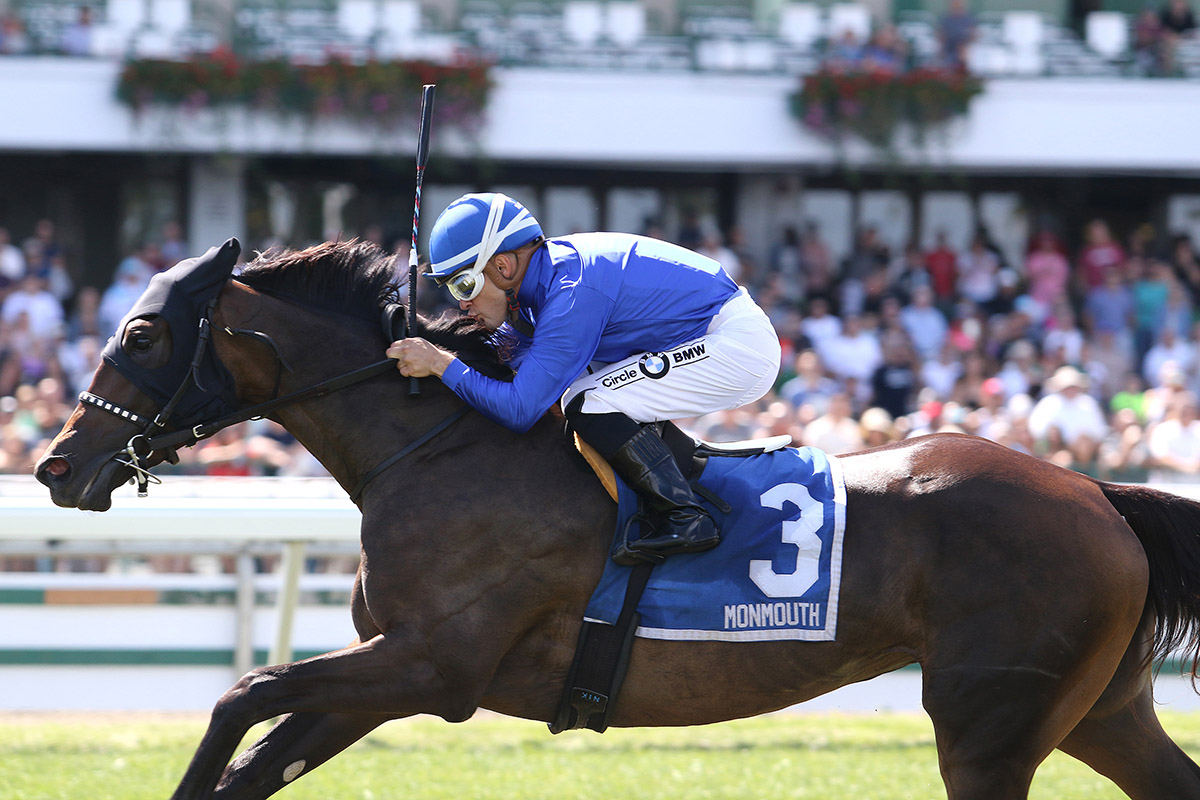 Now that Micheline has notched her first graded stakes victory, doing so in her 2021 debut, trainer Michael Stidham is convinced there's much more to come this year for the 4-year-old daughter of Bernardini.
The next step is Sunday's Grade 3 Eatontown Stakes at Monmouth Park, with the $1500,000 Father's Day feature race attracting a full field of 12 (as well as four alternates). Stidham is hoping the mile and a sixteenth grass race sets up the Godolphin runner for the Grade 1 Beverly D. Stakes on Aug. 14 at Arlington.
"We had her ready to go at Belmont Park on June 4 (in the Grade 2 New York Stakes) but it absolutely poured rain," he said. "It had rained there for a couple of days and right before the race they had to postpone the post parade because it was raining so hard. So we scratched her out of that.
"We needed a race for her. We knew this one would come up tough but we're pointing to the Beverly D. So we needed a race. It's time to get another race in her.
"Hopefully we'll get a good firm turf course on Sunday at Monmouth."
Stidham learned about Micheline's aversion to a soft or yielding turf the hard way. After a sharp seasonal debut that saw her win the Grade 2 Hillsborough Stakes at Tampa Downs on March 6 off a five-month layoff – "I didn't feel like I had her cranked up to 100 percent but she won anyway," Stidham said – Micheline was a tiring sixth in the Grade 1 Jenny Wiley Stakes at Keeneland on April 10.
That race was run over a yielding turf course.
"The race at Keeneland was a disappointment but the rain came down in buckets all morning and all day and the turf was horribly soft," said Stidham. "She hated it. She never looked comfortable on it. When it came time for her to make her move she was spinning her wheels.
"To me it's a throw-out race."
Micheline has proven to be a consistent turf router during her 14-race career with five wins, two seconds and a third. She has earned $671,978.
"She was always a filly that showed us a lot of ability and talent," said Stidham. "The proof of that is we shipped her to Saratoga for her first career start (in 2019). That will tell you what we thought of her. We rarely ship to Saratoga unless we really like one."
Micheline finished third in her racing debut. Stidham then shipped her to Monmouth Park, where she won the Sorority Stakes at a mile on the grass – as a maiden.
If Stidham has any reservations about the Eatontown Stakes — beyond the full, competitive field — it's the distance. Micheline won the Hillsborough at a mile and an eighth and has also won a mile and a half stakes race.
She is 1-for-5 lifetime at the Eatontown distance.
"I would say it's a little short for her," Stidham said. "I would say she is better going a mile and an eighth and up. We hope she can overcome the distance Sunday with her class and talent."
Mychel Sanchez has the mount.
First race post time for Sunday's 12-race card is 12:15.