28-Year-Old Stich Takes Down Record Field at Monmouth Park's Pick Your Prize Challenge; Fazzolari Surges to Win Sunday Contest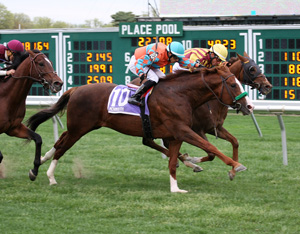 Patrick Stich, a 28-year-old resident of Chicago, IL turned his $1,000 starting bankroll into $6,150 to win Monmouth Park's fourth annual $2,000 Pick Your Prize Handicapping Challenge on Saturday, June 1.
Stich bested a record field of 222 entries made up of players from 30 states and Canada.
For finishing first, Stich received an automatic $14,000 and two picks from the Pick Your Prize board. In total, the board was composed of 22 NHC seats – the most of any online or on-track contest in history – as well as six full Breeders' Cup Betting Challenge seats and $86,000 in cash prizes. With his two picks, Stich selected the top cash prize of $12,000 and well as the prize of BCBC+$3,500. Including his bankroll, Stich walked away with $35,650 plus a seat in the $10,000 BCBC.
Early in the day, Stich started strong by hitting a $200 fourth race exacta at Gulfstream for $1,640.  A $50 fifth race exacta at Gulfstream earned Stich another $2,475.  A $600 win bet in the 11th race at Gulfstream had Stich with $5,050 going into the Monmouth Park finale – the final contest race.  A winning $200 cold exacta returned $1,300 and landed Stich the title.
Saturday's second-place finisher was Tim Yohler of Fishers, IN who finished with a bankroll of $5,843.60.
All Pick Your Prize players were required to bet at least $100 on a total of 10 races from Monmouth Park, Belmont and Gulfstream. At least five of those races needed to be Monmouth Park races. Bets could only be win, place, show, exacta or any combination thereof.
All players kept their final bankrolls. The Top 5 finishers received a guaranteed cash prize. The Top 7 finishers all received two picks from the prize board in order of finish. Finishers 8 through 27 received one pick.
Following is the full list of results from Saturday's $2,000 Pick Your Prize Handicapping Challenge:
Finish
Name
Bankroll
Prize
1st
Patrick Stich
$6,150
$29,500+BCBC
2nd
Tim Yohler
$5,843.60
$14,000+BCBC+NHC
3rd
Ross Szlasa
$5,253
$13,000+BCBC
4th
Frank Fosbre
$5,201.60
$10,000+BCBC
5th
Mark Streiff
$4,848.50
$5,000+BCBC+NHC
6th
Rich Pawlowski
$4,545.40
$2,000+NHC+BCBC
7th
Andrew Gredesky
$4,208
$5,500+NHC
8th
Gary Wright
$4,031
NHC
9th
Nick Noce
$3,788
NHC
10th
Scott Carson
$3,678
$4,000
11th
Frank Gryboski
$3,620
$3,000
12th
Stephen McNatton
$3,412.50
NHC
13th
Tim Hughes
$3,410.50
NHC
14th
David Wolff
$3,377.95
NHC
15th
John Vail
$3,207.50
NHC
16th
Joe Regan
$3,053
NHC
17th
Roger Cettina
$3,000.80
NHC
18th
Sally Goodall
$2,993.20
NHC
19th
David Wolff
$2,940
$3,000 (in lieu of a 2nd NHC seat)
20th
Scott Carson
$2,876
NHC
21st
John Fisher
$2,735
NHC
22nd
Mike Mulvihill
$2,724
NHC
23rd
Rich Nilsen
$2,667.25
NHC
24th
Don Chung
$2,604
NHC
25th
Jose Raphael
$2,466
NHC
26th

27th

Jeff Bussan

Dan Flanigan

$2,429.55

$2,396.50

NHC

NHC
For the first time, Monmouth Park also hosted a $300 NHC Qualifier on Sunday, June 2.  The winner of that contest was Nick Fazzolari of Colts Neck, NJ who used a late all-in in the finale at Belmont to catapult to the lead and best the field of 179 entries.  Fazzolari will be headed to the NHC along with second-place finisher Rich Pesce and third-place finisher Mark Odorisio.
Monmouth Park's next handicapping contest is a $300 Monmouth/Woodbine event ($150 entry fee, $150 bankroll) on Saturday, June 29, which will award three NHC seats .  Woodbine's historic Queen's Plate will be carded on June 29.
For more information on upcoming handicapping contests at Monmouth Park, players can email Brian Skirka at bskirka@monmouthpark.com.