Steeplechase Racing Returns to Monmouth Park This Friday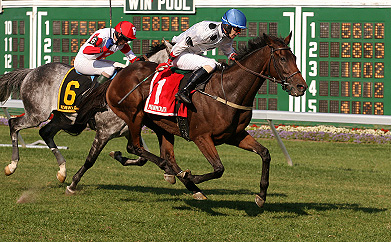 A race that is new to the United States, a Ratings Handicap, will be the featured steeplechase race on Monmouth Park's Friday program. Monmouth's only 2016 jumps program also will include a maiden hurdle.  
The $35,000 Ratings Handicap attracted a full field of 10, and the maiden hurdle has an oversubscribed field of 14. 
The Ratings Handicap, a popular race in England and Ireland jumps racing, made its first appearance on these shores in the spring of last year, and it has become a popular feature of many race meets on the National Steeplechase Association circuit. Typically, these races attract full, highly competitive fields. 
Weights carried by the horses are based on the ratings assigned to them by a knowledgeable three-person committee working under the supervision of NSA Director of Racing Bill Gallo Jr.  
"The Ratings Handicaps have proved to be a valuable addition to the program," Gallo said. "The large fields attest to their popularity, and the Ratings Handicaps offer owners an opportunity to compete without placing their horses at risk of being claimed." 
The committee assigning the ratings comprises Equibase chart caller Martin Chamberlin, Mid-Atlantic Thoroughbred Editor Joe Clancy, and Virginia race announcer Will O'Keefe. In all, they rated more than 100 horses, all winners over hurdles.  
Friday's 2 1/4-mile race is limited to horses with ratings between 130 and 110. The horse with the highest rating carries 158 pounds, and weights of other starters are based on their ratings. 
Topping Monmouth's field is leading owner Irv Naylor's Sacred Soul, trained by Cyril Murphy. Coming back from two years on the sidelines, the novice stakes winner is looking for his first victory of the current season. Riding Sacred Soul will be Ross Geraghty, a former champion jockey who made his U.S. debut at Monmouth in 2009. 
Naylor, who set a record for spring purse earnings with purses exceeding $500,000, also will be represented by Jamarjo, winner of a Ratings Handicap at the Radnor Hunt Races on May 21.  
Trainer Leslie Young will saddle Jamarjo and the race's third highweight, Ballybristol Farm's Andi'amu, a French-bred gelding who totes 154. Andi'amu most recently was second in a tough Ratings Handicap at the Iroquois Steeplechase in Nashville on May 14.  
Paddy Young, the reigning champion jockey and the trainer's husband, was named on both Andi'amu and Jamarjo. 
Second in the weights at 157 pounds is African Oil, a three-time winner last year who finished third in his 2016 debut, the Marcellus Frost Novice Stakes at Iroquois. Trainer Kate Dalton named her husband, top jockey Bernie Dalton, to ride. 
The field also includes a talented newcomer, Rebecca Shepherd's Curve of Stones, who is undefeated over fences. A maiden winner at the Virginia Gold Cup on May 7, the five-year-old Arch gelding came back in two weeks to win a Radnor allowance hurdle. Apprentice jockey Barry Foley will ride for trainer David Bourke. 
Here is the field for the $35,000 Ratings Handicap in post-position order. The number in parentheses at the end of each profile is the horse's current rating: 
Curve of Stones 2011 gr. or ro. g., Arch—Exceptionally, by El Prado (Ire). Owner: S. Rebecca Shepherd. Trainer: David M. Bourke. Jockey: Barry Foley. Breeder: Audley Farm (Va.) 2016 record: 2-2-0-0, $55,000. Won maiden victory at 2016 Virginia Gold Cup and came back two weeks later to win $35,000 allowance hurdle at Radnor. (120) 
All for Us. 2011 dk. b. or br. g., Tiz Wonderful—Patricias Prospect, by A.P. Indy. Owner: Duodecim Stable. Trainer: Jack Fisher. Jockey: Connor Hankin. Breeder: Spendthrift Farm (Ky.) 2016 NSA record: 1-1-0-0, $24,000. After closing out flat career with two wins at Tampa Bay Downs, won his jumps debut in a $40,000 Sport of Kings maiden hurdle at the Virginia Gold Cup on May 7. (116) 
Sacred Soul. 2007 b. g., Perfect Soul (Ire)—Scarab Bracelet, by Riverman. Owner: Irvin S. Naylor. Trainer: Cyril Murphy. Jockey: Ross Geraghty. Breeder: Racing Spring Farm (Ky.) 2016 record: 2-0-0-0, $1,750. 2015 record: No starts. Finished fourth in Iroquois Ratings Handicap after two-season absence, then was ninth in Fair Hill's Valentine Memorial Ratings Handicap. In final 2013 start, won Far Hills' Foxbrook Champion Hurdle, and also finished second in Saratoga's Michael G. Walsh Novice Stakes. (129) 
Orchestra Leader. 2009 b. g., Van Nistelrooy—Magic of Life, by Seattle Slew. Owner: S. Bruce Smart Jr. Trainer: Jimmy Day. Jockey: Keri Brion. Breeder: Strategy Bloodstock (Ky.) 2016 record: 3-0-2-0, $9,900. 2015 record: 8-1-5-1, $52,000. 2014 record: 6-1-0-2, $12,500. Finished second in 2016 Aiken Spring's Budweiser Imperial Cup optional allowance hurdle and Daniel Van Clief Memorial before being pulled up in High Hope's optional allowance hurdle. Finished second in Foxfield Fall's featured optional allowance hurdle, then was third in Charleston Cup. Finished second in Saratoga optional allowance hurdle after fifth in Jonathan Kiser Novice Stakes. (118) 
African Oil (Fr). 2010 dk. b. or br. g., Royal Applause—Ahdaaf, by Bahri. Owner: Gary Barber. Trainer: Kate Dalton. Jockey: Bernie Dalton. Breeder: SCA La Perrigne (Fr). 2016 record: 1-0-0-1, $7,500. 2015 NSA record: 4-3-0-1, $93,000. Finished third in his 2016 debut, the Marcellus Frost Novice Stakes at Iroquois Steeplechase. Novice champion in 2015 after three-race streak ending in Jonathan Kiser Novice win. Former California flat claimer took to jump racing and scored impressive victories in Iroquois maiden hurdle on and a Monmouth Park optional allowance hurdle. In first start over fences, finished third at Queen's Cup near Charlotte, N.C. (128) 
Andi'amu (Fr). 2010 b. g., Walk In The Park—Sainte Parfaite, by Septieme Ciel. Owner: Ballybristol Farm. Trainer: Leslie Young. Jockey: Paddy Young. Breeder: Therese Bouche (Fr). 2016 record: 2-0-1-0, $8,300. 2015 NSA record: 4-1-3-0, $56,400. Finished fifth in Middleburg Spring's 2016 Temple Gwathmey Handicap (Gr. 3), then was second in Iroquois Ratings Handicap. Won Montpelier's Noel Laing, a Ratings Handicap. Finished second in first three U.S. starts, most recently in an International Gold Cup allowance hurdle on Oct. 24. Also had two place finishes at Saratoga. Won maiden victory at Market Rasen in November 2014. (125) 
Dreamin Fool. 2008 dk. b. or br. g., Woke Up Dreamin–Fast Move, by Hickman Creek. Owner: Virginia Lazenby. Trainer: Doug Fout. Jockey: Kieran Norris. Breeder: Robert E. Ritchie Jr. (Ky). 2016 record: 3-1-0-0, $20,600. 2015 record: 2-1-1-0, $15,600. 2014 record: 2-0-1-0, $5,500. Won 2016 Aiken Spring's Budweiser Imperial Cup optional allowance hurdle then was fourth in Middleburg Spring Ratings Handicap and fifth in Iroquois Rating Handicap. Won Aiken Fall maiden hurdle after second in Virginia Fall maiden. Claiming winner at Evangeline Downs before converting to jump racing. (117) 
Jamarjo (Ire). 2007 b. g., Marju—Athlumney Lady, by Lycius. Owner; Irvin S. Naylor. Trainer: Leslie Young. Jockey: Paddy Young. Breeder: Frank Dunne (Ire). 2016 record: 2-1-0-1, $17,500. 2015 record: 1-1-0-0, $15,000. 2014 record: No starts. Won 2016 Radnor Ratings Handicap after third in Daniel Van Clief Memorial at Foxfield Spring. Returned to the races after winning the 2013 Charleston Cup and won 2015 Charleston Cup. (121) 
Bodie Island. 2008 dk. b. or br. g., Kafwain—Sweet Carolina, by Deputy Minister. Owner: The Elkstone Group LLC. Trainer: Richard Valentine. Jockey: Open. Breeder: The Elkstone Group LLC (Ky.) 2016 record: 2-0-0-1, $2,500. 2015 record: No starts. 2014 record: 5-2-0-2, $59,900. Pulled up in 2016 David Semmes Memorial (Gr. 2) at Virginia Gold Cup, then finished third in High Hope optional allowance hurdle. Missed the 2015 season after a two-win campaign in 2014, including a victory in a Saratoga optional allowance hurdle. (122). 
Causeworthy. 2011 ch. g., Giant's Causeway—Bachata, by Kingmambo. Owner: Sheila Williams and Northwoods Stables. Trainer: Jack Fisher. Jockey: Sean McDermott. Breeder: Pin Oak Stud (Ky.) 2016 record: 2-1-0-0, $19,400. Won maiden victory over fences at the Queen's Cup in North Carolina in late April and then finished fifth in a Radnor allowance hurdle. (115)