Sports Ticket Giveaway, Guaranteed $150,000 Single Winner Pick 5 Highlight Sunday's Father's Day Promotions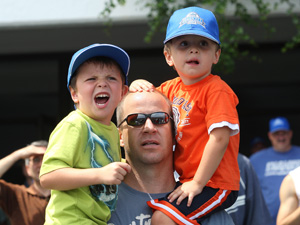 In addition to free admission for all men on Father's Day and a sports ticket giveaway for the Mets, Yankees, Phillies, Lakewood Blue Claws, Haskell, Giants and Jets, there is plenty in store for handicappers on the Sunday, June 17 card. 
Monmouth Park is again offering a $150,000 guaranteed late pick five for a single winner of the bet, which goes as the last five races on Sunday 
There is also a carryover of $39,291 for the Jersey Shore Pick 6, a 20-cent bet that covers the final six races of the 13-race card. That carryover will build for Sunday if it is not hit during Saturday's 13-race card. 
Sunday is also Family Fun Day, with free clowns, face painters, pony rides and a bounce house for children 12 and under.