Shurman Finishes Strong to Capture $2,000 Pick Your Prize Challenge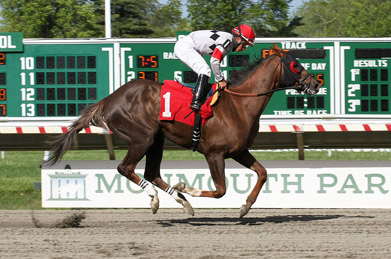 Monmouth Park's biggest handicapping contest ever was held Saturday, June 3 and the winner was Paul Shurman of Dix Hills, NY. 
Shurman bested a field that included 172 entries from players from 26 states plus Canada.It was a star-studded field for the second-annual $2,000 Pick Your Prize Challenge – in which players started with a $1,000 bankroll and bet on races from Monmouth Park, Belmont and Churchill.  There was a $100 minimum bet and wagers had to be win, place, show and/or exacta. 
Shurman turned his starting $1,000 bankroll into $8,190 and used a strong late push to catapult to the lead.  Down to his last $255, Shurman went all-in with exactas using the favorite in Monmouth Park's last race over three horses.  He connected with a longshot in the second spot and the resulting payout was enough to launch him all the way into the contest top-spot. 
By finishing first, Shurman automatically earned a cash prize of $11,745 and received two picks from the prize board which included 17 NHC seats, 6 BCBC seats and $39,240 cash.With his two picks, Shurman selected a BCBC seat and $15,696. 
In total, the Top 23 finishers received at least one selection from the prize board: 
| | | | |
| --- | --- | --- | --- |
| Finish | Name | Bankroll | Prize |
| 1st | Paul Shurman | $8,190 | $27,441, BCBC seat |
| 2nd | Thomas O'Connor | $5,645.60 | $15,158, NHC seat |
| 3rd | Phil Lam | $4,705 | $8,363, BCBC seat |
| 4th | Roger Cettina | $4,485 | $6,273, BCBC seat |
| 5th | Joe Perry | $4,306.50 | $4,966, BCBC seat |
| 6th | Bill Rendino | $3,920 | NHC seat, BCBC seat |
| 7th | Cheryl McIntyre | $3,892.50 | $1,962 |
| 8th | William Meisel | $3,868 | NHC seat |
| 9th | Stephanie Davis | $3,683.50 | NHC seat |
| 10th | Ryan Scharnowske | $3,450.60 | NHC seat |
| 11th | Roger Cettina | $3,436 | $1,177 |
| 12th | Berry McQueen | $2,914 | NHC seat |
| 13th | Pete Acocella | $2,850 | NHC seat |
| 14th | Jerry McClenin | $2,828.50 | NHC seat |
| 15th | Pat Nufrio | $2,600.60 | NHC seat |
| 16th | Duke Matties | $2,085 | NHC seat |
| 17th | Paul Matties | $2,027.50 | NHC seat |
| 18th | Steve Orrechio | $1,975 | NHC seat |
| 19th | Evan Trommer | $1,961 | NHC seat |
| 20th | Brent Sumja | $1,893.50 | NHC seat |
| 21st | Jeff Busan | $1,891.50 | NHC seat |
| 22nd | John O'Neil | $1,870 | NHC seat |
| 23rd | O Benjamin | $1,860 | NHC seat |