Shotgun Hottie Romps In Saturday's $100,000 Lady's Secret Stakes; Eyes Grade 3 Molly Pitcher Next on July 22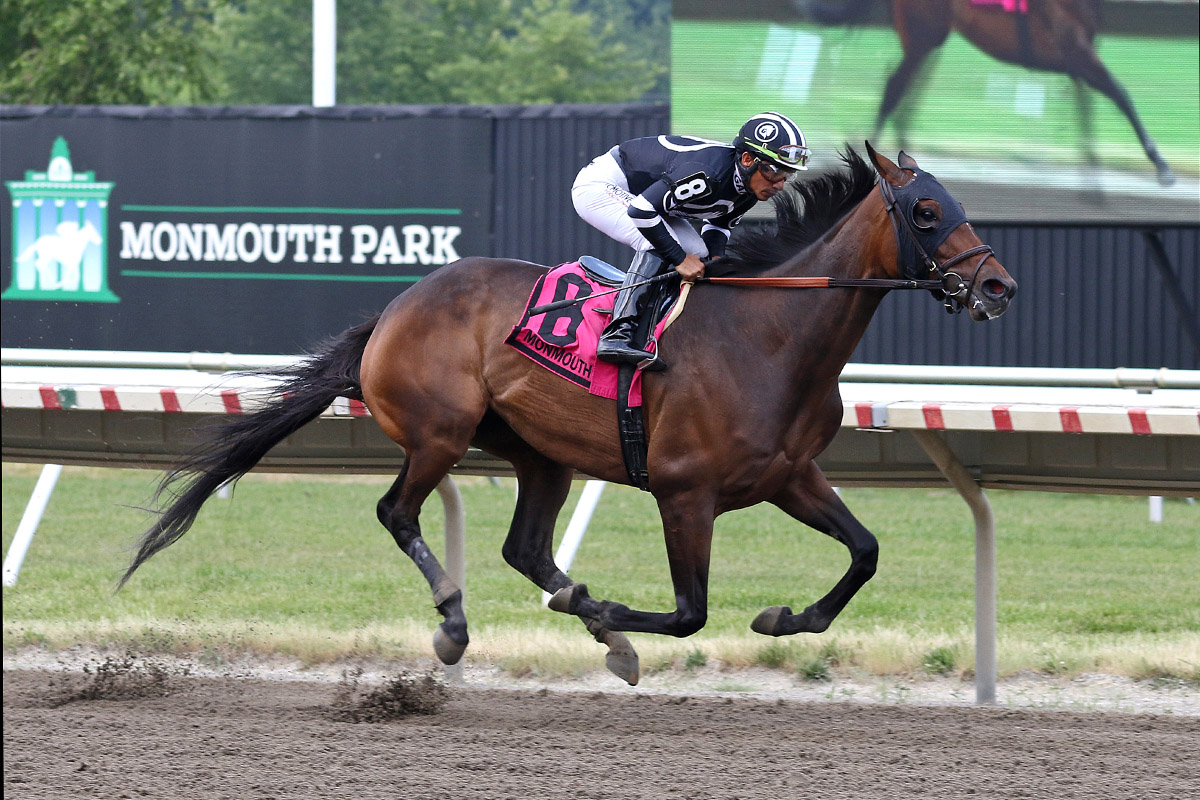 Trainer Cherie DeVaux makes no secret about what the ultimate goal is for Shotgun Hottie this year: Get the 4-year-old daughter of Gun Runner a graded stakes win.
Shotgun Hottie took a big step toward that, cruising to a 5½-length victory in Saturday's $100,000 Lady's Secret Stakes at Monmouth Park, a win that carries free entry and start fees to the Grade 3 Molly Pitcher on July 22.
"We'll probably stay the course and go to the Molly Pitcher next," said DeVaux. "We'll see how she comes out of it and go from there. The goal with her is to try to win a graded stakes. It's a pretty tough group this year so we'll see what happens.""
In her fourth start for DeVaux since she was transferred from Thomas Morley's barn, Shotgun Hottie expended little energy in putting away her five rivals in the mile and sixteenth feature for fillies and mares, 3 and up.
The winning time was 1:43.64.
After running a non-threatening third in her last start in the Serena's Song Stakes at Monmouth Park on May 14, Shotgun Hottie found herself atypically on the lead – but for good reason. The opening quarter went in a plodding :25.16 over a track that had been playing fast all day.
"She usually likes to come off the pace from what I saw of her races but nobody took the lead so I took it," said jockey Paco Lopez, who added to his meet-leading totals with four winners on the 11-race card. "Everyone let me go. It was easy so I took it. When you go fractions like this, good fillies get into a rhythm and they do it easily. I really didn't have to use her much after the opening half. She did it so easily."
Sent off as the 3-2 favorite, Shotgun Hottie powered to the front after the opening quarter and never faced a serious threat. One was supposed to come from Leader of the Band, but the 8-5 second choice never fired, finishing off the board. Lightly-raced Signal From Noise held for second, 1¼ lengths ahead of Miss New York.
The win improved Shotgun Hottie's career record to 14-4-4-2 for owners Omar Aldabbagh and Jeff Ganje.
"Paco did a really good job when they came out of the gate and he sensed there was a slow pace and he just took control of the situation," said DeVaux. "Her last race she got into some trouble and it was a speed-favoring track. This time he didn't rush her to the lead. She just got there naturally. The track wasn't playing to her favor last time and she got in trouble. It wasn't anybody's fault. She's a big filly and you can't get her stopped. You have to keep her clear and Paco did that.
"She was quite impressive the first race I ran her at Oaklawn. But this would be her most impressive race since I've had her and I think it showed a different dimension."
Shotgun Hottie has had four cracks at winning a graded stakes, with two seconds and a third to show for it. She was second in the Grade 3 Monmouth Oaks a year ago.
Lopez, who rode Leader of the Band in her last race, said he wound up on the winner this time because "the owners weren't happy with the ride (in the Serena's Song aboard Leader of the Band)."
"So I jumped at the opportunity when Cherie gave me this chance," he said.