Shaw Notches First Stakes Win In 22-Year Training Career As 22-1 Precious Avary Captures Saturday's Jersey Girl Handicap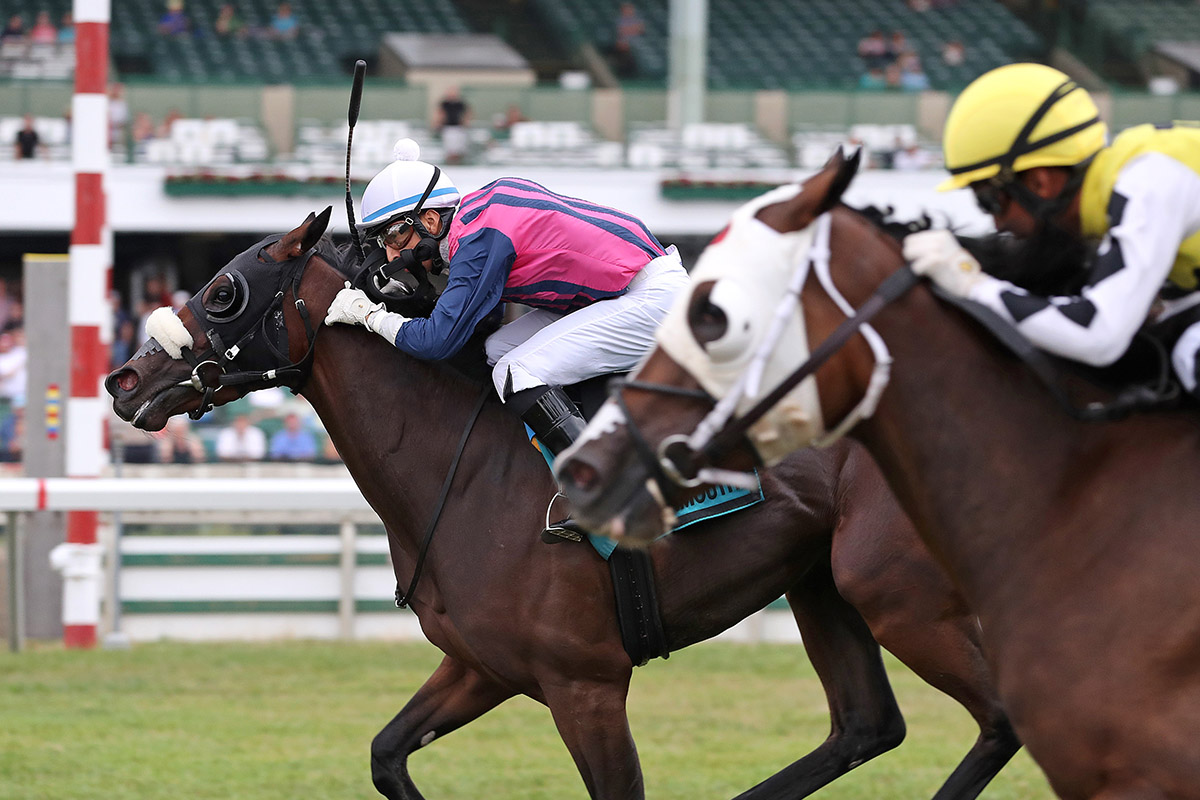 Tim Shaw is going to savor this win for a while.
After 22 years as a trainer, and 1,337 starters, Shaw notched his first career stakes win when front-running Precious Avary held on for a neck victory in Saturday's $85,000 Jersey Girl Handicap at Monmouth Park, doing so at odds of 22-1.
The win was the third in a row for the 3-year-old daughter of Divining Rod, all coming since she returned to facing New Jersey-breds.
"It's a great feeling," said Shaw. "It means the beer is going to be colder, the steak is going to taste better. I've only run two horses in stakes races in my career and she is one of them. Mostly I claim horses and have some home-breds with limited ability. But I never had a real horse who could run like this one."
Racing against older fillies and mares, and stretching out on the turf for the first time, Precious Avary was put on the lead by jockey Silvestre Gonzalez, loped through an opening quarter in :25.08 and a first half in :50.24 and had just enough left to hold off 2-1 Bramble Bay, who was charging up the rail. It was another 1¾ lengths back to Riding Pretty in third.
The winning time for the mile over a turf course listed as firm was 1:37.31.
"She's in very good form right now," said Gonzalez. "She just loves to run – dirt, turf, short, long. She's just game. She comes out of there and gives 100 percent.
"When I broke out of there and I saw there was no speed I put her on the lead and then grabbed her and she rated very well today. She settled in nicely, we got an easy pace and that helped us down the stretch. Right now she's in a happy place. She's a Jersey-bred and in these Jersey-bred races she fits very well."
The victory was her fourth straight against state-bred company, the last three coming at Monmouth Park this year.
"I think the change back to Jersey-bred company has given her confidence again," said Shaw, who keeps a 10-horse stable based at Parx. "She had a good race against open company at Penn National to start the year and that was kind of the spark. Then once we were able to get her in Jersey-bred company it seemed her confidence kept building.
"It's a little of a case of being back with her own company thing, being back with some confidence, and she's a 3-year-old filly who is getting better. She's won short turf, long dirt, slop going short and now turf going two turns. Honestly, I don't know what she wants or what she's best at. As long as Monmouth stays open I think we have to keep her with Jersey-breds."
Owned by Smith Farm and Stable, Precious Avary now has a 4-2-1 line from 10 career starts with earnings of $201,460.