Serena's Song Stakes Tops Monmouth Park's 12-Race Card on Saturday, May 12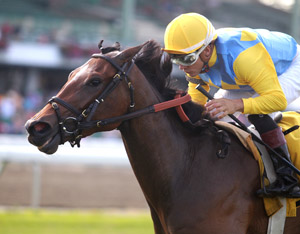 Trainer Ben Perkins, Jr. can live with the results his stable produced on opening day at Monmouth Park with two seconds from two starters – as long as the second-itis doesn't become a habit. After essentially being forced to shut down his training operation in January and February because of bad weather, the veteran conditioner arrived at Monmouth Park with a barn of freshened runners and big expectations. 
A Place to Shine can start to deliver on those expectations in the featured $60,000 Serena's Song Stakes on Saturday, May 12. The Serena's Song will go as the 11th-race on a 12-race program for the second live card of Monmouth Park's 52-day meeting. Opening day on Saturday, May 5, drew a crowd of 20,736. 
"She was like a lot of our horses. We planned to give her a couple of weeks off in the winter but the weather changed those plans," said Perkins, Jr. "So we got behind with her and, like with most of our horses, we stopped on them and gave them January and February off. We couldn't do anything for two months because of the weather."
A 5-year-old daughter of Tale of Ekati, A Place to Shine shows a solid 5-3-1 line from 15 career starts, with $198,940 in career earnings for owner Jeremiah Kane. But she has been idle since a Dec. 22, 2017 race at Aqueduct. 
"I think she will run well," said Perkins, Jr. "She tries. She's a nice horse and she runs well fresh. The first time we ran her last year (off a 10-month layoff) was at Parx and she went wire to wire and won. That's tough to do going long at that track. 
"So I'm hopeful she will run well. We've had enough seconds already." 
A Place to Shine, like Perkins, Jr., is no stranger to Monmouth Park, having finished fourth in the Grade 3 Monmouth Oaks on Aug. 20, 2016. 
Perkins, Jr., meanwhile, is marking his 50th year on the Monmouth Park backstretch. 
"I was here with my dad (former trainer Ben Perkins) as a hot walker when I was 12," said the 62-year-old Perkins, Jr. "We were in the barn with Mr. (Jimmy) Croll then. So I've seen a lot of horses here. 
"I remember when I graduated from college, that was the year (Grover) Buddy Delp had Spectacular Bid as a 2-year-old here and he put him at the end of the barn." 
Spectacular Bid, considered one of the all-time greats, captured the 1979 Kentucky Derby and Preakness and won 26 of 30 career starts. The only off-the-board finish of his career was when he was fourth in the 1978 Tyro Stakes at Monmouth Park.