Second Mate Rallies To Win Friday's Featured Allowance At Monmouth Park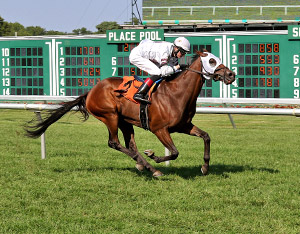 Second Mate, second or third in four of his six starts this year, regained his winning ways by closing late into a fast pace to win the featured $41,000 allowance optional claimer by 3½ lengths over Birdsnest Party on Friday at Monmouth Park. 
The Jane Cibelli-trained gelding both avoided and took advantage of a mishap involving 9-5 favorite Adonis Creed, who bolted just inside the eighth-pole while on the lead. Jockey Paco Lopez was thrown from his mount but bounced up quickly and returned to ride in the next race. 
Jockey Trevor McCarthy guided the late-running Second Mate through the resulting opening and quickly seized advantage. 
Sent off at 7-2 in the field of eight, Second Mate returned $9.20 to win. He covered the mile and a sixteenth over a firm turf course in 1:42.34.  
"The fact that they set up the fractions at :22.39 and :46.04 was a gift," said Cibelli. "And when Paco's horse bolted we were there to take advantage." 
The victory was the sixth in 24 career starts for Second Mate, who had three victories in six starts a year ago. 
"I was happy with where I was (back in the pack early on) with that pace. It was a quick pace," said McCarthy. "We had a great trip. I followed Paco all the way around and we got a little lucky with what happened. Fortunately, nobody was hurt."