Saturday's Colleen and Tyro Stakes Offer Key Tests For Promising 2-Year-Olds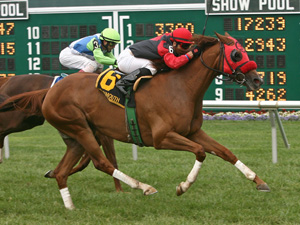 With 2-year-old stakes races it's all about finding out if the performance lives up to the potential. That's exactly the case for trainers Brian Lynch and Ron Potts, Jr., who will send out a pair of promising runners in the two "baby" stakes races Monmouth Park on Saturday, Aug. 4. 
Potts, based at Presque Isle Downs in Erie, Pa., is shipping in Amy Farah Fowler, a dominant winner in both of her starts, for the $60,000 Colleen Stakes, a five-furlong turf event for 2-year-old fillies. 
Lynch will send out Carotari, a new addition to his barn, in the $60,000 Tyro Stakes, also at five furlongs on the grass for 2-year-olds. 
"They're 2-year-olds. They're lightly raced and most of them have no experience in stakes competition. So this is when you start to find out about them," said Lynch. "At this stage, we've been happy with everything Carotari has done with the works I've had him for. This will be a big tell-tale for him, no doubt." 
Carotari only came into Lynch's care a month ago after breaking his maiden on the dirt in his first start at Santa Anita on June 22. Lynch has had the colt for three morning works at Belmont Park. 
"After that Santa Anita race I got a call from the owner (William Branch) and he said there weren't a lot of options for him on the West Coast, especially for a 2-year-old on the grass," Lynch said. "They relocated him to the East where there are more opportunities this time of year." 
A son of Artie Schiller, out of the Rahy mare Soothe, Carotari's breeding screams turf. 
"That's why I'm hoping he takes to the grass like a duck to water," Lynch said. 
The Tyro has drawn a field of 10, including main track only entrant Romani, and features two Wesley Ward-trained starters. 
"With Carotari having experience and a race under his belt and getting on a surface he should like, hopefully we should see a good result out of him," said Lynch. 
Amy Farah Fowler, an $8,500 yearling purchased who is also owned by Potts, has dominated the competition in her two career starts, both at Presque Isle, winning by 5¼ and 8¾ lengths. 
"She has always been precocious – really since the spring when she first started breezing," said Potts. "Down in Florida we knew we had something useful. We took our time with her and she came around fast. She's done everything we've asked of her so far." 
Potts said he has not been surprised by Amy Farah Fowler's performances to this point because of what he saw from her in the mornings. 
"All of the other 2-year-olds of mine she breezed with have all run already and she handled them pretty easily before she ever started a race," said Potts. 
A daughter of Astrology-Run Cat Run, Amy Farah Fowler will try to make the transition from the synthetic surface at Presque Isle to the turf, which Potts doesn't see as a problem. 
"She handled the dirt well in training. She has handled the synthetic. Most of my synthetic horses are able to make the transition from synthetic to turf," he said. 
Potts, who has 25 horses stable at Presque Isle, will make the trip East to saddle his promising filly and has high hopes for how she will perform. 
"I think she will run well," he said, "She's a talented filly. She hasn't beaten up on bad horses either. Most of the horses she has beaten have come back to win or have run well. I don't think she was hooking easy spots. But this is a stakes race, another step, so we'll see. I think she has the talent to be a good one."