Satellite Storm Looking To Build Off Impressive Win At Colonial Downs In Sunday's Get Serious Stakes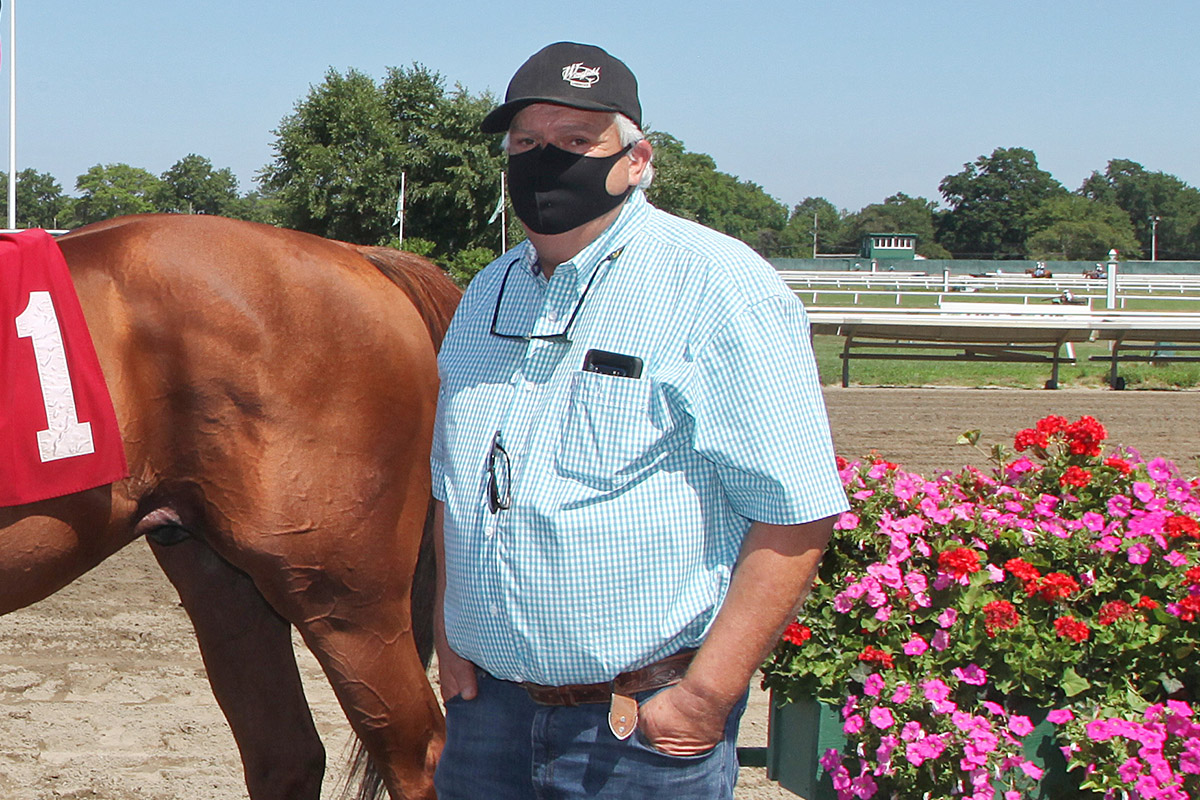 Trainer Tom Clark is approaching Sunday's Get Serious Stakes at Monmouth Park with equal parts optimism and curiosity.
Clark will send out Satellite Storm in the 5½-furlong turf sprint, with the $75,000 feature race drawing 12 entrants, including one main track only and two also-eligibles.
It's the first time Clark will saddle Satellite Storm and only the third day he will have even been around the 6-year-old gelding, who was sent to him from trainer Valerie Lund following an eye-opening 3½-length score in an optional $62,000 claimer at Colonial Downs in his 2020 debut on Aug. 9.
Satellite Storm earned a career-best 96 Beyer Speed Figure for that performance.
"I don't know much about him. He just got here Thursday night," said Clark, who oversees a 12-horse stable at Monmouth Park. "All I know is what Valerie told me about him. She said he just needs to run along. He doesn't want you to take hold of him. He wants to go.
"He ran really good in that race at Colonial. He ran fast. Ever since Valerie got the horse and put him on the turf he just kind of turned into a monster it seems."
Claimed for $12,500 on April 3, 2019, the speedy Satellite Storm has won four of six grass sprints since being tried on the grass. That includes a victory in the Mystic Lake Turf Sprint Stakes at Canterbury, where Lund is based, and a near-miss in an optional $150,000 claimer at Churchill Downs.
The only time Satellite Storm has been worse than second in a grass sprint in his career was in the Grade 2 Woodford Stakes at Keeneland in his final start last year. He returned with that dazzling effort at Colonial.
"Valerie seems to think he fits pretty good in this race," said Clark. "I think he might be the fastest horse in the race. We'll find out."
Clark, who is 3-for-7 at the Monmouth Park meet (all five of his winners from 28 starters overall this year have been with different horses), views Wolf Hill Stakes winner Archidust, trained by Steve Asmussen, as the likely race favorite.
"He seemed like he shipped in just fine," Clark said of Satellite Storm. "Valerie seems to think he will run pretty good. Probably the horse to beat is Steve Asmussen's. That horse is tough.
"This horse has been travelling around a little bit (with his last four races at four different racetracks) but from what I have seen he looks pretty good. Hopefully he runs back to that race at Colonial."
A son of Coast Guard-Kula Girl by Hesabull, Satellite Storm is 8-for-28 for his career and 4-for-6 on the turf. All four grass wins have come since he was claimed by owners Grace and Gamblers LLC 16 months ago.
The Get Serious Stakes headlines a 12-race card. First race post time is 12:50 p.m.