Sapling Winner Waist Deep Heads Field For Sunday's Smoke Glacken Stakes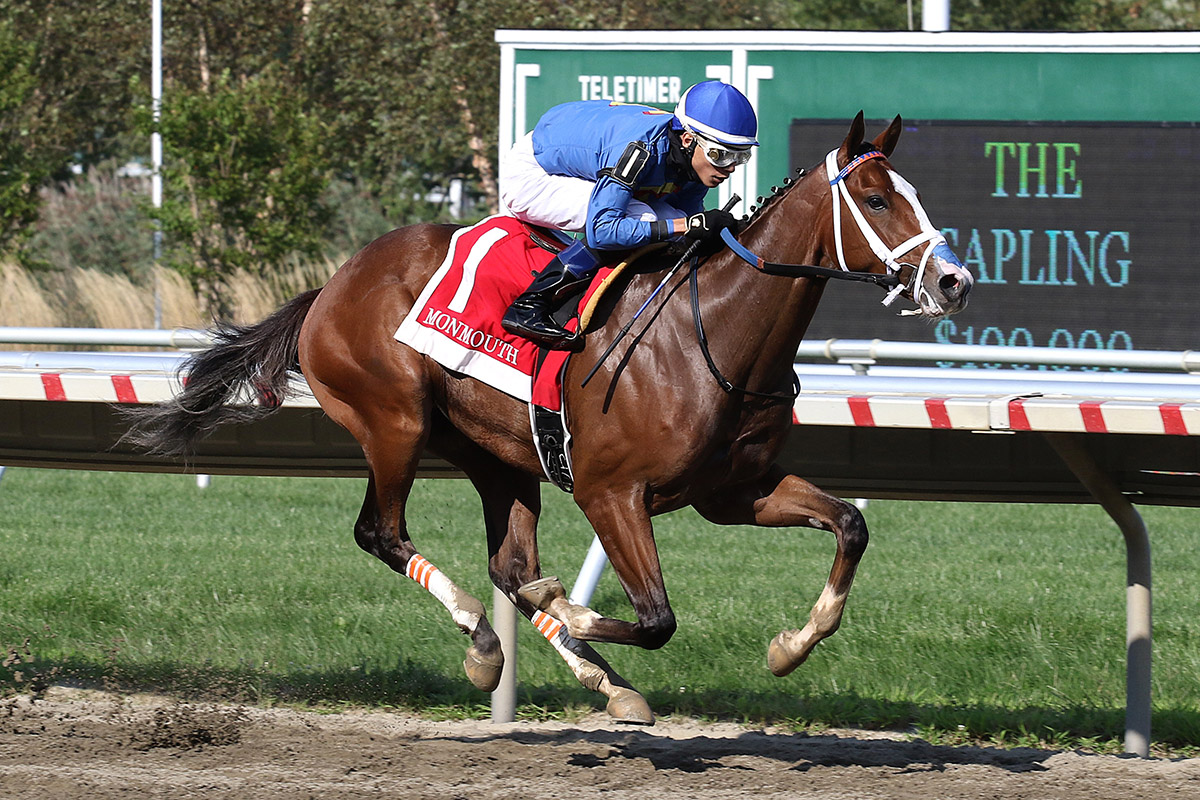 Anthony Farrior had already convinced himself that he'd seen the last of Waist Deep for the 2020 racing season following the 2-year-old gelding's impressive victory in the Sapling Stakes at Monmouth Park on Sept. 6. So the plan was to give Waist Deep the winter off and then gear up for next year.
The horse had other ideas.
With Waist Deep giving his trainer every sign that he wants to keep racing, the Kentucky-bred will be back at Monmouth Park for the $75,000 Smoke Glacken Stakes on Sunday, one of two stakes races that highlight the final card of the 36-day meet. The 13-race program will also feature the $75,000 Joey P. Handicap for Jersey-breds.
"He came out of the race super. He's doing everything right," said Farrior. "I gave him five days off after we brought him back to Maryland and he was bucking and playing and I was like `shoot, he wants to run.'
"So I took him to the track and he is doing even better than he was before the Sapling. I talked to the owners (Michael Coombs of Super C Racing and John Huber) and told them we should give him another start and see how it goes and then we can turn him out. They agreed. He is making it pretty clear he wants to go."
The son of Oxbow, who won the $100,000 Sapling by 2¾ lengths in his first try around two turns, heads a field of six in his quest for a third victory in his fifth career start.
For the 38-year-old Farrior, a Greensburg, Ky. native who has been training since 2011, Waist Deep has the potential to be the best horse he has trained, he said. Farrior currently has 30 horses at Maryland and 22 at Charles Town.
"I've never had a graded horse. He's really my first open stakes horse," said Farrior. "I have some nice West Virginia-breds so I've won some West Virginia-bred stakes. But he's really the first open stakes horse I've ever had."
To this point, Farrior counts a mare named Toby Girl as his best horse. She earned $127,194 over a 17-race career.
"We bought her for $125,000 when she was younger. She had a lot of promise," said Farrior. "But she got loose in the post parade and jumped the fence and cut both muscles in her buttocks in half. She came back to win a Maiden Special Weight race at Parx and an allowance at Laurel and was third in an allowance at Saratoga.
"I think she was probably going to be the best I've had. But as for performing on the track and winning, Waist Deep has a chance to be the best so far."
Five freshman runners will test Waist Deep in the six-furlong Smoke Glacken, including Sapling runner-up Pickin' Time and impressive first out winners Frank N Ducky and Basso.
The Smoke Glacken will go as the first race on the card, with the Joey P, which is scheduled for five furlongs on the turf, going as race 10.
Following Sunday's final day of Monmouth Park's 75th season, Thoroughbred racing in the state will continue with the nine-day Meadowlands-at-Monmouth Park meet that begins Saturday, Oct. 3 (Preakness Day). That meet will run through Oct. 24 and will feature a stakes race on each card.