Salsano's First Contest Win Comes in SSC Qualifier #2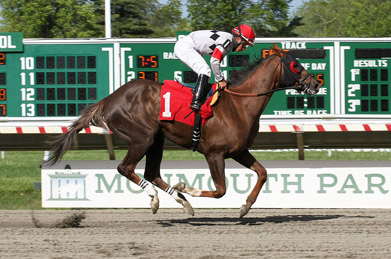 Monmouth Park's second Simulcast Series Challenge qualifier of 2018 was held Saturday, February 24 and the winner was Monmouth regular Aniello Frank Salsano of Brick, NJ.  The victory was Salsano's first contest score. 
 Salsano bested a field that included 138 entries. He turned his starting $150 bankroll into $2,129.70 by betting races from Gulfstream, Aqueduct and Tampa Bay.Contest players could only bet win, place and/or show and needed to bet a minimum of $15 per race. 
By finishing first, Salsano takes home the first place cash prize of $4,400.  In addition, in something new for the 2018 SSC, Salsano earned a seat in Monmouth Park's $2,000 Pick Your Prize Handicapping Challenge on June 2. 
In addition, Salsano along with the rest of Saturday's Top 10 advance to the SSC Invitational on Saturday, May 12.  The Top 5 finishers of that contest will select in order from a prize pool that includes 2 NHC seats and 3 Pick Your Prize seats. 
In total, the Top 10 finishers are: 
| | | | |
| --- | --- | --- | --- |
| Finish | Name | Bankroll | Prize |
| 1st | Aniello Frank Salsano | $2,129.70 | $5,300+PYP seat+Invitational Seat |
| 2nd | Jim Hom | $1,656 | $2,120+Invitational Seat |
| 3rd | Brian Fairlie | $1,340.50 | $1,272+Invitational Seat |
| 4th | David Mascera | $1,026 | $742+Invitational Seat |
| 5th | Ken Jordan | $867.10 | $371+Invitational Seat |
| 6th | Rich Loftus | $665.50 | $159+Invitational Seat |
| 7th | Rob Ramirez | $616.50 | $159+Invitational Seat |
| 8th | Kevin Engelhard | $545.20 | $159+Invitational Seat |
| 9th | Bob Ciccarelli | $522 | $159+Invitational Seat |
| 10th | Rick Coppola | $434.50 | $159+Invitational Seat |