Saffie Joseph-Trained Swirvin Comes Off The Pace To Score by 2 3/4 Lengths In Saturday's Jersey Shore Stakes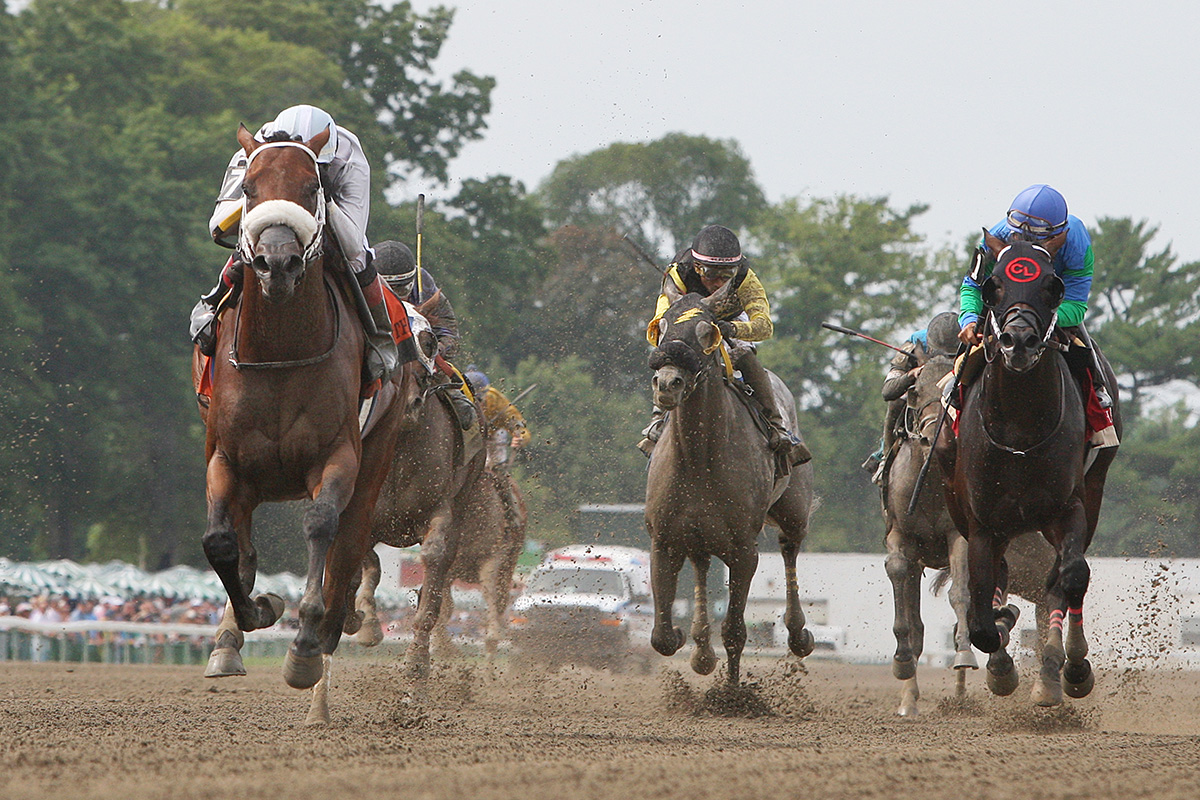 It took three career starts, two that were wins, but trainer Saffie Joseph, Jr. believes he has finally figured out the key to long-term success with the promising sprinter Swirvin: He's better off the pace than on the lead.
That proved to be the case in Saturday's $106,000 Jersey Shore Stakes at Monmouth Park, with Swirvin wheeling three-wide coming off the final turn and powering to a 2¾-length victory under aggressive handling from jockey Trevor McCarthy.
The winning time in the six-furlong dash for 3-year-olds was 1:10.08.
"If you watch his races he was on the lead in his first two starts and then he had to re-rally (to win)," said Joseph. "In his last race, you have to watch it. He took the lead and then almost dropped back to last and then came back on and he was only beaten 1¼ lengths. After that we learned that you don't have to force him to be on the lead, that he will sit off horses.
"I told Trevor just know that you have to keep riding him. It's like a bicycle."
After breaking fourth in the nine-horse field, McCarthy kept the son of Girvin within striking distance through an opening quarter in :22.10 and a first half that went in :44.93.
Coming out of the turn Swirvin swept by both eventual runner-up Super Chow and early pace-setter Recruiter, who was another 1½ lengths back in third.
Owned by Bassett Stables, the Kentucky-bred Swirvin improved to 3-for-4 lifetime in notching his first career stakes win.
He paid $7.20 to win.
"I watched all three of his races before this and after I watched his last race I talked to Saffie about him," said McCarthy. "He just said `make sure you watch all of his races because he's real quirky,' and sure enough he is. He likes to kind of step back at the start. You have to be super aggressive with him.
"Even in his races where he made the lead early, a couple of horses came to him and Edgar Zayas is riding him from the three-eighths pole on just to keep him going. That's what I did today. I rode him a little earlier to keep up. He is definitely one that needs to be pushed along. He's one you can't fall asleep on. You definitely have to work with this horse."
Joseph said there's no reason the colt can't continue to improve after just four career starts.
"His first race the number was slow so you don't think then that he would be a stakes horse," said Joseph. "But the second race he made the jump to a good figure. The start after that, in the Carry Back Stakes, he was the best horse in the race in my opinion. His quirks caused his defeat.
"Today he put it together. I think sometimes you learn more in defeat. We learned you don't have to put him on the lead. I thought today he beat decent horses and he did it the right way – he sat off horses and then put in a nice run. I think he's a horse that can go forward and show even more improvement."