Sacco Knows He Is Facing Long Odds With Basso in $1 Million TVG.com Haskell Stakes On July 17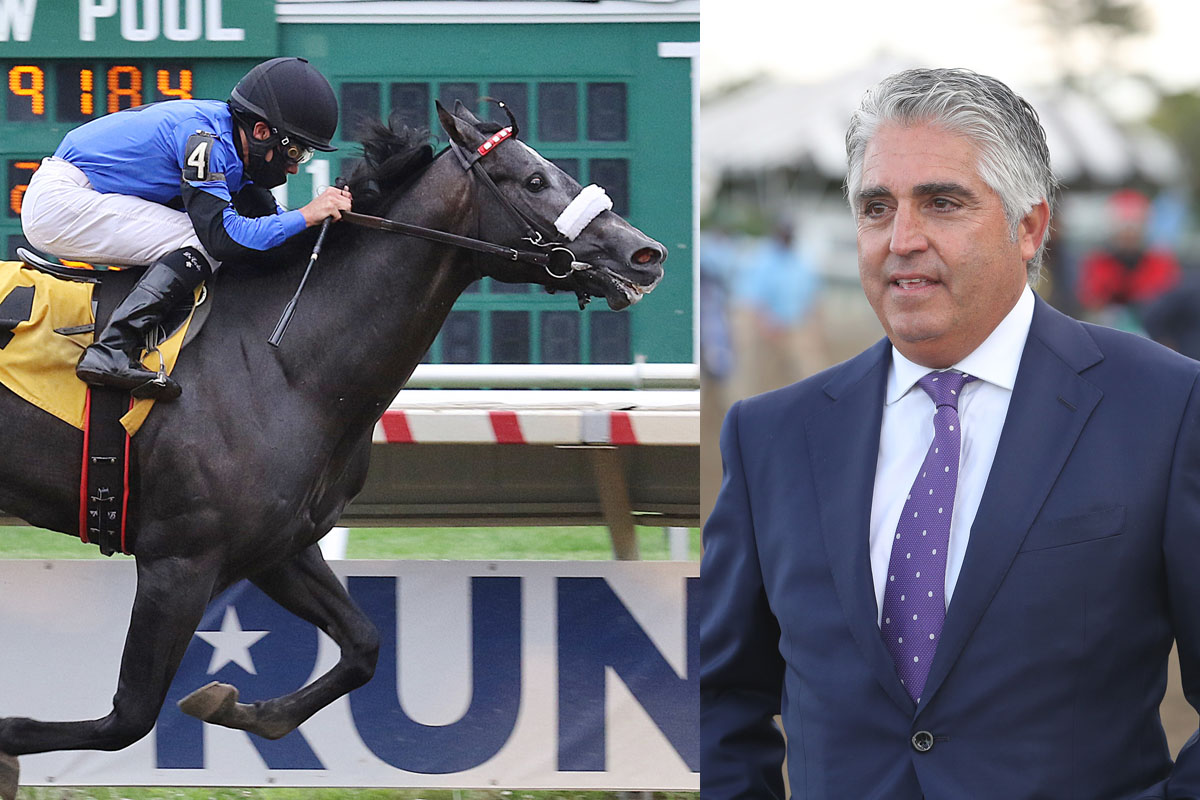 Gregg Sacco knows exactly what he's up against in the $1 million TVG.com Haskell Stakes on July 17: Three, maybe four, of the top 3-year-olds in training, all of them sharp, while he sends out a horse that tired in the slop in an allowance optional claimer on June 26 in his first start of the year.
But the veteran trainer, whose family traces its roots to the earliest days of the modern Monmouth Park, isn't deterred about taking a big swing in the Grade 1 Haskell with Basso, who quite possibly will be the longest shot in the field.
In fact, Sacco seems genuinely enthused about the opportunity, especially since this will mark his first Haskell starter in a training career that began in 1989.
"We know he is going to have to step up," said Sacco, whose father William was Monmouth Park's leading trainer in 1962. "We're anticipating he will in his second start as a 3-year-old. We're in our backyard. We're confident he will run a respectable race.
"We'll be walking out of our barn onto the track and we'll see what happens."
A son of Cairo Prince, Basso has just one win from five career starts, four of them at Monmouth. He broke his maiden first asking by eight lengths last Aug. 23 but has yet to produce a signature moment.
That's something many of the other expected contenders for the Haskell have had already. Mandaloun was the Kentucky Derby runner-up; Midnight Bourbon was the Preakness Stakes runner-up and Hot Rod Charlie was the Belmont Stakes runner-up. Still on the fence about the Haskell is Preakness winner Rombauer.
"All of them popped up at some point to be where they are now," said Sacco. "They can pop up any time as a 3-year-old. We're looking for a big improvement off his first race back. He was only 70 percent that day (when he finished sixth). We knew that going in.
"He made a bold move up to the lead at the quarter pole and he just got tired. It was nasty that day with the rain and the heat, he was in post nine, and we knew going in he was in desperate need of a race. So we're taking a shot. We'll see how it goes. But we feel he will run a respectable race."
Owned by Michael Fazio and Monmouth Stud (which is Sacco), Basso's appearance in the starting gate will make up for some of the disappointment for both men from 2019, when Joevia was scratched the day of the Haskell due to a foot injury.
Sacco said Basso will work five-eighths of a mile either Saturday or Sunday at Monmouth Park, depending on the condition of the track following heavy rain Thursday.
************************************************************
Hot Rod Charlie, the Belmont Stakes runner-up and third-place finisher in the Kentucky Derby, is due to arrive at Monmouth Park late Saturday following a flight from California, according to trainer Doug O'Neill. That will give the son of Oxbow a full week to settle in before the July 17 TVG.com Haskell Stakes on July 17.
The Louisiana Derby winner is the highest money earner in the potential Haskell field with $1,585,700 banked to date. Hot Rod Charlie will be accompanied by 2015 Hall of Famer Lava Man, who serves as his pony.
Mandaloun, the Kentucky Derby runner-up, will turn in his final Haskell work sometime Saturday, depending on the weather. More rain could shift his work to later in the day, according to Blake Cox, the son of trainer Brad Cox.
Midnight Bourbon, the Preakness runner-up, is expected to get in his final work at Saratoga tomorrow or Sunday, according to Mitch Dennison, who oversees trainer Steve Asmussen's string at Monmouth Park.
Trainer Kelly Breen said that Pickin' Time, looking to rebound from a dull performance in the Jersey Derby on May 28, had his final Haskell work on July 6 when he went :59.80 breezing for five furlongs. Pickin' Time is trying to join Thanks to Tony (1980) as the only Jersey-bred Haskell winners.