Runnin'toluvya Puts 10-Race Winning Streak On Line In Saturday's Grade 3 Philip H. Iselin Stakes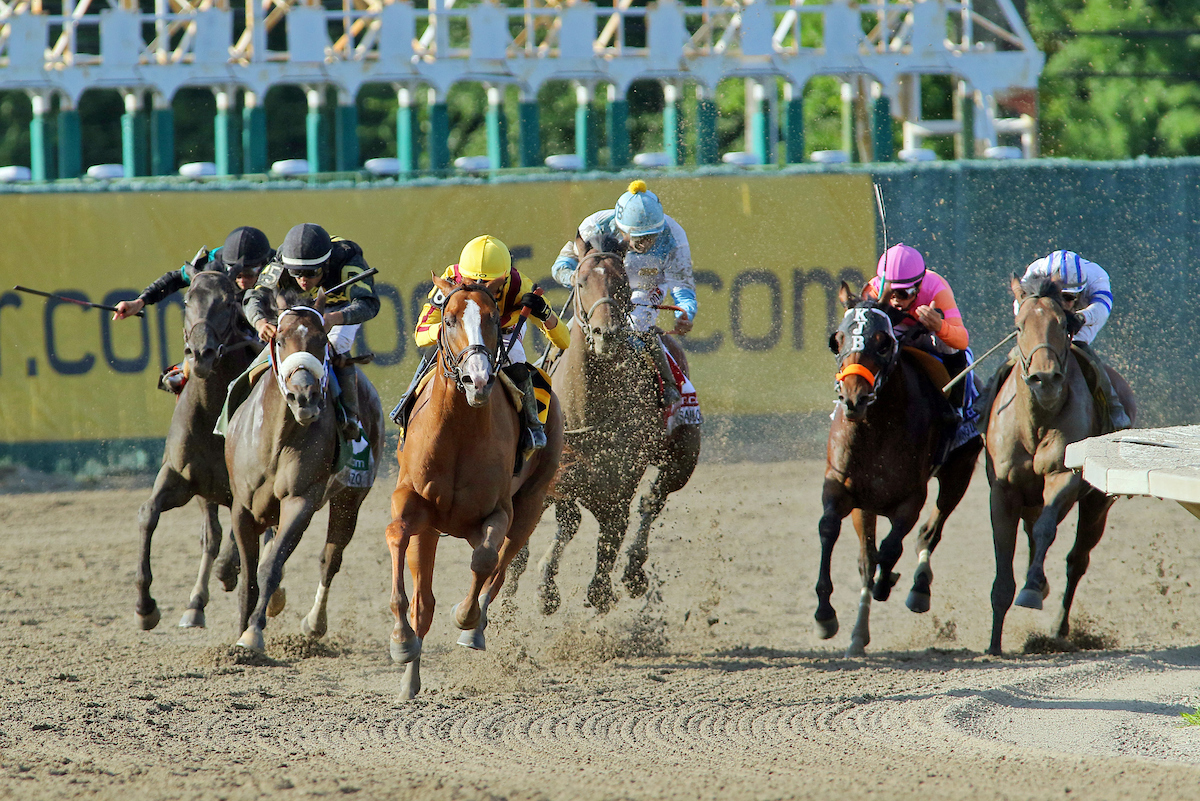 Trainer Timothy Grams has only raced Runnin'toluvya once outside of West Virginia – and that was three years ago – but based on the 5-year-old gelding's recent form spree he feels it's time to try again.
That's why Runnin'toluvya, the Winx of West Virginia, will put his 10-race winning streak on the line in Saturday's Grade 3 Philip H. Iselin Stakes at Monmouth Park.
Runnin'toluvya has not lost since May 17, 2018, when he was second by a neck, following up that defeat by reeling off 10 straight victories, all at Charles Town. He legitimized his winning streak by capturing the Grade 2 Charles Town Classic at a mile and an eighth over Diamond King and War Story.
"He sure has exceeded all of our expectations," said Grams. "He's been a real special horse for us. So far he has shown he can step to the plate when the competition gets better. This is another test, to see if he can do it on the road.
"You never know if they're going to take their game on the road, so we'll see."
The Iselin Stakes, at a mile and a sixteenth for 3-year-olds-and-up, has attracted a competitive field of seven. Diamond King will try Runnin'toluvya again in a field that includes the Todd Pletcher-trained Bal Harbour and 2018 Long Branch Stakes winner Navy Commander.
Grams, whose wife Judy partners with him in his training operation, also owns Runnin'toluvya.
"The longer the winning streak goes the more pressure there is, I think," he said. "It gives you confidence because the horse is so good. But you know it's going to end soon even though you don't want it to."
Runnin'toluvya has won 11 of his 12 starts the past two years (with one second) and is 13 for 17 lifetime. If he wins the Iselin Stakes he would become Grams' first millionaire.
"That would mean a lot," said Grams. "It would be a huge career accomplishment for me and my wife."
Runnin'toluvya has raced exclusively at Charles Town ever since suffering a condylar fracture as a 2-year-old following a race at Laurel, an injury that sidelined the horse for "almost a year and a half," following surgery, said Grams.
He was a sprinter until winning at nine furlongs in the West Virginia Breeders' Classic last October, then won the Charles Town Classic at a mile and an eighth.
"He took to the longer distance without a problem," Grams said. "He can cruise in 47 seconds and change and still get the distance."
Because Runnin'toluvya can be headstrong, Grams is bringing the horse's personal pony with him to lead him to the starting gate.
After running the three fastest races of his career this year – two 91 Beyers and a career-best 100 Beyer – Grams wants to make sure his stable star is comfortable and happy because he isn't sure he has reached his potential yet.
"I don't know if he has," he said. "He has done everything you can ask a horse to do. I don't know if he is capable of doing better or not. He's definitely training good. I think he's at the top of his game but I don't know if we have seen his career best yet. I guess we'll to start to find out.
"It would be great if things work out and he wins this race. Even if he just runs a good race it gives us options down the road to where we can ship him if we want to."