Royal Urn, Trainer Kelly Breen's "Other" Starter, Scores 17-1 Upset In Sunday's John J. Reilly Handicap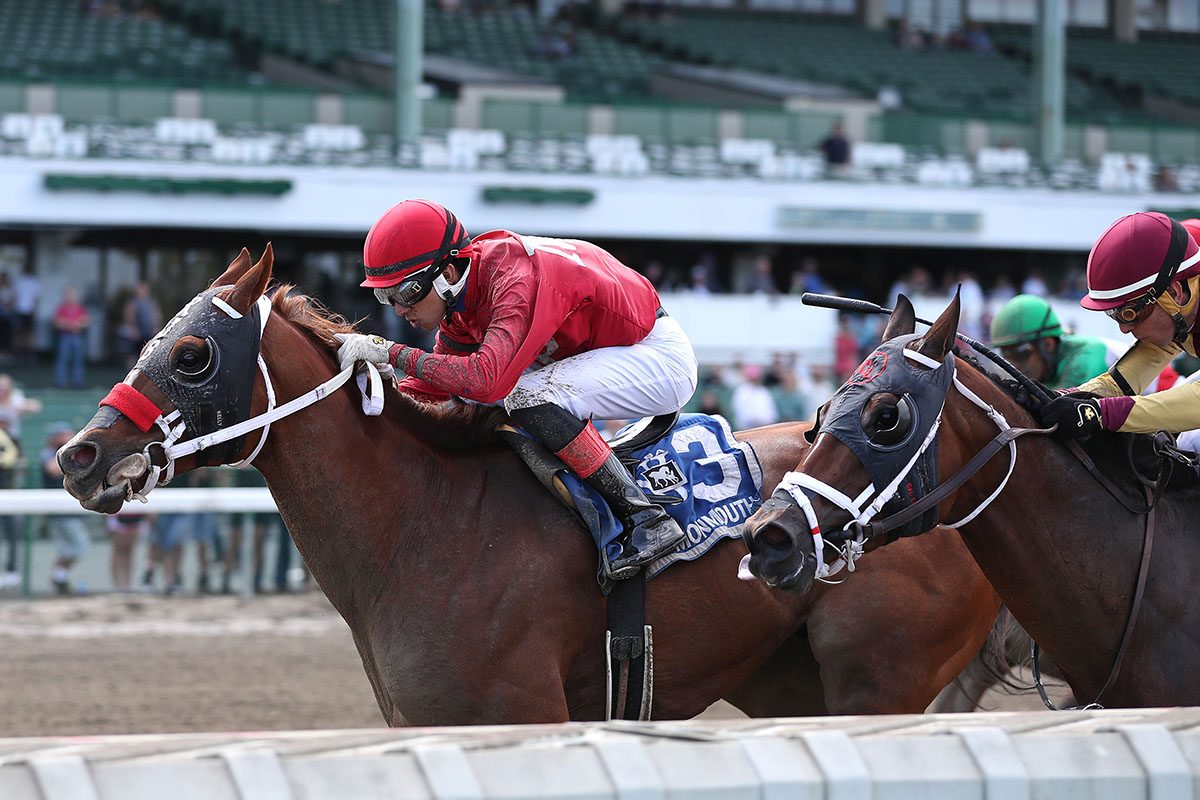 If the betting public was surprised that the "other" Kelly Breen horse captured Sunday's John J. Reilly Handicap at Monmouth Park, the trainer insisted he wasn't.
Sent off at 17-1 following a 10-month layoff, Royal Urn outdueled No Cents – coming off a 17-month layoff – to score a half-length victory in the $85,000 feature race for Jersey-breds. The other horse that Royal Urn held off? Stablemate and half-brother Pickin' Time, the even-money favorite also trained by Breen. Pickin' Time, idle since Nov. 27, was another three-quarters of a length back.
"No. I'm not surprised," said Breen, seeking a fourth Monmouth Park training title. "This horse needed the rest. He hadn't had a rest since I had the horse. The horse needed his time off. He and Pickin' Time have been working together head and head for the last three workouts.
"I made a comment that I told (owner and breeder) John Bowers that Royal Urn is back. Not that Pickin' Time wasn't, but he does have a tendency to need a race off a layoff. So, no, I'm not surprised. He needed the rest. We gave him the time and the opportunity to recover and he came back the way he was two years."
It was two years ago that Royal Urn, a son of Kantharos, won the Reilly Handicap. He was fifth in the race a year ago in his last start of the year.
Ridden by Jose Gomez, who is in his first full year as a jockey, Royal Urn was sixth early in a tight pack in the six-furlong race, with Gomez finding room outside entering the final turn. Royal Urn was in full flight coming wide out of the turn, engaging with No Cents, who had slipped through along the rail to take the lead.
The two went nose to nose for the final sixteenth of a mile.
"I broke well, just not as sharp as I wanted him to break. We were in a little tight. I had to get behind horses," said Gomez, who served as Breen's exercise rider a year ago. "When I saw an opening coming into the turn I went for it and once I got him on the outside and clear he just started going. I didn't take away his momentum. I let him go however he wanted to and in the stretch he was tough.
"Honestly, yes, I was surprised he was this sharp off the layoff. You don't expect a horse to be this ready off a layoff like that. But Kelly was telling me he has been working really well against Pickin' Time."
For the 21-year-old Gomez it marked his first stakes victory at Monmouth Park.
Royal Urn paid $37.20 to win. The winning time over a track listed as "good" was 1:10.36.
No Cents, four-for-five as a 2-year-old, was unraced at 3 last year. But trainer Cal Lynch had the son of Goldencents sharp off that prolonged layoff.
"No Cents was dynamite as a 2-year-old," said Breen. "I didn't think they would have this horse as tuned up as much as he was. He's a quality horse. Those were two good horses dueling in the stretch."
Racing resumes at Monmouth Park on Saturday, May 21. First race post time is 12:15 p.m.