Rory Huston-Trained Groovy Surprise Speeds Her Way To Victory in Sunday's Smart N Classy Handicap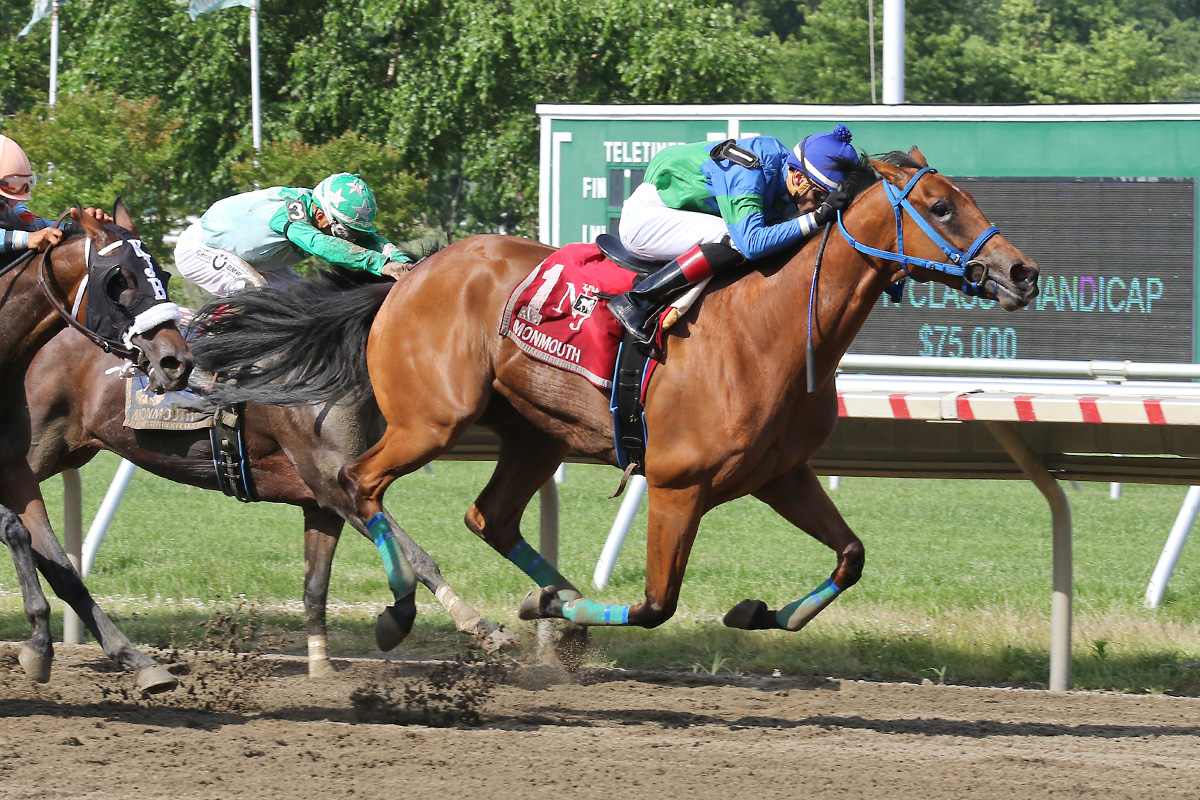 Trainer Rory Huston wasn't surprised that Groovy Surprise broke through for her first career stakes victory by winning Sunday's $75,000 Smart N Classy Handicap at Monmouth Park.
But he was a bit bewildered by how it happened.
Sent to the front almost immediately by jockey Mychel Sanchez, the 4-year-old led virtually every step of the way for a three-quarter length victory over Stay Smart, who hounded her throughout the one-mile race for Jersey-breds.
"The idea was we were going to lay third or fourth and when she went to the lead I was like 'okay, let's see what happens,' said Huston.
Though Groovy Surprise had shown some speed early in her career, it had never been this much over this long a distance. Sent off at 5-1 in the field of eight fillies and mares 3 and up, she did all of the heavy lifting in the race, flashing under the wire in 1:38.21.
"It's been pretty speed-favoring on the dirt the whole meet, but especially this weekend," said Sanchez. "A lot of horses that are 1-2-3 early are winning. Last year I saw she showed a little speed in some of her races, so I told Rory Huston I wanted to be close. I didn't have to be on the lead but I wanted to be close to the front.
"She broke really well. Paco Lopez (aboard runner-up Stay Smart) was putting a little pressure on me in the beginning so I thought `I have to go. I have to get clear and get a good spot.' After that she did it herself. She did it easily."
A year ago in this race, Groovy Surprise checked in a sluggish sixth. Stay Smart won last year's edition of the Smart N Classy.
But the combination of making the lead on a speed-favoring oval led to a dramatic turnaround.
"I kept thinking they were going to catch her but every time they got near her she drew off again," said Huston. "She definitely needed her last race (a third-place finish in the Spruce Fir on May 31 in her 2021 debut). She ran well that day but she was a little short. I knew she'd be better this time. She has matured. You can see she is a better horse this year. I still wasn't sure she was going to stay. Most of her races have been sprints."
A daughter of Giant Surprise-Good and Groovy by Good and Touch, Groovy Surprise posted her third career win from 12 starts. She is owned by Hope Haskell Jones.
Diamond Play, who moved into third place at the half, finished third, a head behind Stay Smart. So the top three finishers raced in that order for the final half mile.
The field was reduced by one when Princess Georgia, who won the Spruce Fir Stakes in her last start, was a gate scratch.