Robin Sparkles Seeking Elusive Grass Stakes Win In Saturday's $100,000 Goldwood Stakes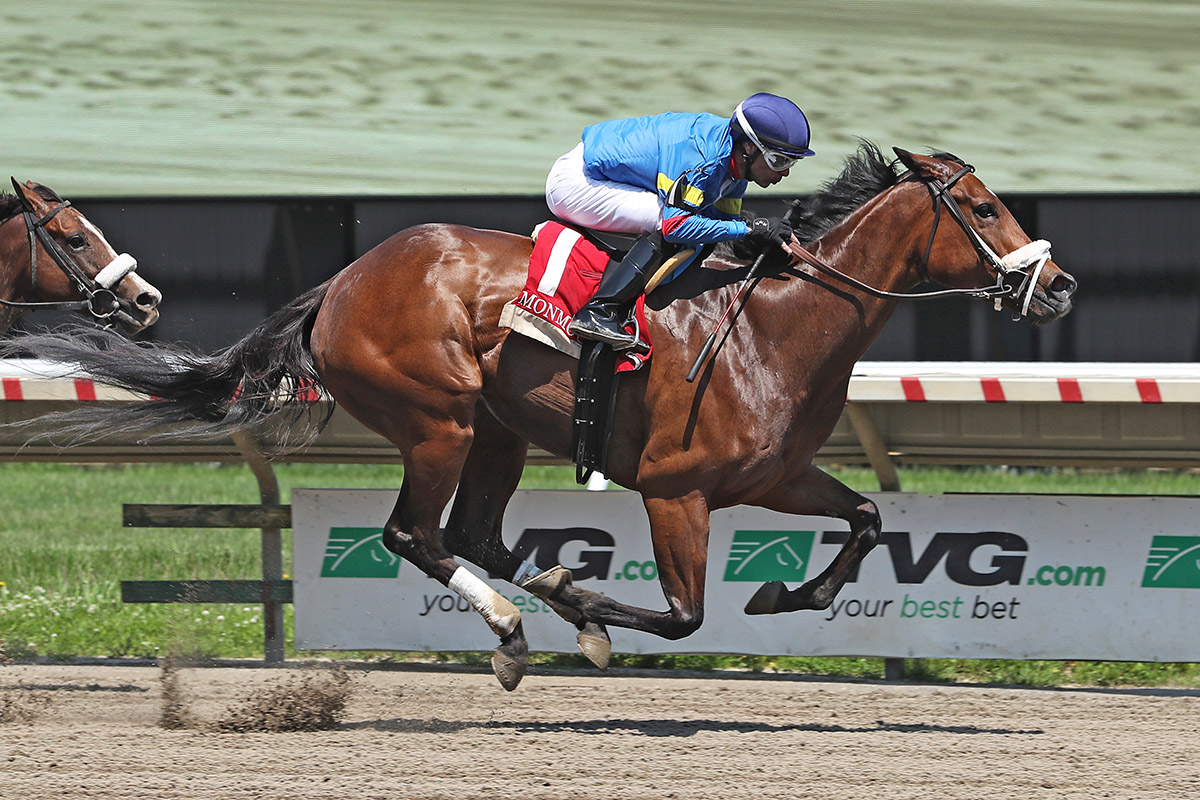 Anyone looking at the resume Robin Sparkles has compiled during her 14-race career will see a consistent turf sprinter. Six wins from 10 career grass races, with a third-place finish in the Grade 3 Caress Stakes at Saratoga last year, bear that out.
And yet, the only two stakes victories the 5-year-old mare owns have come on the main track in off-the-turf events.
That's something trainer Bruce Brown hopes to change on Saturday when the New York-bred daughter of Elusive Quality-My Sparky by Dehere returns to Monmouth Park for Saturday's $100,0000 Goldwood Stakes at 5½ furlongs on the grass.
It was exactly five weeks ago that Robin Sparkles won the Politely Stakes at Monmouth Park in gate-to-wire fashion in a race taken off the turf,
"It's very weird, because if you look at any of her numbers they're much better on the turf," said Brown. "She has gotten lucky with her stakes wins coming on the dirt the way they have. She is graded stakes-placed on the turf but has never won a stakes on it.
"She has done well on the dirt but we're kind of looking to get her a stakes win on the grass."
Brown had two spots under consideration following the win by Robin Sparkles in the Politely Stakes, which was her first start after a seven-month layoff. One was the Grade 3 Intercontinental at Belmont Park on June 10 on the grass, the other the Dancin Renee Stakes, a dirt sprint for New York breds, at Belmont on June 26.
He passed on the Intercontinental due to rain that he felt softened up the turf course a little too much for his liking. He skipped the dirt stakes race because he wants to win a grass stakes with her.
"We decided to wait because we really want to get her back on the turf, and the fact that she ran well at Monmouth Park in her last start pushed us in this direction," said Brown, who worked for the late John Forbes at Monmouth Park before going out on his own in 2008. "The distance for this race was good, too. We think the shorter the better for her, so five or 5½ furlongs is a good fit for her."
Owned by Michael Schrader, Robin Sparkles sports a 14-8-2-2 line for her career, with earnings of $410,668.
Brown feared she might have been a little short during her seasonal debut but she won by a length as the 13-10 favorite.
"I think she got a lot out of that race," he said. "We were a little behind the eight ball with her weather-wise and different things that delayed us this year in getting her cranked up. She came out of that race super. Since that race it seems like she is ready to rock and roll."
A victory the Goldwood Stakes would put Robin Sparkles halfway to the accomplishments of the mare for whom the race is named. Goldwood, owned and bred by Colts Neck Stables, won four stakes sprints at Monmouth Park in her last year of racing in 2019.
Saturday also marks the start of the two-day Wine and Pizza Festival's inaugural event. There will be live music on Saturday and Sunday from noon to 4 p.m. as well.
First race post time both days is 12:15 p.m.