Rob Reidy Rolls in July 3 NHC Qualifier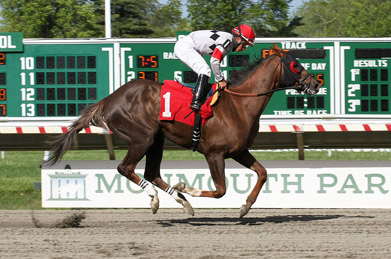 Monmouth Park's second handicapping contest of the live season was held Sunday, June 3 and the winner was Rob Reidy of Rumson, NJ. 
Reidy bested a field that included 224 entries.He turned his starting $150 bankroll into $1,800.50 by betting races from Monmouth Park and Woodbine only.Contest players could only bet win, place and/or show and needed to bet a minimum of $15 per race. 
By finishing first, Reidy takes home the first place cash prize of $9,950.  In addition, he qualifies for the 2017 NHC in Las Vegas (as does runner-up Kevin Engelhard) and earns a paid entry fee to the 2016 BCBC at Santa Anita. 
In total, the Top 10 finishers are: 
| | | | |
| --- | --- | --- | --- |
| Finish | Name | Bankroll | Prize |
| 1st | Rob Reidy | $1,800.50 | $9,950, NHC seat, BCBC entry fee |
| 2nd | Kevin Engelhard | $1,661.70 | $3,980, NHC seat |
| 3rd | Anthony Doino | $1,298.85 | $2,388 |
| 4th | Doug Feldman | $1,200 | $1,393 |
| 5th | Rene Morety | $945.50 | $696.50 |
| 6th | Chris Sala | $859.25 | $298.50 |
| 7th | Thomas Soban | $848 | $298.50 |
| 8th | Michael Samples | $509.50 | $298.50 |
| 9th | Ed Lambert | $378.70 | $298.50 |
| 10th | Mathew Levy | $367.75 | $298.50 |