Roaming Union Looking To Break Through In Sunday's $100,000 Pegasus Stakes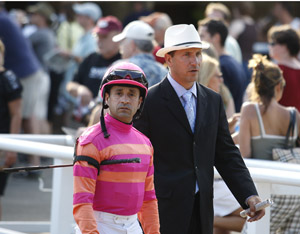 Trainer Kelly Breen knows just how rewarding it can be to get the best out of a talented 3-year-old, having won the 2011 Belmont Stakes with Ruler On Ice. 
Now he's being reminded of how frustrating it is not to be able to coax the ability out of one. 
Roaming Union is one of two horses Breen has entered in Sunday's $100,000 Pegasus Stakes for 3-year-olds at a mile and a sixteenth at Monmouth Park, and his hope is that it will be the long-awaited breakout performance for the son of Union Rags-Double Gelato. Breen also has Ark in the Dark listed in the race, which has drawn a field of eight and is one of four stakes on the 13-race Father's Day card. 
"I don't know what it is with him." Breen said of Roaming Union. "I really think he has some talent. We just haven't been able to get to the bottom of it. When he broke his maiden (by 12¼ lengths at Aqueduct Racetrack on Jan. 18) I remember thinking `he finally broke through.' 
"Then the next race (a sixth-place finish in the John Battaglia Stakes at Turfway Park) it was like he wasn't interested again. I wish I could say why but I can't figure it out." 
Roaming Union, owned by George Hall, shows a 1-2-2 line from 10 career starts. But it took the colt seven starts to break his maiden and then Breen's hopes of putting him on the periphery of the Kentucky Derby trail ended with the dull showing in the Battaglia Stakes. 
"I sent him to Turfway with the idea of going in the Jeff Ruby (formerly the Spiral Stakes) but he didn't like the poly track," Breen said. "Then we tried him in the Private Terms at Laurel and he didn't have it again. So we gave him some time off and brought him back at Parx (on May 14) and he ran a good second. That has us believing he was coming around again." 
But Breen has been fooled enough times by Roaming Union to know that what happens Sunday will determine whether the horse has finally figured it out. 
"A 3-year-old stakes race for him at this point? We'll see what happens," said Breen, who enters the weekend second in the trainer standings with 12 winners from 33 starters. "He has the talent. We've just got to get it out of him and figure out what makes him tick." 
The Sunday stakes lineup begins with the $75,000 Regret Stakes for fillies and mares, 3-years-old-and-up at six furlongs, that goes as the eighth race. The $75,000 Mr. Prospector Stakes for 3-year-olds-and-up going six furlongs follows. Then it's the $60,000 Dan Horn Handicap, a state-bred race at a mile and a sixteenth on the grass, that serves as the lead-in to the Pegasus Stakes. 
Monmouth will offer a $150,000 guaranteed late Pick 5 Sunday if there is single winner of the bet covering the final five races. In addition, heading into Saturday's 13-race card there is carryover of $39,291 for the Jersey Shore Pick 6, a 20-cent bet that covers the final six races. 
All men will be admitted free to the track on Father's Day. 
Post time for the Saturday and Sunday cards is 12:50 p.m.