Record Jersey Shore Pick 6 Carryover Of $124,484 Awaits Handicappers For Saturday's Monmouth Card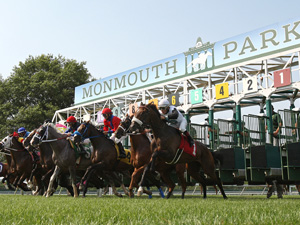 A record carryover of $124,484 in the Jersey Shore Pick 6 will await handicappers for Monmouth Park's 12-race card on Saturday as the jackpot bet went unhit again on Friday by a single winning ticket. 
The Pick 6 sequence started in the third race with Silver Cowboy ($4.00) and followed with Punto De Entrada ($6.80) in the fourth race, Agora ($34.60) in the fifth race, New York's Finest ($5.00) in the sixth race, Oneballnostrikes ($6.00) in the seventh race and Bama Bound ($6.80) in the eighth and final race of the first Friday card of the summer. 
Six winners returned $996.30 for 20 cents. 
The jackpot is paid out only if there is a single ticket with all six winners.  
The Jersey Shore Pick 6 will start in the seventh race on Saturday. Post time is 12:50 p.m.