Readyforprimetime Set To Make Dirt Debut In Speed-Filled Rumson Stakes On Saturday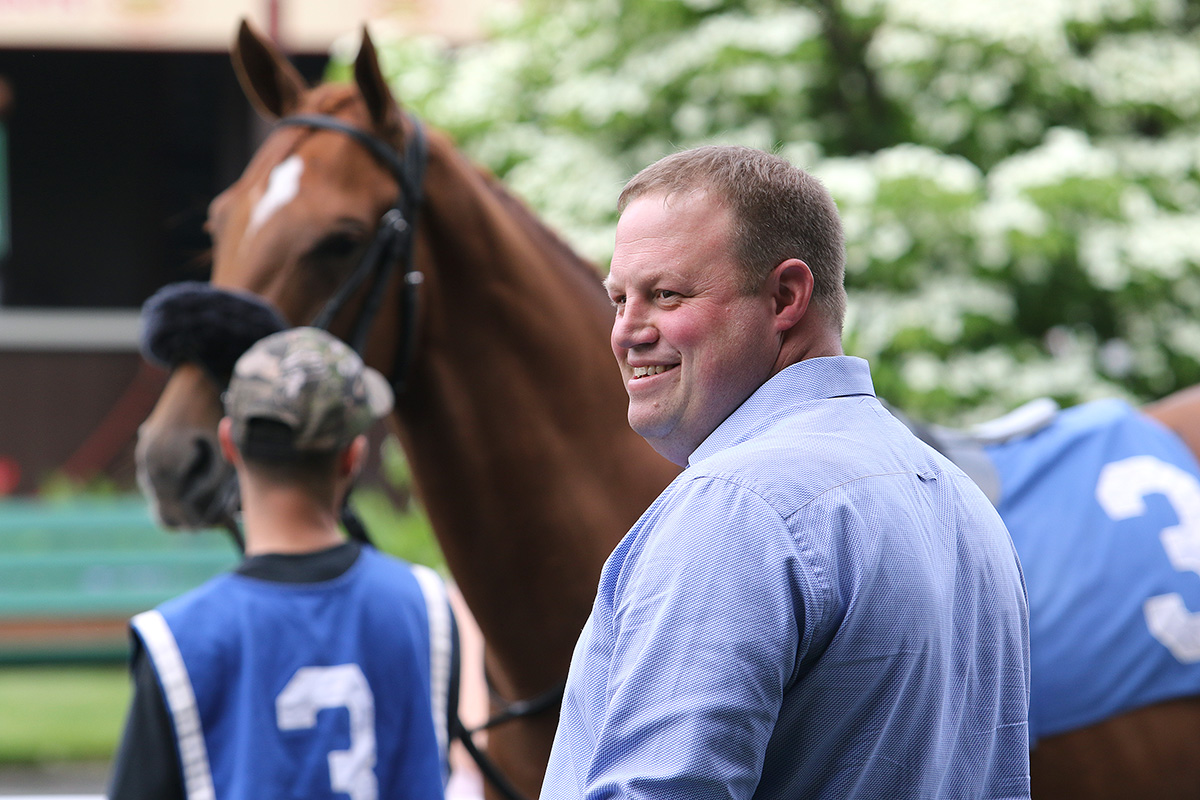 There are probably easier spots for Readyforprimetime to make his dirt debut than Saturday's $100,000 Rumson Stakes, but a combination of circumstances has trainer Jeremiah Englehart willing to take a shot in the $100,000 feature on Monmouth Park's 11-race card that day.
Readyforprimetime, fifth in the Wolf Hill Stakes at 5½ furlongs on the grass at Monmouth Park on July 17 in his last start, was transferred from trainer Michael DePaulo to Englehart with the idea that the latter would have him go in a turf race at Saratoga.
That race never filled, so Readyforprimetime will try both the dirt and five furlongs for the first time in his 14-race career.
A field of six is entered for the Rumson Stakes, among them the Chris Davis-trained Quick Tempo, who flashed speed but faded badly in the Grade 1 Bing Crosby at Del Mar in his last start.
"We were planning on running him at Saratoga on the turf in a spot similar to the one he won last year there when Mike sent him to me," said Englehart. "The race didn't go, so we were kind of scrambling, looking for races. This race came up and Mike thought it would be a good spot to try him on the dirt."
In 14 career starts for a variety of trainers, Readyforprimetime has raced 13 times on the grass and once on synthetic. All but two of those races have been between 5½ and six furlongs.
"Mike was kind of surprised when I told him this horse had never run on the dirt," said Englehart. "He said `maybe this is the time to try it then.' The horse had a really good work last week on the dirt at Saratoga so I thought giving him a shot was worth the try.
"I've had turf horses work on the dirt and then they didn't like it in the afternoon. So you never know for sure. But he has been working so well that he deserves a chance."
Dylan Davis will be in for the ride, and will face a tactical challenge right from the outset. Quick Tempo has blazing speed, as does the Raymond Handal-trained Foolish Ghost. Francatelli, from Cal Lynch's barn, isn't far behind those two with his front-running style.
Readyforprimetime is speedy as well, but how that speed plays on dirt remains the great unknown for now for Englehart.
"I think what I'll do is tell Dylan to just play the break and go from there," said Englehart. "At five furlongs you expect a lot of speed in the race. If it doesn't suit him he won't run well. You just don't know how his turf speed is going to translate. But he's training well enough on the dirt that it wouldn't surprise me if he ran well."
Readyforprimetime, a son of More Than Ready-Mana Pools by Gone West, was supplemented to the race in part because what he has shown in the mornings.
"The owner (Robert Marzilli) didn't want to wait too long because he has been training so well," said Englehart.