Quartet Of Monmouth Park-Based Trainers Swinging For The Fences In Saturday's Grade 1 United Nations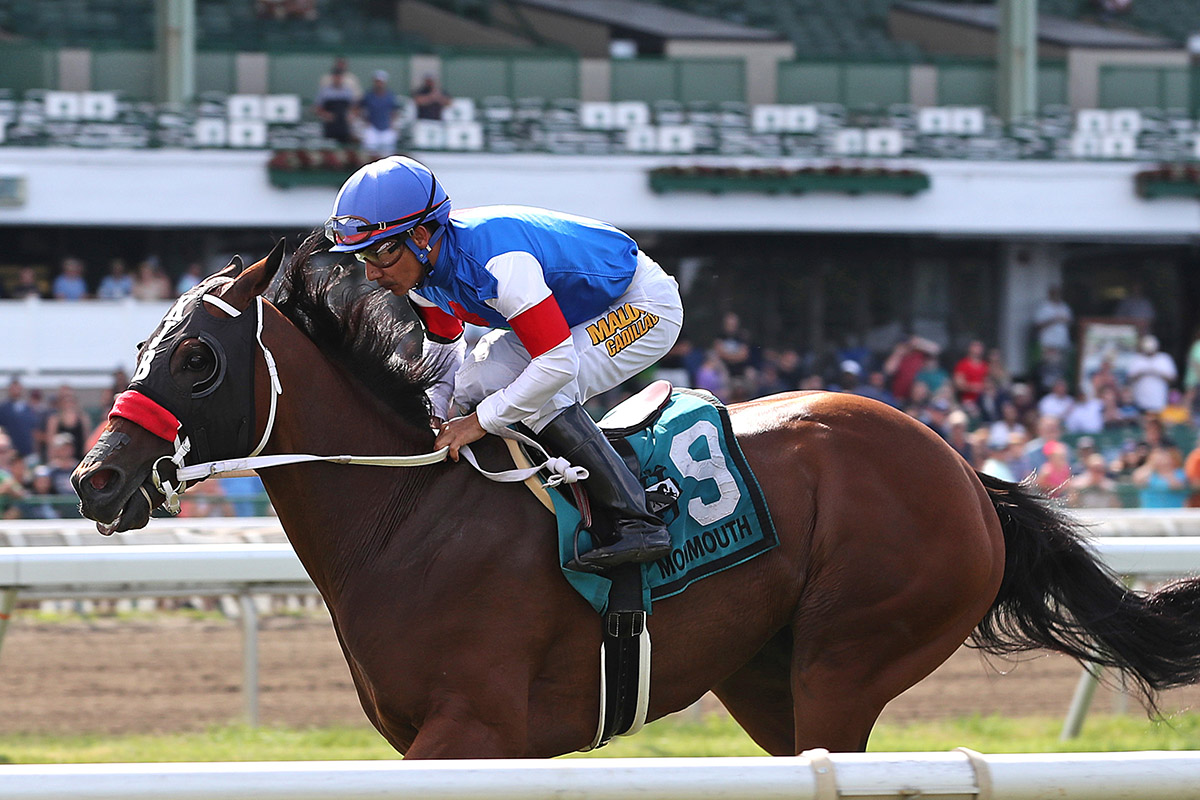 A quartet of locally-based horsemen will be counting on their Monmouth Park experience to provide an edge against an arsenal of graded stakes winners invading for Saturday's Grade 1, $600,000 United Nations Stakes to be run over the grass course at 1 3/8 miles.
The U.N., as it has been known since it was inaugurated 68 years ago, will be contested by 10 top turf runners on the stacked undercard for the Grade 1, $1 million TVG.com Haskell Stakes.
The U.N., which is a three-turn race on this course, has Breeders' Cup implications as well as it traditionally has been an important step on the road to the $4 million Longines Breeders' Cup Turf.
Moreover, over the years eight of the past U.N. participants have gone on to victory in the Turf, so there are more than bragging rights at stake.
"It's an excellent and very tough field. That's why they have these big races on these big days," said Kelly Breen, who has won three Monmouth Park training titles.
Breen will saddle the New Jersey-bred He'spuregold for Roseland Farm Stable in the U.N.
Four-time Eclipse-Award winner Chad Brown has won the U.N. four times, Mike Maker has won the race twice, and the two trainers have combined for six victories in the last eight runnings. Now they're back for more.
Maker is sending Glynn County, who finished sixth in the Grade 3 Monmouth Stakes here last out and Temple, who was the runner-up to dual Grade 1 winner Gufo in the 1½- mile Pan American (Grade 2) in his prior race.
Brown takes a double shot with 2021 U.N. winner Tribhuvan, who won the Grade 1 Manhattan by open lengths on the Belmont Park course June 11, and Adhamo, the runner-up to his stablemate that day despite a troubled trip.
"Our horse is going to fit here just on the change in distance. We've always thought that he could run all day. I didn't plan on going this far in this caliber of race. I would have like to have a little bit of an easier spot. But he ran well and finished up well in his last race," said Breen of his charge's winning effort in the one-mile Irish War Cry for state-breds here on July 10. "I think the track is going to be hard and fast, based on the weather we have here this week. We'll be forwardly placed. If we get beat by a better horse, we get beat. But we're going to give it our best shot."
Gufo, trained by Christophe Clement, finished third in the Manhattan and will look to turn the table on the Tribhuvan and Adhamo, though he and regular rider Joel Rosario might be compromised by his far outside post. Kentucky Ghost, the winner of the 1 1/16-mile Cliffhanger Stakes in his last efforts, returns from Kentucky for trainer Vicky Oliver.
The Gerald Bennett-trained Carpenter's Call, Epic Bromance, and Mohs are the other locals who only need to walk over from their stalls to take their place in the starting gate.
Epic Bromance ran a solid third behind Tribhuvan last year and was also third in the Monmouth Cup after setting the pace most of the way.
"This is a great race, and it's very historic. We're lucky to be in the race. There are a couple of really nice horses in there," said Kent Sweezey, who trains the 6-year-old gelding for Harriet Sawyer's Epic Racing. "It came up tougher than what we thought it would. When we ran in the prep race and finished third, we thought that would maybe put us in the top five of the horses, but unfortunately for us, there is a bunch of really good ones in there.
"Chad's horse looks like he has a lot of speed. So do we. So we're maybe going to play the break. Jose Ferrer has won more races than any other rider in the race so he knows the turf course pretty good.
"If he can outbreak Chad's horse that's really good. If he can't, he can sit right behind him. This has been our goal all year long since this horse was third last year and he's trained great for it."
Mohs is conditioned by Pat McBurney, who has been a fixture on the Monmouth backside for decades and has won a slew of graded stakes races on this turf course. Mohs comes into the U.N. after a sixth-place finish in the Monmouth Stakes in his last and retains the services of top local rider Jairo Rendon.
"Since it's our home track and he's a bit of a handful, I really think he might take to that kind of distance," said McBurney. "Other than this being a Grade 1, it's the perfect time to try it. It's obviously very deep company. He was closing so well in his last race going a mile and an eighth, and he relaxes under Jairo in his races. If he gets the distance he could maybe pick something up in there.
"He handles the turf pretty good. There are a couple in there who look like they're three or four lengths faster than us but you need a good trip. To try the marathon distance, this is the track to do it.
"He had a mile breeze over the course and went really easy the first but his last half was really good. We were teaching him to go along at a steady pace and then pick it up. In the marathons you can never be too far back because the pace seems like it's steady and then it's a sprint to the finish. Jairo knows him very well."
The field for the U.N. from the rail, with riders and odds, is: Adhamo, Flavien Prat, 3-1; Carpenters Call, Sammy Camacho, 20-1; Temple, Jose Ortiz, 6-1; Tribhuvan, Manny Franco, 5-2; He'spuregold, Paco Lopez, 20-1; Mohs, Jairo Rendon, 20-1; Glynn County, 10-1; Mike Smith; Kentucky Ghost, Florent Geroux, 12-1; Epic Bromance, Jose Ferrer, 12-1; and Gufo, Joel Rosario, 3-1.
The United Nations will be run as the 11th of 14 races on the Haskell Day card. The supporting card offers three additional graded stakes: the $400,000 Grade 3 Monmouth Cup; the $400,000, Grade 3 Molly Pitcher Stakes, and the $200,00, Grade 3 WinStar Matchmaker Stakes.
Post time for the Haskell Stakes, which will be televised by CNBC and TVG, is approximately 5:45 PM and will be run as the 12th of 14 races on the card. First post on Haskell day is at noon.
Gates open at 9 a.m. for the Haskell day card. Parking is free.
Editor's note: This story was written by Lynne Snierson of the Monmouth Park publicity staff.