Prendimi Prevails In Stretch-Long Duel With Golden Brown To Win Charles Hesse III Handicap During Sunday's N.J. Thoroughbred Festival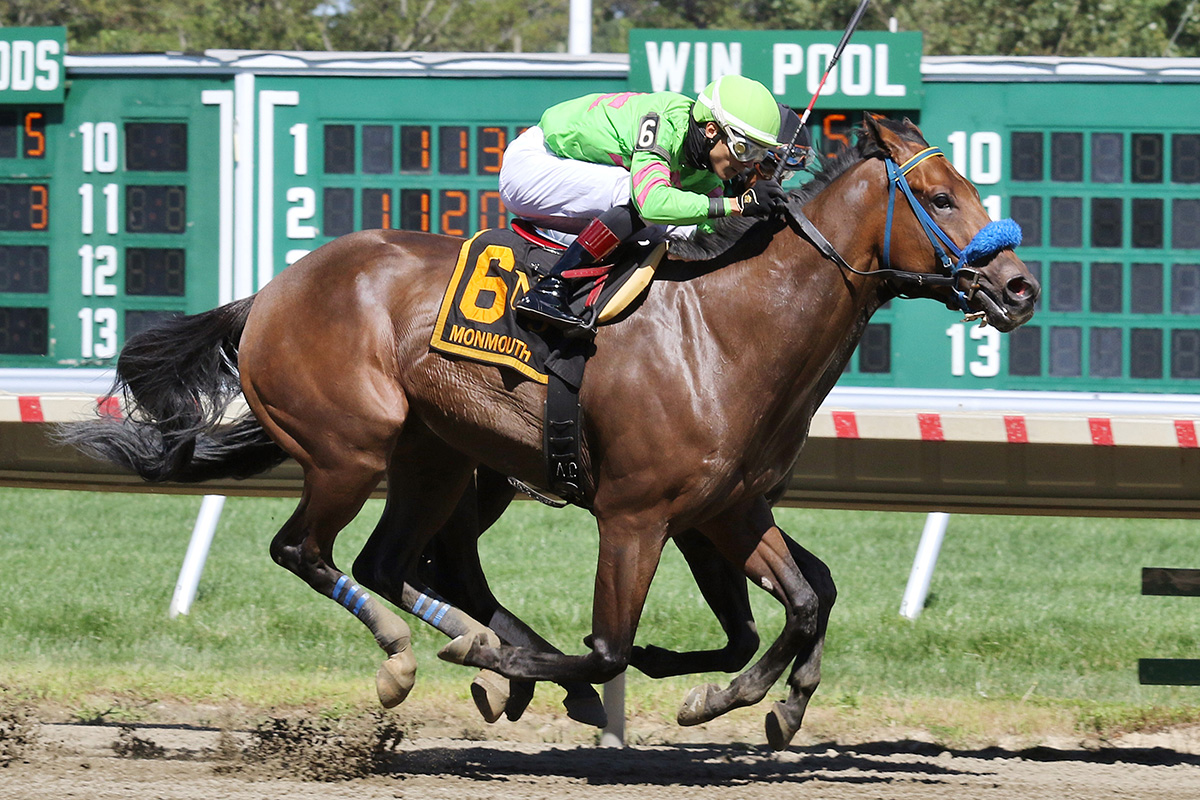 Jorge Vargas Jr. had only ridden Prendimi once before, doing more than 10 months ago, but trainer Luis Carvajal hadn't forgotten how well the two got along.
Carvajal's gut instinct to go back to Vargas proved to be the right one, with Prendimi outlasting Golden Brown in a stretch-long duel to capture the featured $125,000 Charles Hesse III Handicap by a head during Sunday's New Jersey Thoroughbred Festival at Monmouth Park.
Golden Brown, the 3-5 favorite, had beaten Prendimi by 4¼ lengths when the two horses last met on July 25 in the Irish War Cry Handicap.
"We changed jockeys because Jorge Vargas rode him in Maryland and he did very well with him going long (finishing second by a half-length in the nine-furlong Maryland Millions Classic at Laurel on Oct. 19)," said Carvajal. "I always thought we could beat Golden Brown. He's a nice horse but I always had it in my mind that we could beat him if he was ridden the right way."
While Carvajal won three races on the 10-race card showcasing state-breds, a couple of horses with proven track records at Monmouth Park prevailed in the other two stakes races on the undercard.
Liz's Cable Girl improved to 7-for-12 lifetime at Monmouth by scoring a late-running one-length victory over Blank Paige in the $100,000 Eleven North Handicap. It marked the first stakes victory for Lexington, Ky. men's clothing store owner Elliot Logan (TEC Racing).
Royal Urn, on a form spree since moving to trainer Kelly Breen's barn three starts ago, turned in another sharp performance in winning the $100,000 New Jersey Breeders' Handicap by a geared-down 3¾ lengths as the 3-5 favorite. Joe Bravo rode the winner.
Prendimi, who actually finished ahead of Golden Brown by two lengths in the John J. Reilly Handicap at Monmouth Park on July 5 when they were second and third behind Royal Urn, benefitted from a flawless trip.
Sent off at 3-1, Prendimi settled behind early speed Love Is Your Name, with Golden Brown chasing for the opening six furlongs of the mile and a sixteenth race. When Golden Brown moved to take the lead in mid-turn, Predimi looped outside of the tiring Love Is Your name and hooked up with Golden Brown.
The two went nose-for-nose for nearly the duration of the stretch. The final time was 1:44.72.
"I made the race just us and Golden Brown," said Vargas. "I knew he was the horse to beat. I was able to time my move when I needed to and keep Golden Brown inside of us and it worked out.
"Both horses fought through the stretch. He kept digging in. I knew Golden Brown was not going to give in easily so I had to get just a little more from my horse."
A 5-year-old gelded son of Dance With Ravens, Predimi scored his fifth victory from 22 career starts. He now sports a 5-5-2 line from 12 lifetime starts at Monmouth Park.
Liz's Cable Girl, trained by Tom Amoss and ridden by Antonio Gallardo, needed most of the stretch to finally collar Blank Paige in the six-furlong Eleven North, prevailing by one length. It was another 1¾ lengths back to Chubofftheoldblock in third.
The winning time for the six furlongs was 1:11.63.
"When I ran her last time, my first time running her, she absolutely bolted around the turn and recovered to get beat only a length (finishing second in the Spruce Fir Handicap at Monmouth Park on July 4)," said Amoss. "She didn't negotiate the turn well at all that day. We literally have spent all of our time since that last race trying to get her to where she would do things correctly. I thought the rider did a great job with her today of getting her in the right spot, negotiating the turn well, and I thought she finished up well. We're very pleased."
Gallardo benefitted from an off-the-pace trip with Liz's Cable Girl, who paid $3.20 to win. Blank Paige, who dueled throughout the first four furlongs with Prancing Warrior, was coming off a 10-month playoff.
The $60,000 winner's share of the purse pushed Liz's Cable Girl over $500,000 in career earnings.
"I broke good," said Gallardo. "At one point I decided to go to the lead but when I saw Blank Paige rushing so much to make the lead and then the horse outside of me (Prancing Warrior) go with her, I'm thinking `why go with them?' So I took her back, sat third and put her in the clear when I needed to.
"She responded really good. I had a feeling we could catch Blank Paige because when she moved at the three-eighths I was thinking `that's a little early for a horse that has been off almost a year.' It's one year off, even if you have a fit horse. My filly gave me just what she needed to give me."
Royal Urn now has two wins and a second, all in state-bred stakes company, since Breen took over his training, finishing second to Golden Brown in his last start in the Irish War Cry but beating Golden Brown and Prendimi sprinting in the John J. Reilly prior to that.
"I was just going to ride him like a typical Jersey-bred and just make him run hard but Kelly said to me `he's an off-the-pace sprinter. Be patient with him around the backside,' " said Bravo. "I'm glad I did that because down the backside I could have been in front and he might not have finished the way he did. The last eighth of a mile the race was over and he was just galloping home."
Royal Urn covered the six furlongs in 1:10.50, with Chublicious a distant second.
Royal Urn, a 4-year-old son of Kantharos, is owned and was bred by long-time New Jersey breeder John Bowers (Roseland Farm Stable).
"On Jersey-bred day, to have an owner win like John Bowers, who has been breeding horses for some 30-odd years, I couldn't be happier," said Breen. "He's a guy who helped keep the Jersey-bred program going when it was declining.
"As for this horse, what we've done has worked since we got him three starts ago. I followed this horse even when I didn't have him last year. We're fortunate that our program with this horse has worked. He's at his best sprinting, I think, and he is really on top of his game right now. That was an impressive performance."