Prancing Warrior Holds Off Liz's Cable Girl To Win Saturday's Spruce Fir Handicap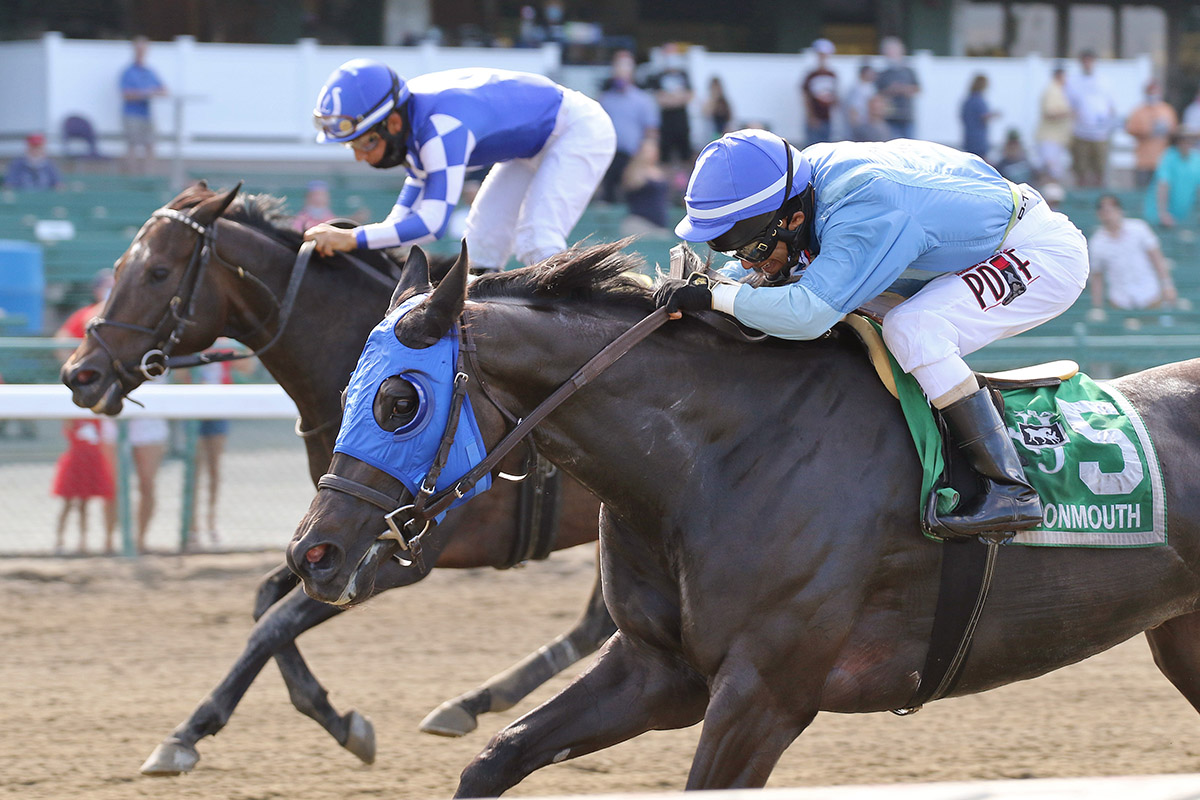 Trainer Chuck Spina was so confident he would have a big day at Monmouth Park today that he told fellow trainer Kelly Breen as much when he ran into him before the races started.
Spina told Breen he expected to finish second to Breen's promising 2-year-old in the second race (he did) and then boasted that he would beat Breen's other 2-year-old in the sixth race (he did that as well). Both Breen first-time starters were odds-on favorites.
The day became the rousing success Spina expected when Prancing Warrior, off nearly nine months, scored a front-running victory in Saturday's featured $75,000 Spruce Fir Handicap, holding off favored Liz's Cable Girl by a length.
Jose Ferrer rode the winner, his third straight winner on the card. A year ago, Ferrer won the Spruce Fir aboard Liz's Cable Girl.
"It's been a long eight months," said Spina. "But I knew the wait would be worth it today. I knew this would be a good day for me."
Prancing Warrior wrested the lead from Liz's Cable Girl shortly after the start and then spent the six furlongs with the remaining seven Jersey-bred fillies and mares desperately chasing her. The 5-year-old mare paid $31.00 to win in posting her fourth career victory from 12 starts. The final time was 1:11.70.
Liz's Cable Girl finished 2¾ lengths ahead of Crazy Daisy.
"She runs great fresh," Spina said of Prancing Warrior, who notched her first career stakes victory. "She won first time out at as 2-year-old at Delaware (in 2017). Last year she won by a pole (eight lengths) off the layoff in her first start of the year. She just runs great fresh. She fit here. The only one everyone had to really worry about was Liz's Cable Girl. So we had to try this."
Ferrer said he knew the key to the race was using Prancing Warriors early speed to make the lead and then test her fitness – as well as the rest of the field's ability to make a run at her.
"I knew Liz's Cable Girl was the one to beat. I know her. I won this race with her last year," Ferrer said. "But I knew if I got the jump on the field I would be good. I just wanted to be gone out of the gate and let them chase me. She was strong today. They were not going to catch her."
Beau Bridge, a 2-year-old gelding making his career debut for Spina, finished second to Breen's Pickin Time in the second race, a Maiden Special Weight dash.
In the sixth race, the Spina-trained My Beautiful Belle rallied to win the Maiden Special Weight race for 2-year-old fillies in a sharp first effort. Sky Proposal, trained by Breen and heavily favored, faded to third.
"I expected all three of my horses to run well today – and they did," Spina said.
Racing continues over the holiday weekend at Monmouth Park on Sunday, July 5, with the John J. Reilly Handicap for Jersey-breds topping a 12-race card.
First race post time is 12:50 p.m. Parking and admission are free.