Por Que No Scores By 4 1/2 Lengths In Gate To Wire Fashion In Saturday's Boiling Springs Stakes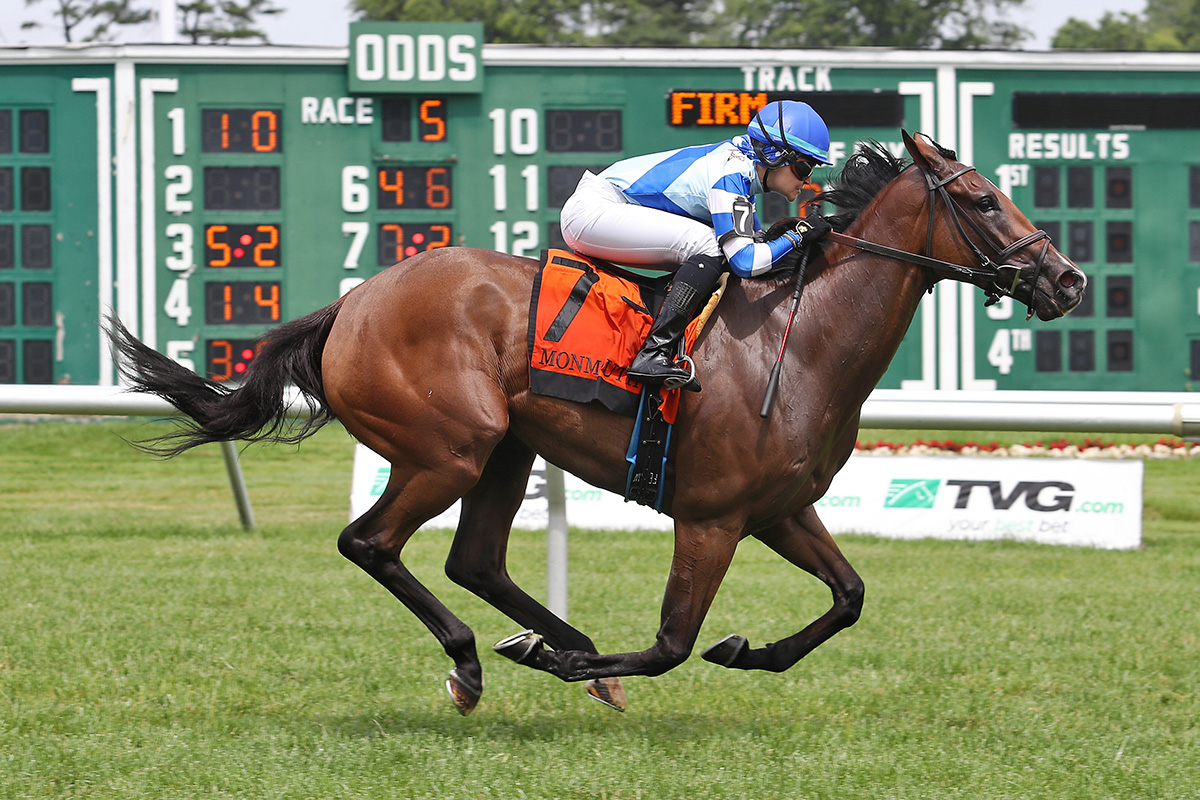 As the lone speed in a short field, trainer Kent Sweezey and jockey Ferrin Peterson weren't about to over-think the strategy with Por Que No in Saturday's $75,000 Boiling Spring Stakes at Monmouth Park.
Get to the front, slow down the fractions and leave plenty in reserve. Good in theory but even better in practice, as it turned out.
Por Que No led every step out of the gate and then cruised to a 4½-length victory, posting her fifth win in her past six starts and first in stakes company.
Seasons, the 7-10 favorite in the field of six 3-year-old fillies, faded to third after chasing the slow fractions set by Peterson and Por Que No throughout the mile and a sixteenth turf feature.
"I knew there were some really good horses in this race and my thinking was I need to make them catch me. I'm the speed in the race," said Peterson, who notched her first stakes win of the meet. "So if I can get the lead, save ground and let her to relax – which she did; in the backstretch she was in her own element – and then take a deep breath and don't stress I thought she would be able to do what she did.
"At the three-eighths pole I saw out of my peripheral vision another horse coming, so I thought `okay, I've got to make them catch us, I've got to break their confidence.' I shook her up a little and she had another gear. At the top of the lane she just took off."
The winning time over a turf course rated firm despite rain showers prior to the race was 1:42.43.
Por Que No, a daughter of Wicked Strong owned by Fano Racing, returned $9.60 to win.
Peterson basically won the race in the opening half, with a first quarter in :25.82 and the half going in :49.60. Seasons and jockey Paco Lopez chased most of the way around before fading late. Shantisara, making her U.S. debut for trainer Chad Brown, finished second, three lengths ahead of a tiring Seasons.
"I know she can fight her jockey sometimes, so I was trying to slow her down as much as I could without taking energy away from her," Peterson said.
Lopez said the moisture in the turf from the rain did not appear to affect Seasons.
"She got frustrated chasing those slow fractions," he said.
For Sweezey, it marked his first stakes win at Monmouth Park since capturing the Good Magic Stakes with Phat Man in 2019.
"Ferrin was aware we were the lone speed and what the game plan needed to be," said Sweezey. "I didn't think Paco Lopez would be that close, especially with the slow fractions. We wanted to make (Seasons) catch us. I knew my filly was doing good. I knew she'd be fine on the lead and would last.
"I wasn't worried with the rain before the race. I thought it would make everyone else a little more timid. It wasn't going to affect what we wanted to do. I knew she would be good today and she was."
Por Que No had raced exclusively at Gulfstream in her first six career starts before Sweezey shipped her North for this race.
He said the ownership group, which owns a house in nearby Monmouth Beach, "wanted to see her run at their home track."