Pletcher-Trained Green Up Cruises To 5 3/4-length Victory In Sunday's $100,000 Boiling Springs Stakes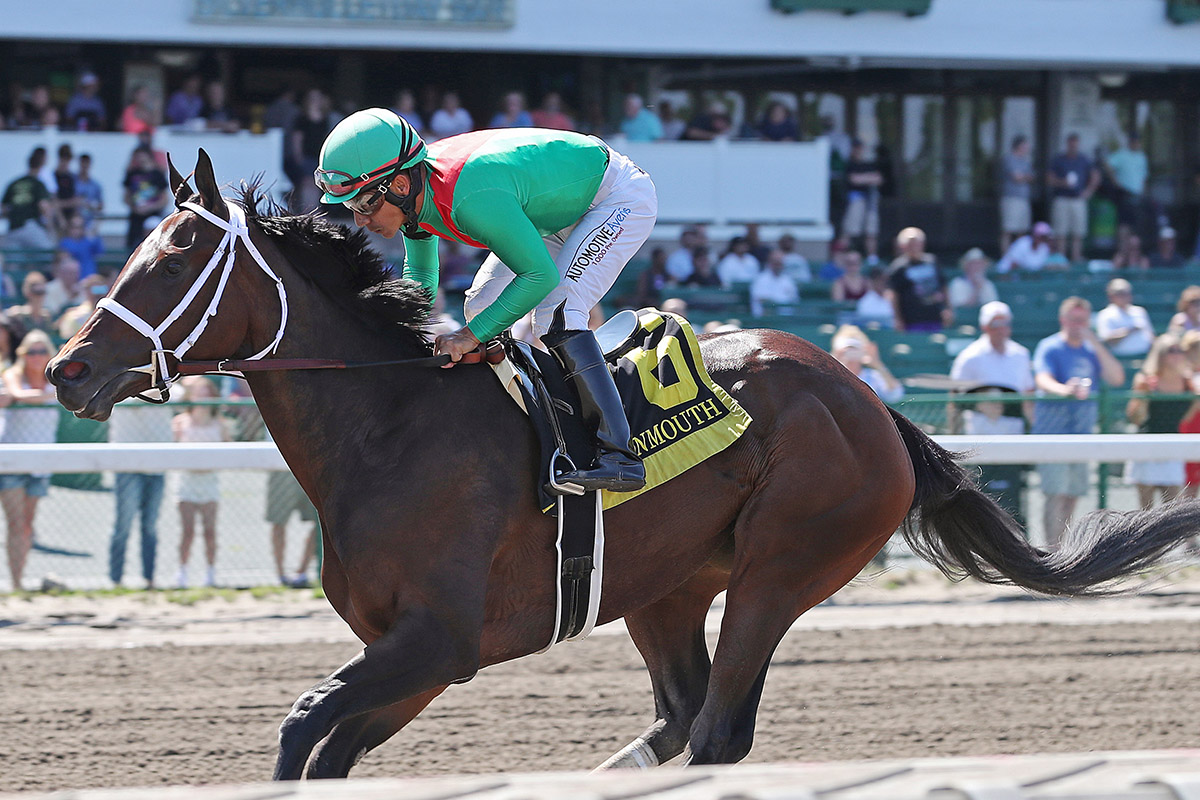 With Paco Lopez riding the lone speed horse in a short field the outcome is fairly predictable.
That was the case in Sunday's $100,000 Boiling Springs Stakes at Monmouth Park, when the Todd Pletcher-trained Green Up was able to coast on the front end through soft fractions and then spurted away when asked for a 5¾-length victory.
Sent off as the 3-2 second choice in the four-horse field, Green Up was able to easily rebuff any challenge from 2-5 favorite Radio Days because of the easy fractions in the mile and 70-yard feature.
Owned by Team Valor International, Green Up earned a free entry and start fees to the Grade 3 Monmouth Oaks on July 31 as a result of the victory. It marked the first stakes win in the four-race career for the 3-year-old daughter of Upstart-Green Punch by Two Punch.
"My thought was just to go to the lead since she looked like the only speed in the race," said Lopez, seeking his ninth Monmouth Park riding title. "Todd Pletcher told me to do whatever I felt comfortable doing. She jumped a little at the break and didn't break well but I was able to get to the rail and make the lead pretty easily.
"I saw Joe Bravo (aboard Radio Days) pressing us at the three-eighths but my filly had too much left. She was very strong after we were able to get away with a slow opening half and she just took off when (Radio Days) came to us."
Despite an awkward start, Green Up was able to make the lead without a challenge, with Lopez putting her on the rail. He carved out fractions of :24.77, :49.26 and 1:12.37 to three quarters and was well in hand despite a compact field and mild pressure.
The mile went in 1:37.79. The winning time was 1:40.93.
"She just shipped in this morning from Saratoga," said Anthony Sciametta, who oversees Pletcher's division at Monmouth Park. "That's where she has been working. Todd said when they scratched out a couple of horses if Paco Lopez wants the lead he should take it because there's no other speed in the race.
"She broke badly, seemed to stumble a little, but she still made the lead easily. She's a nice filly. Even if the field had stayed intact she would have been very tough to beat. Todd will make the decision on whether she goes to the Monmouth Oaks or not."
Radio Days finished three lengths ahead of Capotainsdaughter in third.
Since being moved to the Pletcher barn (from Chris Melton) after her career debut on May 13, 2021, Green up has won all three starts by a combined 16½ lengths.
"Both of her Florida races were impressive," said Sciametta. "I'm sure Todd will look at the Monmouth Oaks but he is the one who will make the decision."