Pick 6 Carryover Of $167,268, $400,000 Guaranteed Pick 4 Highlight Haskell Day Betting Options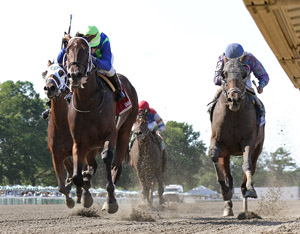 A record Jersey Shore Pick 6 carryover of $167,268, a $400,000 guaranteed Pick 4 and a $250,000 guaranteed Pick 5 for a single winning ticket await handicappers Sunday, July 29, during betfair.com Haskell Invitational Day at Monmouth Park. 
The Jersey Shore Pick 6, a 20-cent wager, pays out the jackpot pool only if there is a single winning ticket. The carryover swelled to its record total after producing multiple winners of the wager on Saturday's 11-race card. 
Sunday's all-stakes Jersey Shore Pick 6 starts in race 7 with the Grade 3 Oceanport Stakes and culminates with the $1 million, Grade 1 Haskell Invitational in race 12. 
The guaranteed $400,000 Pick 4 will cover races 9 through 12 and also ends with the Haskell. The $250,000 guaranteed Pick 5 for a single winning ticket will be races 10 through 14. 
Monmouth Park will also debut a variety of prop bets Sunday in the Monmouth Park Sports Book by William Hill, including the Grand Slam, a parlay wager combining racing and baseball. Bettors are required to pick the winners of races 10 through 12 – the Molly Pitcher Stakes, the Wolf Hill Stakes and the Haskell Invitational – as well as the winner of Sunday night's baseball game between the Cubs and Cardinals to collect on the Grand Slam wager. The minimum bet is $2. 
The Sports Book will also accept a variety of head-to-head horse wagers on the Haskell Invitational, as well as bets on the margin of victory for the track's signature race. 
Sunday's first race post is noon. Gates open at 7:30 a.m., with the parking lots opening at 6:30 a.m. The Haskell Invitational has a scheduled post time of 5:47 p.m. and will be televised live from 5 to 6 p.m. by NBC-TV.