Peterson Ratchets Up Pursuit Of Lopez As Leading Rider With Mounts In All 14 Races On Saturday's Card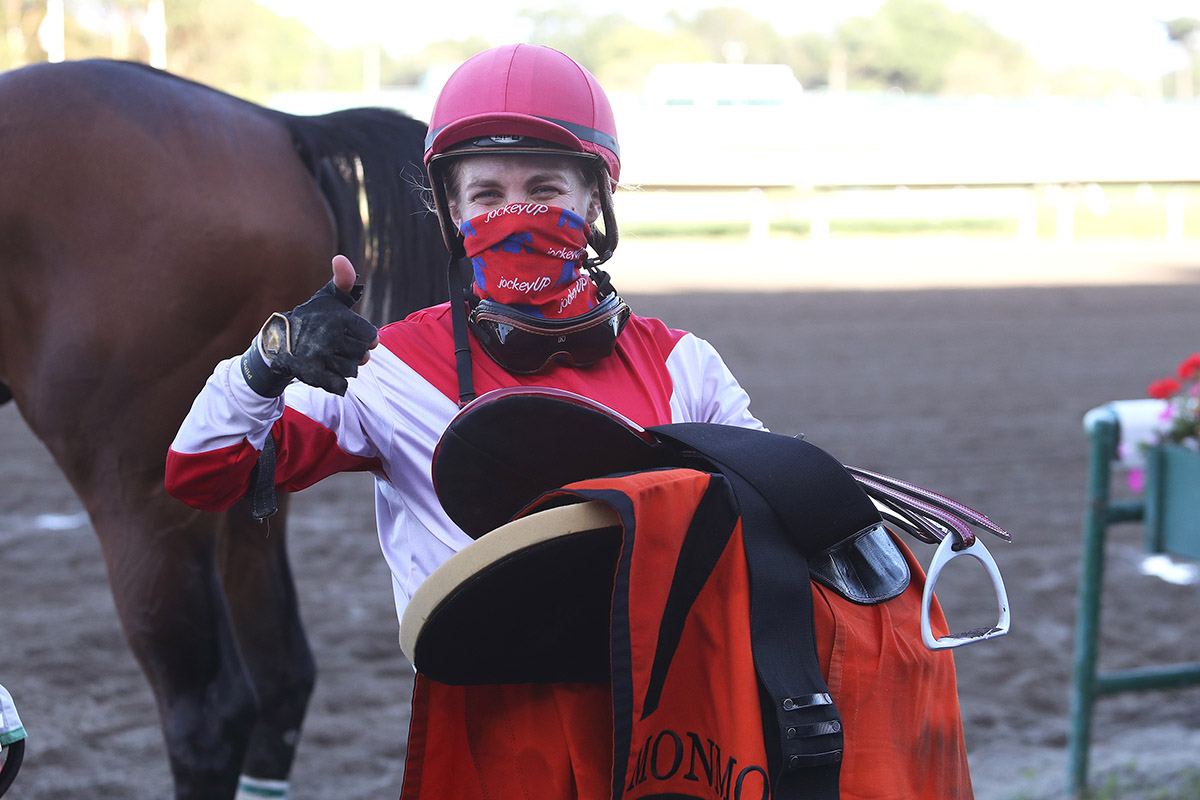 Ferrin Peterson isn't sure if she can catch Paco Lopez for leading riding honors at the Monmouth Park meet, but the 28-year-old jockey is determined to give it her best shot.
With that pursuit as part of the backdrop, Peterson is scheduled to ride every race on Monmouth Park's 14-race card on Saturday as she tries to close the gap between the two of them with four live programs remaining in the meet.
Peterson, currently second in the jockey standings with 36 winners, is nine wins behind Lopez, who is seeking his seventh Monmouth Park riding title. In his first day back since quarantining after riding Ny Traffic in the Kentucky Derby, Lopez is listed to ride in eight races Saturday.
"I'm always striving to be at the top," said Peterson. "It never has been a goal to be second. I don't think riding all 14 races is part of the motivation. We (Peterson and agent Julie Krone) have always wanted to ride the whole card. I love getting to ride for all the different trainers and the more horses I ride the better I'll get.
"But, yes, I am absolutely eying that goal (of being leading rider)."
Peterson checked another box in her breakout first summer at Monmouth Park last Saturday when she booted home Share the Ride in the Mr. Prospector Stakes for her first career stakes victory. The California native and licensed veterinarian began riding in 2018.
"A lot of people were excited for me on the backside," she said. "People said they could tell after that win that I still had my mindset to go out and win a claiming race the next race. They were saying `you're a jockey that it doesn't matter what type of race you are in. You want to win it.'
"That's absolutely correct."
After starting the meet as an apprentice, Peterson has made a seamless transition to young veteran's status, actually getting more opportunities to ride now than she did when she had the weight allowances.
Riding in 14 races is the culmination of that transition and signals full acceptance of her abilities by Monmouth Park trainers.
"I love it, because every time I have to sit and watch races that's more mentally draining for me because I am watching my competition and thinking `I could have been on that horse,' " she said. "It's actually going to be fun to ride every race. I won't get cold between races. I'll kind of get a flow going.
"I know I'm fit for it. I've never felt tired at the end of a card, even when I have ridden 12 or 13 races. But you can always improve your fitness. This week I did some different workouts and I was still getting sore. So I think I need to keep building every week. I'm definitely fit enough to ride all of the races but I want to ride stronger and better. That's why I keep working on my fitness."
Peterson said she will ride the nine-day Meadowlands-at-Monmouth Park meet in October before trying Tampa Downs for the first time in the winter. She will be heading South with plenty of momentum after making an impression at Monmouth Park.
"I definitely expected to have a good meet and do well but you never know, especially when you go to a new place," she said. "So this summer has surpassed my expectations."
And she's not done yet. Her leading jockey chase may be a longshot but it's a lot more realistic than it was a few weeks ago.
"Yes it will be hard," she said. "But that makes me work even harder. And it would be pretty exciting to come as far as I have if I am able to do it."