Perry Wins Second SSC Qualifier of 2017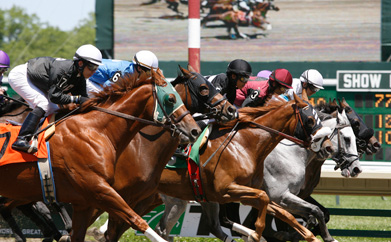 Monmouth Park handicapping contest fixture Joe Perry of Hamilton, NJ captured Monmouth Park's second Simulcast Series Challenge Qualifier of the 2017 season. 
Perry bested a total field of 152 entries by turning his $150 starting bankroll into $1,147.  For his efforts, Perry takes home first prize of $6,135 and qualifies – along with the rest of Saturday's Top 15 – to the SSC Invitational on Saturday, April 29.  The Top 2 finishers of the April 29 contest will earn a seat in the 2018 NHC in Las Vegas.
Monmouth Park's third and final SSC qualifier takes place on Saturday, April 1.  For more information, players can email Brian Skirka at bskirka@monmouthpark.com.
Saturday's Official Top 15
Finish
Name
Bankroll
Prize
1st
Joe Perry
$1,147
$6,135
2nd
Larry Hausman
$1,072
$2,454
3rd
Anthony Doino
$806.65
$1,472.40
4th
Stelios Kandias
$640.15
$858.90
5th
Edward Barchowski
$631
$429.45
6th
James Hall
$615.50
$184.05
7th
Stephen Luca
$607.25
$184.05
8th
Larry Hall
$599
$184.05
9th
Larry Hall
$562
$184.05
10th
Joseph Indiviglio
$532.50
$184.05
11th
Ronald Baldini
$525
12th
Sean Carney
$451.25
13th
Pete Rogers
$441.50
14th
Mark Hagenbuch
$360.75
15th
Brian Fairlie
$358.50