PDJF Fundraising Event On Friday Particularly Meaningful To Leading Rider Jose Ferrer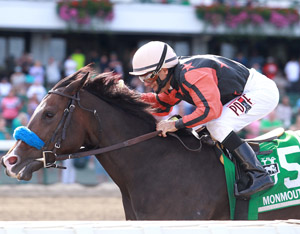 As he sits atop the Monmouth Park jockey standings entering this weekend, Jose Ferrer can't help but realize how close he came to not being able to enjoy what he has now.  
That's why his role as a volunteer bartender during Friday's Permanently Disabled Jockeys Fund (PDJF) charity event that follows Monmouth Park's live racing card is particularly meaningful to the 54-year-old. 
"After the spill I was in last year this really hits close to home for me," said Ferrer. "Being in the hospital as long as I was after that spill, all of the injuries I had, not knowing if I would ever ride again, it's a scary feeling. 
"I was lucky I was able to come back and ride again. Not every rider is able to do that." 
The PDJF fundraiser, being held in partnership with Tito's Vodka, will take place in the Beer Garden at the Blu Grotto starting at 6:30 p.m. with Monmouth Park jockeys serving as bartenders. All of the tips will go to the PDJF. 
Ferrer, whose 35 winners lead Paco Lopez by six entering a three-day weekend of live racing, knows full well how a jockey's career and life can hang in the balance because of the nature of the job. 
Last Sept. 14 at Delaware Park he was involved in a spill that he described as "the worst one of my career." He suffered shattered vertebrae, nine broken ribs and a collapsed lung. 
"That first week in the hospital I didn't know if could come back or even if I wanted to come back," he said. "I was very fortunate to be able to ride again." 
The fundraiser will include raffle tickets being sold for prizes such as a $100 gift card to Blu Grotto; an experience with track announcer Frank Mirahmadi; a Parterre box rental; a framed photo of Triple Crown winner American Pharoah; a $500 gift card to the Monmouth Mall; a signed Kentucky Derby hat; signed American Pharoah limited edition wine; a Knicks signed framed photo from John Starks and a Tito's basket. 
All money from the raffle goes to the PDJF. Tickets will be sold in groups of 10 for $10 or 25 for $25. Raffle winners will be drawn at approximately 8 p.m. 
Live music during the event will be provided by Billy Hector.