Page McKenney Looks To Add To Impressive Career In Saturday's Grade 3 Salvator Mile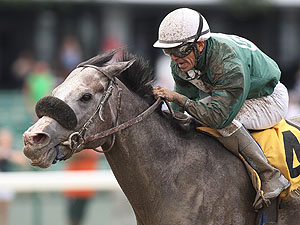 When trainer Mary Eppler claimed Page McKenney for $16,000 in 2013 for owners Adam Staple and Jalin Stable she barely gave it a second thought. There was really no reason to think twice about a horse who had been 1-for-13 in his career to that point. 
Nearly $1.8 million in earnings later, Page McKenney now gets the star treatment in Eppler's barn. He's earned it the hard way. 
The tough-as-nails 8-year-old gelding will look to add to his remarkable credentials and story at Monmouth Park in Saturday's Grade 3 Salvator Mile, one of four stakes on a 13-race card that kicks off a three-day Memorial Day weekend of live racing. 
"He's a wonderful horse to have," said Eppler. "It's amazing to see what he has done in his career." 
Still sound and sharp, Page McKenney has 21 wins and 15 seconds from 55 career starts, with his earnings topping $1.8 million. Had Eppler known in 2013 what she knows now about the son of Eavesdropper-Winning Grace she never would have risked losing him in a $25,000 claimer at Laurel. That's the only time he has run for a tag since he came under Eppler's care. 
"I raced him in a Pennsylvania-bred allowance at Penn National right after I claimed him there and he ran second," said Eppler. "Then I took him to Laurel and ran him in a $25,000 claimer and he won the race. 
"I didn't think anyone would take him then. He had terrible form before I claimed him. So I never thought he would do anything close to this." 
The $100,000 Salvator Mile is also part of the revived Mid-Atlantic Thoroughbred Championships (MATCH), a series of five racing divisions offering $450,000 in bonuses for owners and trainers. Seven Monmouth races are part of the five divisions, with the Salvator Mile, Philip H. Iselin Stakes and Monmouth Cup comprising three of the five races in the 3-year-old and up long dirt division. 
"I'm happy to see it back," said Eppler. "It's good for everyone in the Mid-Atlantic region. I have a few horses that will run in the series and I think they will do well." 
It starts with Page McKenney, who has defied convention by staying healthy for seven years of racing. Eppler said the horse had one minor health issue a few years ago but otherwise has been sound throughout his career. 
He is also flexible enough to race anyway he has to, though he is 0-for-5 at the mile distance of the Salvator. 
"If you look at it, those were all one-turn miles. He likes two turns much better," she said. "I have come to realize that he can do anything. The distance doesn't matter. It doesn't matter how the race unfolds. That's the thing about him. He can do anything you ask of him."