Our Man Luke Springs Upset At 16-1 In Sunday's $85,000 Sunny Ridge Handicap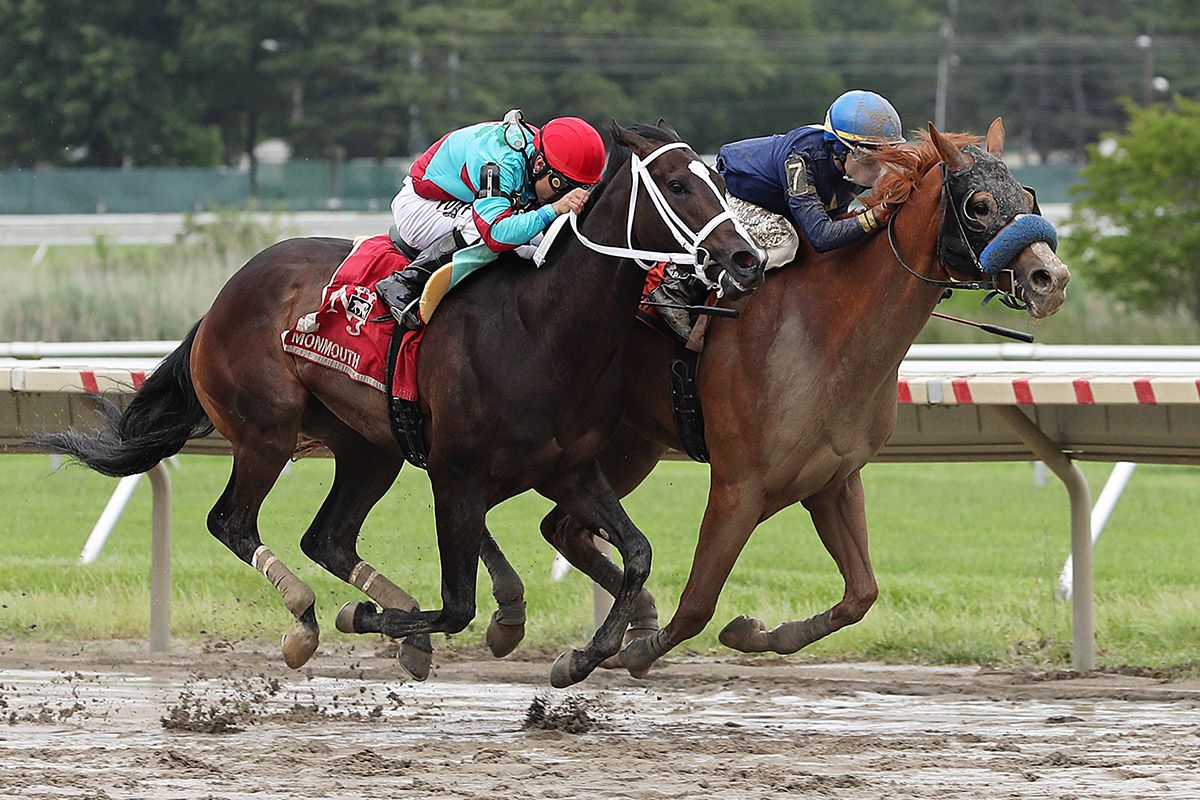 As surprised as trainer Luis Carvajal was when Our Man Luke poked his neck in front at the wire to win Sunday's $85,000 Sunny Ridge Handicap at Monmouth Park, those feelings will no doubt be heightened when he studies the replay.
Not only did Our Man Luke stumble slightly at the start of the one-mile feature for Jersey-breds, it caused jockey Jeremy Laprida to briefly lose the irons. That left the 5-year-old gelding in last place in the seven-horse field, a position he remained in through the opening three-eighths of a mile.
But with four horses – Optic Way, Speaking, Prendimi and Royal Urn — scrimmaging for the early lead through solid fractions on the sloppy/sealed track, Our Man Luke was actually getting a good set-up trip.
Able to slip inside coming out of the final turn, Our Man Luke drew even with Speaking in mid-stretch as the two went head to head for the final sixteenth of a mile before Carvajal's charge pulled off the upset at odds of 16-1. It was another 2¾ lengths back in third to Royal Urn.
"No, I didn't expect this," said Carvajal, who also saddled last-place finisher Prendimi. "I have to be honest I didn't see this coming.
"I was worried about the track being off and I didn't know if he was going to like it or not. When they were going fast (:23.76 for the opening quarter and :47.05 to the half mile) and I saw him in the back moving comfortably, I said to myself `if he is going to make a run he is going to make a run in a race like this.' But I never expected to win. It was a big surprise."
Carvajal only got Our Man Luke back in late May, after leaving the son of Redeemed in the Northeast with Gustavo Chacon as he campaigned in Florida over the winter. Owned and bred by GJ Stables, Our Man Luke was claimed from Carvajal for $16,000 on Oct. 20 before the owner claimed him back a month later for $12,500.
So the surprise on Carvajal's part was from extended experience with a horse who is now 4-for-23 lifetime, with the Sunny Ridge marking his first stakes win.
"In this race everything fell apart in a hot pace for this type of race and he was fit and ready," said Carvajal. "You always need racing luck."
Laprida had Our Man Luke in fifth place at the half, six lengths behind the front-running foursome, before making a move entering the final turn. That's when Optic Way gave way and Speaking surged to the lead. Laprida slipped inside to join Speaking in a two-horse battled in mid-stretch.
"I was able to keep him comfortable early," said Laprida. "At the half mile he was pulling on me. He wanted to go. I always thought I would get by (Speaking). My horse was strong."
The winning time was 1:40.18.
Morning line favorite Pickin' Time was an early scratch from the race.