Optimism Remains Strong As Monmouth Continues to Build A Solid Future For Horse Racing in New Jersey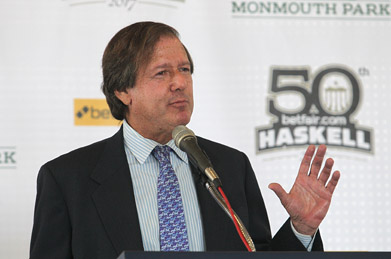 OPTIMISM REMAINS STRONG AS MONMOUTH CONTINUES TO BUILD A SOLID FUTURE FOR HORSE RACING IN NEW JERSEY
Oceanport, N.J. – As the curtain rises on the 2017 Monmouth Park racing season this Saturday, track officials remain optimistic about the future of the historic venue and its prominence in the world of Thoroughbred racing.
"We continue our efforts to create a fan-friendly facility coupled with top-class racing in New Jersey," said Dennis Drazin, advisor to Darby Development LLC, operators of Monmouth Park."Our goal of bringing alternative gaming to the racetrack remains paramount.We are surrounded by states with casino-fueled purses, which has put us at a distinctive competitive disadvantage."
Nevertheless, since Darby began management of the racetrack in 2012, they have added an OTW facility in Hillsborough, Bluegrass Mini-Golf, William Hill Race and Sports Bar and Blu Grotto Restaurant, which has enjoyed rave reviews since opening last summer.
Not to mention the rapid expansion of 4njbets.com, an on-line wagering platform that brings horse racing directly to mobile devices, as well as exchange wagering, a popular European wagering market that allows players to offer and accept odds at different prices.To date, New Jersey remains the only state to offer such wagering opportunities.
Furthermore, 2017 will see Jersey Shore favorites Max's Hot Dogs and Lighthouse Italian Ice operate concession stands at the racetrack as the entire food and beverage department is brought in-house. New menus, culinary options and drink specials will greet fans right from opening day.
"It's been a great five years so far," Drazin said, "but certainly no time to rest on our laurels.While we are proud of our accomplishments and the hard work that has brought them to fruition, we know much work needs to be done.We will continue our job of ensuring a bright future for Monmouth Park and racing in the Garden State for many years to come."
Chief among these tasks is sports betting, which is currently under appeal to the United States Supreme Court.A nearly five-year battle to overturn the federal ban on sports betting in all but four states could soon find resolution in the nation's highest Court.
"It's no longer a question of if, but when sports betting will come," Drazin said."Our efforts appear to have snowballed into a national movement.The people of New Jersey have voted overwhelming in favor of this issue, the American public appears to be onboard and now either the courts or Congress must act.We are proud to have spearheaded this movement and are confident that the first sports wager will take place at Monmouth Park in the very near future."
Monmouth's 2017 racing season will run from May 13 through Sunday, Sept. 10.For more information visit www.monmouthpark.com.