Ohio Derby Winner Core Beliefs Joins Field for July 29 Haskell Invitational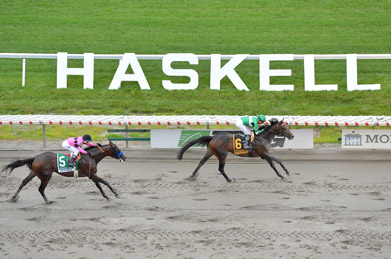 As much as trainer Peter Eurton would have liked to have found a softer spot as the next start for Ohio Derby winner Core Beliefs, owner Gary Broad had other ideas. So Eurton announced today that the colt is heading East for the betfair.com Haskell Invitational on July 29 at Monmouth Park, joining a field that is headlined by Kentucky Derby runner-up Good Magic and Preakness runner-up Bravazo. 
"My owner wants to come. He says it's the chance of a lifetime," said the California-based Eurton. "He wants to take on Good Magic and the rest." 
In addition to Good Magic and Bravazo, Navy Commander, Roaming Union and Reride are the other likely starters, with a couple more possible from a group that includes Lone Sailor, Mr Freeze, Promises Fulfilled and Flameaway. 
The Grade 1 Haskell Invitational, which carries a $1 million purse, will be televised live on NBC-TV from 5-6 p.m. 
Third in the Santa Anita Derby behind Triple Crown winner Justify, Core Beliefs was second in the Grade 3 Peter Pan at Belmont Park on May 12 after stumbling at the start. 
The son of Quality Road-Tejati then seemed to put it all together in winning the Grade 3 Ohio Derby by a nose over Lone Sailor. 
"He kind of did," said Eurton. "When he broke his maiden it was his first experience going to turns. Then his first start against winners he gets Justify. He stumbled badly in the Peter Pan and was in an elongated sprint for a mile and an eighth and got nailed. That was a really good effort. So was the Ohio Derby. He seems to be coming into is own." 
The mile and an eighth distance, Eurton said, suits his horse perfectly. His last three races have been at that distance. 
"I like the distance because it gives him a chance to get into the race and to be tactical," Eurton said. 
Core Beliefs is scheduled to fly East from California on Tuesday, with Eurton joining him on race day after taking a red eye flight. 
The horse will have 36 days between races. 
"You don't know what is really perfect," said Eurton. "All you can do is go by how your horse is doing. His works up to this, especially Saturday, have been very good. That will give him eight days to recover from the work. I'm pretty confident he is going into the Haskell as good as we could possibly hope." 
Unraced at 2, Core Beliefs shows a 2-1-3 line from six career starts, with lifetime earnings of $535,360.