Ohio-Bred 2-Year-Old Liberate, Who Has Won His Three Starts By A Combined 32 1/2 Lengths, Heading East For Sunday's Sapling Stakes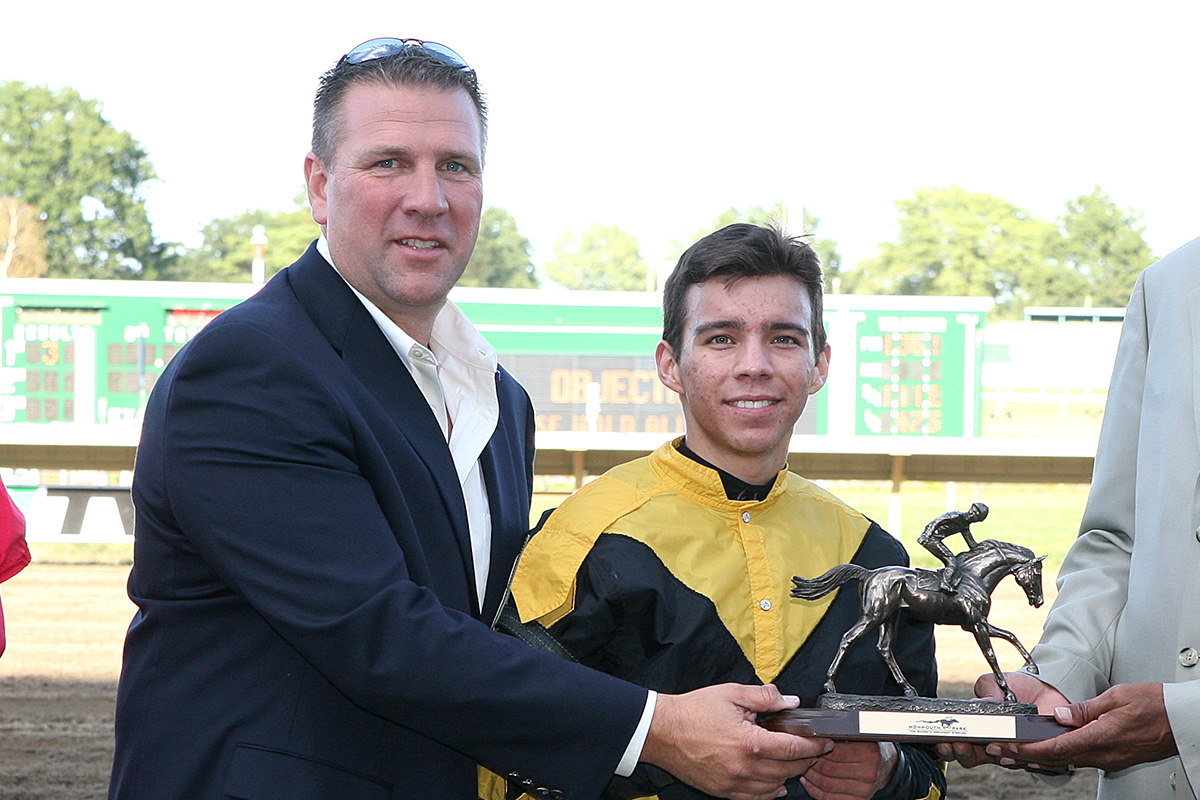 Trainer Timothy Hamm isn't sure exactly what he has yet in Liberate, a 2-year-old gelding who has won his three career starts by a combined 32½ lengths racing on the Ohio circuit.
But he intends to find out on Sunday at Monmouth Park.
Hamm is sending his speedy Ohio-bred East for the $100,000 Sapling Stakes, one of four stakes races on Monmouth Park's 13-race Sunday card, with a mixture of uncertainty, optimism and curiosity.
"We've had some Ohio-breds that have had significant success outside the state. He fits that mold," said Hamm. "He has been dominant in his races in Ohio. He's never really been asked to run. If you watch the replays he has pretty much been gathered up late. He does everything easy and he's a pretty nice horse.
"I guess we're going to find out a lot more about him on Sunday."
The Ohio-based Hamm, who has won more than 1,200 career races since he started training in 1996, hasn't sent a horse to Monmouth Park since 2010, when he won the Continental Mile with Rustler Hustler.
Liberate, he says, deserves the opportunity to be the next one to try, having won his racing debut on June 24 at Thistledown by 17¼ lengths going 5½ furlongs. The son of Gemologist-Southern Silence by Dixie Union then won consecutive state-bred stakes sprints by open lengths.
Liberate's debut in particular evoked memories of Grade 2-winning sprinter Too Much Bling, an Ohio-bred Hamm developed that was trained by Bob Baffert, he said.
"What I thought after his first race is that the time wasn't as spectacular as Too Much Bling's when he broke his maiden, but it did bring back those memories," said Hamm, who breaks babies at his Blazing Meadows Farm in Ocala, Fla. "Too Much Bling won by 19½ when he broke his maiden. He's a different horse than Too Much Bling but his talent made me think that this might be the best Ohio-bred we've had since him."
Despite being the most accomplished 2-year-old in the field with his two stakes wins, Liberate arrives with one major question heading into the one-mile Sapling: Can he carry his speed around two turns? All three of his wins so far have been gate-to-wire and at six furlongs or shorter.
"There's a little concern with that," said Hamm. "Whenever you are trying two turns with a horse that is as fast as he is you have to make sure you harness that speed and get him to carry it. I do believe he will handle the distance. He has not given us any indication that he won't.
"But there's just a little bit of concern when you've got a horse this fast who is trying something he has never done before."
Hamm has enlisted Paco Lopez to ride.
Co-owned by WinStar Farm and Hamm's Blazing Meadows Farm, Liberate was gelded early "because he was just too much to handle," Hamm said.
"We usually don't geld them that early but he was a tough one," he said. "He's kind of gotten all of that worked out now and he is very professional. I think it helped him a lot. I don't know if we would have gotten him to where he is now if we didn't geld him and that's very rare for me to say."
The Sapling is one of two 2-year-old races on Sunday's card, along with the Sorority for fillies. The $150,000 Grade 3 Red Bank Stakes, at a mile on the turf, headlines a program that also includes the Safely Kept Stakes at five furlongs on the grass. In the latter, Goldwood will be attempting to become the only four-time stakes winner at the current Monmouth Park meet.